Sandstorm Gold (NYSEMKT:SAND)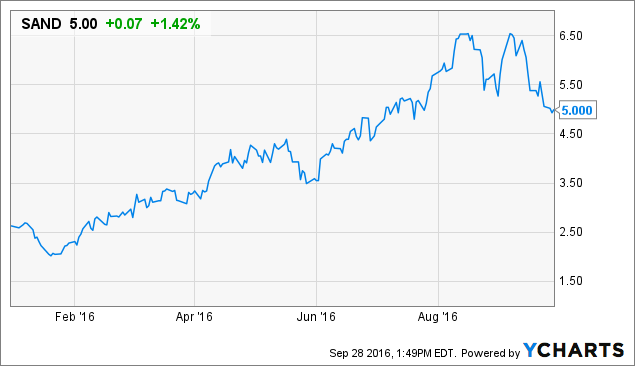 Sandstorm Gold's share price has fallen from highs of $6.50 per share to under $5 per share on Wednesday, and I think this could be a buying opportunity for long-term investors. In fact, I plan on adding to my existing position in my real-life gold portfolio this week if shares continue to trade under $5.
Despite some challenges, I believe Sandstorm is an attractive long-term growth stock to own, and I think the stock looks reasonably priced here. At a $4.99 share price, Sandstorm carries a market cap of $757 million; with approximately $10 million in cash and no debt (after recently repaying its revolving credit facility in full), it carries an enterprise value of approximately $747 million.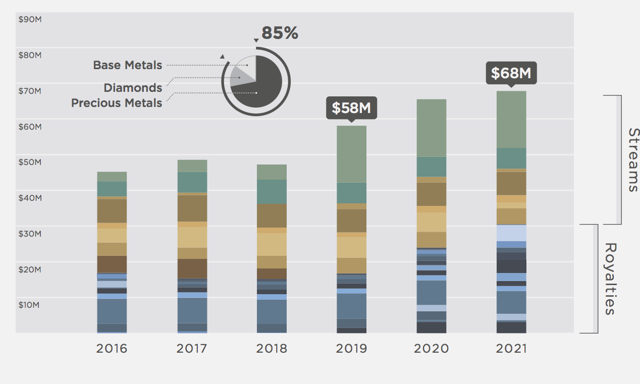 (Credit: Sandstorm Corporate Presentation)
With $48 million in after-tax cash flow estimated for 2017 (based on its existing royalties and streaming assets, and a gold price of $1,300 per ounce), Sandstorm is trading at a 2017 EV/CashFlow of 15.56.
This doesn't necessarily make the stock cheap. However, looking out to 2021, you'll see above that Sandstorm is projecting strong growth in after-tax cash flow to $68 million, so shares trade at a 2021 EV/CashFlow of 10.9, which is a very reasonable valuation. Again, this cash flow comes from all of Sandstorm's existing assets, which do not require any further capital committments; I expect the company to complete a number of deals between now and 2021. It also does not include a number of equity and debt investments Sandstorm holds, which I'll discuss in a bit.
Sandstorm also carries big leverage to gold prices - with a rise in gold prices to $1,600 per ounce, silver to $23 per ounce, and copper to $3 per pound, Sandstorm estimates $87 million in after-tax cash flow in 2021, just from higher gold prices. If four additional assets come to production by then (mainly, the Cerro Morro silver stream and the Hackett River royalty), Sandstorm would recognize an additional $21 million in after-tax cash flow, bringing its 2021 total to $108 million. If this is the case, shares trade at a 2021 EV/CashFlow of just 7.
Now, I want to talk briefly about the additional assets Sandstorm owns that give it even greater upside potential.
First, Sandstorm says that over 110 streams and royalties are not included in this cash flow forecast; of course, these assets could provide further cash flow in the future and give the company optionality to higher gold prices.
Next, Sandstorm owns right of first refusals and royalty buyback rights on over 30 contracts in which it can buy new streams and royalties. One example is Sandstorm's royalty with Orezone Gold and its Bombore project, as it gives Orezone the option to draw down $1 million for a .15% NSR, up to $5 million or .75%. I hope Orezone exercises this option, because I am bullish on the company's Bombore project.
Another example is Sandstorm's royalty on Castle Peak Mining's Akorade Project and eight royalties in acquired in Nevada, which were all acquired in a deal back in January of 2015; these royalties have ROFR's, so no other gold streaming company can complete a deal on these assets.
Next, the company's valuation does not include the significant amount of equity and debt investments held by Sandstorm. And these are pretty significant: according to the company's corporate presentation, it holds $88 million in non-core investments - $35 million in equity investments and $53 million in debt investments. This includes a 7.5% stake in Mariana Resources (OTC:MRLDF), which I also own, plus a large equity and debt position in Luna Gold (OTCPK:LGCUF), and an equity stake in Columbus Gold (CBGDF).
Of course, there are still some risks with Sandstorm that should be addressed. For one, as I mentioned recently, Silver Wheaton (SLW) has made it known that it intends on completing smaller streaming and royalty transactions, which I think may increase the competition for the deals Sandstorm is looking to complete. The types of deals Silver Wheaton is targeting would only cost $20 million or less upfront, which is the amount Sandstorm typically looks to spend on a development deal. This is something investors should keep a close eye on in my opinion.
I'm also skeptical that Luna Gold's Aurizona gold project will get back into production given the project's significant upfront capital requirements, as mentioned in its updated pre-feasibility study. Sandstorm's previous gold stream was restructued into a sliding scale royalty of 3% to 5% and a convertible debenture of $30 million on Luna Gold, plus a royalty on other exploration grounds. Sandstorm owns a pretty significant stake in Luna Gold and I think its success is important to the company.
New Deals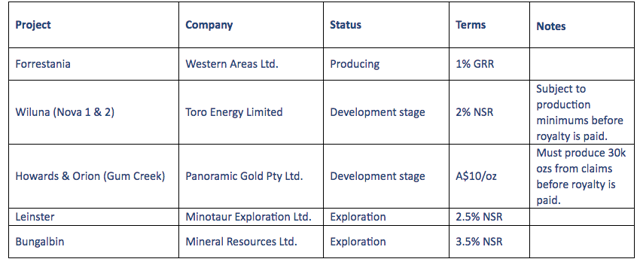 (Courtesy: Sandstorm Gold IR)
Sandstorm has over $110 million in available capital and is looking to complete more acquisitions, from smaller royalty acquisitions on exploration properties and slightly larger development deals, to larger "anchor" deals like the $152 million multi-asset stream agreement with large-cap gold miner Yamana Gold.
The company is making good progress. Sandstorm recently completed the acquisition of five royalties for $3.5 million from a company called Norilsk Nickel, as listed on the company's updated corporate presentation. The company was able to provide the name of each royalty asset and the terms of each deal in an e-mail. It's a small deal, but looks like it could be a profitable one for Sandstorm, and it also gives it some long-term upside. On the downside, with the exception of the Gum Creek royalty, the deal is focused on nickel assets and not gold.
As you can see above, the main asset acquired in this deal is a 1% gross returns royalty on Western Areas Ltd.'s Forrestania nickel mine in Australia, which is in production. Western Areas is a company that carries a market cap of $683 million and cash on hand of $75.7 million, according to its corporate presentation.
According to Denver Harris of Sandstorm Gold, this is one of the highest grade nickel projects in the world, and Sandstorm expects the royalty to generate up to $1 million in cash flow per year for the next 6-10 years. That would easily be worth the cost of the deal for Sandstorm. Readers can learn more about this asset by visiting Western Areas' website and by viewing their corporate presentation.
Final Thoughts
While there are some risks, the sell-off in Sandstorm stock has presented investors with a long-term buying opportunity in my opinion. This is a growth-focused, yet profitable company that is poised to outperform going forward. I'm looking forward to continuing my coverage of Sandstorm, and I will look to buy more shares if they remain under $5.
Disclosure: I am/we are long SAND, SLW.
I wrote this article myself, and it expresses my own opinions. I am not receiving compensation for it (other than from Seeking Alpha). I have no business relationship with any company whose stock is mentioned in this article.
Editor's Note: This article covers one or more stocks trading at less than $1 per share and/or with less than a $100 million market cap. Please be aware of the risks associated with these stocks.