Oil prices have just spiked by about 5% with United States Oil Fund (NYSEARCA:USO), iPath Crude (NYSEARCA:OIL) and the US 12-month Oil Fund (NYSEARCA:USL) all jumping similar amounts on word that OPEC has agreed to a production cut/freeze. This article will briefly examine the implications from both a historical perspective, and from the standpoint of adjustments to my more forward-looking one.
What did we just find out about?
The reason for the ambiguity is that what OPEC actually did was agree to agree, at the next meeting on November 30, over two months from now. So far, there is no word of any buy-in at all from non-OPEC members like the U.S., Russia, China and Canada, which are 4 of the top 5 oil producing countries. Saudi Arabia, which is a founding member of OPEC, is #2 on the list. Historically, the target of 32.5M bpd is almost meaningless as it represents a near all-time high in OPEC production anyway: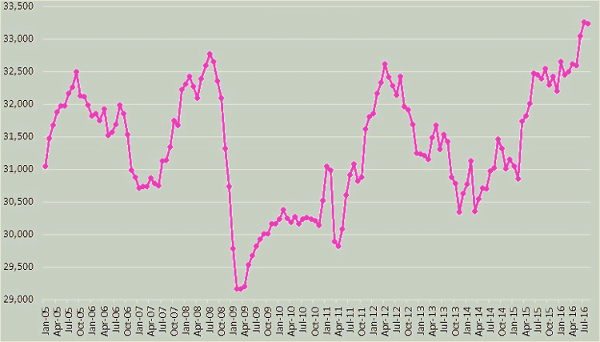 This is why many sources are merely referring to this as a freeze.
What Can We Expect
Many U.S. producers are too debt ridden to curb production meaningfully and much of the production from Canada represents an additional competitive ceiling on how high prices could go. Though Russia has sounded conciliatory on the point of limiting production, monitoring and enforcing any cooperation would be difficult, to say the least. The only bright spot here is that China can be expected to consume or store whatever it does produce. The biggest problem though, is that OPEC itself has a historically bad record on even sticking to its own agreements, as noted by the EIA:
Despite OPEC's efforts to manage production and maintain targeted price levels, member countries do not always comply with the production targets adopted by the organization.
When one considers that Iran, which is exempt from the cap, has been keen to continue increasing its output, and that there are no other details of how it will be enforced, the planned agreement seems unlikely to significantly affect the actual supply/demand equation going forward.
Institutions already recognize this, though doubtless, they are happy enough to see some volatility that they can profit from. Less biased organizations like the EIA, however, are still adjusting their models to the new market paradigm. Retail investors who have not yet recognized the new normal should take this latest bit of news with a great deal of salt.
Summary
Details of a production freeze or curb by OPEC are still not in place. Though most members of the cartel do have motivation to try to prop up oil prices, their ability to so is mostly a thing of the past. Though the latest jawboning from OPEC seems to offer some hope, retail investors who have made historically good returns with oil investments remain at risk. Oil is a sector to be avoided until the adjustment is complete. In the meantime, better options are available for both for income and for growth.
Disclosure: I/we have no positions in any stocks mentioned, and no plans to initiate any positions within the next 72 hours.
I wrote this article myself, and it expresses my own opinions. I am not receiving compensation for it (other than from Seeking Alpha). I have no business relationship with any company whose stock is mentioned in this article.