The surprise OPEC news is good for rate-sensitives.
I will let readers parse the commentary of commodities experts on the ins and outs of OPEC and oil supply and demand here, and tie this piece of news into recent sector developments in US Banks.
Importantly, this ray of light for oil comes when both US Presidential candidates and the policy elite globally are talking about growth in infrastructure investment.
Compare this to the dominant inflation drivers since August 2015: Chinese output and currency worries, the collapse in oil either side of the New Year and the strength of the Trade Weighted dollar. All of this amounted to a deflationary shock and bank stocks went into a downward spiral that left many experts on the sector scratching their heads at the alarmist headlines.
In Europe and Japan, bank stocks are still languishing YoY due to the impact of further monetary policy easing. In the US, bank stocks have recovered but have still lagged the broader market.
Perceptive recent commentary has asked why U.S. banks have lagged the broader market and whether they are cheap. The reason for the relative performance has been the change in expectations for the path of rate hikes, driven by the Fed's decision to break the USD with dovish language earlier this year. Banks are within their historical PE ranges and investors have been waiting either for a macro shift or for quarterly bank numbers to dictate performance.
Banks responded to the shock with a renewed focus on operating leverage to improve returns whether or not rate hikes are forthcoming, and stronger loan growth. Many loan groups are now hitting a 9% growth rate YoY. However, the market has yet to reward this because it has not shown up in quarterly numbers via a mix effect.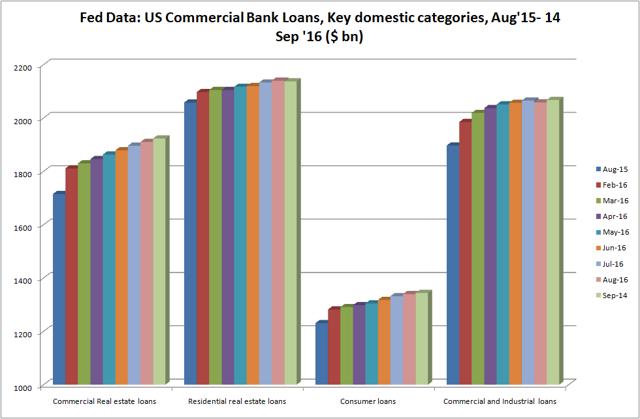 Source: Federal Reserve
With wage growth improving and several categories of inflation now ahead of the target rate, it can be argued that the inflation backdrop was anyway OK for banks - see below for the Atlanta Fed's series on wage inflation for Job Switchers and Stayers up to August.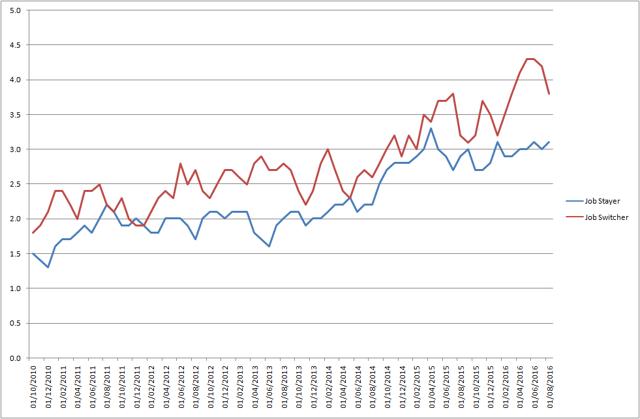 Source: Atlanta Fed
Conclusion
Oil bears will raise supply issues and urge waiting for OPEC to confirm production cuts at the November meeting. It also seems likely that supply will increase on firmer prices overall given US shale's response capabilities, and it seems unlikely demand will pick up.
However, to my mind, as long as China does not deal the world another deflationary blow then the matrix of inflation drivers has improved. This news should be good for rate sensitive names.
SVIB, Comerica Fulton Financial Corp. and MetLife (NYSE:MET) have a high sensitivity to rates. Bank of America (NYSE:BAC), Citigroup (NYSE:C) and MetLife also offer upside around operating leverage and capital return.
Disclosure: I/we have no positions in any stocks mentioned, and no plans to initiate any positions within the next 72 hours.
I wrote this article myself, and it expresses my own opinions. I am not receiving compensation for it (other than from Seeking Alpha). I have no business relationship with any company whose stock is mentioned in this article.