Nutanix Inc. (NASDAQ: NTNX) previously expected to raise $150.3 million in its upcoming IPO ($173.8 million of the underwriters exercised their option to purchase additional shares in full). With a revised range of $13-$15, up from $11-$13, the firm now expects to raise $196 million.
Based in San Jose, California, Nutanix provides cloud platform solutions that merge conventional silos of server, virtualization and storage into one integrated solution. We covered this deal last week on our IPO Insights platform.
Nutanix will offer 14 million shares at an increased expected price range of $13 to $15. If the underwriters price the IPO at the midpoint of that range, NTNX will have a market capitalization of $193.9 billion (calculated, based on total Class A and B shares outstanding after offering, including underwriters' exercising in full their option to purchase additional shares).
NTNX filed for the IPO on December 22, 2015.
Lead Underwriters: Goldman Sachs, J.P. Morgan, and Morgan Stanley.
Underwriters: Credit Suisse Securities, Needham & Co., Oppenheimer, Pacific Crest Securities, Piper Jaffray, Raymond James, RBC Capital Markets, Robert W. Baird & Co., Stifel Nicolaus, and William Blair & Co.
Business Summary: Provider of Enterprise Cloud Platform Solutions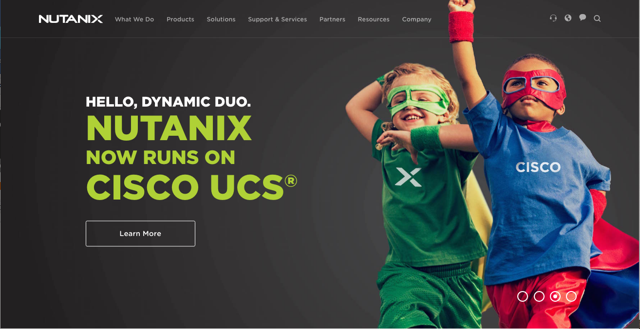 (Source: Company Website)
Nutanix provides enterprise-level, cloud platform solutions that merge conventional silos of server, storage and visualization into a single integrated solution. Nutanix describes how, as IT departments are being asked to "more, faster, and at lower costs" than ever before, teams are seeking new methods to match the demand for rapid delivery of applications and services.
In response to the growing need, Nutanix's software products include Acropolis, which delivers performance distributed storage and application mobility solutions. In addition, the product Prism delivers integrated virtualization and infrastructure management, operational analytics, and one-click administration solutions. Nutanix's product portfolio addresses a range of applications, including enterprise applications, databases, virtual desktop infrastructure, unified communications, and big data analytics.
Products are not exclusive to any one industry, being utilized across automotive, consumer goods, education, energy, financial services, healthcare, manufacturing, media, public sector, retail, technology, and telecommunications. Nutanix has global reach, doing business in North America, Europe, the Asia-Pacific, the Middle East, Latin America, and Africa.
Nutanix noted that its clients typically purchase 1+ years of support and maintenance in order to receive software upgrades, parts replacement, and bug fixes. Product revenue is derived primarily from the sales of the company's software solution, and they currently have a broad and diverse client base with 3,768 end-customers. This client base has grown steadily from 782 in 2013.
The company is aiming to significantly increase its sales and marketing personnel by 70% in the 12 months from July 2015 to July 2016. Based on past experience, sales team members become fully productive in their fourth quarter with Nutanix. As of July 2016, 54% of the global sales team is fully productive, and the remaining 46% is in the process of attaining full productivity.
Management Overview
President Sudheesh Nair has served in his position since February 2016. He joined the company in 2013. His previous experience comes from senior positions at IBM-XIV, DDN, ONStar, and Zambeel.
CFO Duston Williams has served in his position since June 2014. His previous experience comes from senior financial positions at Gigamon Systems, SandForce, Infinera, Maxtor Corp., Aruba Networks, and Rhapsody Networks. Mr. Williams holds a B.S. in Accounting from Bentley College and an MBA from the University of Southern California.
Financial Overview & Use of Proceeds
Nutanix provided the following figures from its financial documents for the year ended July 31:
| | | |
| --- | --- | --- |
| | 2016 | 2015 |
| Revenue | $444,928,000 | $241,432,000 |
| Net Income | ($168,499,000) | ($126,127,000) |
As of July 31, 2016:
| | |
| --- | --- |
| Assets | $399,086,000 |
| Total Liabilities | $465,022,000 |
| Stockholders' Equity | ($376,315,000) |
Total revenue in 2016 represents an 84% year-over-year increase and a 62% increase in gross margin percentage over the same time period. While still negative, total free cash flow has decreased from ($49,002,000) in FY2015 to ($38,658,000) in FY2016.
Nutanix intends to use the net proceeds of this IPO for capital expenditures, general corporate purposes, working capital, research and development, and sales and marketing activities as noted above, and administrative matters. None are specified. The company also notes it may also use some of the proceeds to acquire or invest in complementary technologies, products, solutions or businesses.
Potential Competition: VMware (NYSE:VMW), Red Hat (NYSE:RHT), Cisco (NASDAQ:CSCO) and Others
Nutanix faces competition from a variety of companies that offer virtualization, infrastructure and management products including HPE (NYSE:HPE), Cisco Systems, Lenovo Group (OTCPK:LNVGY), Dell Technologies (NYSE:DVMT), Hitachi Data Systems, IBM (NYSE:IBM), and NetApp (NASDAQ:NTAP).
| | | | |
| --- | --- | --- | --- |
| | Market Cap (Mil) | Net Income (Mil) | Price/Sales |
| VMware | $31,236 | $1,055 | 4.6 |
| IBM | $149,847 | $11,931 | 1.9 |
| Red Hat | $14,326 | $212 | 6.9 |
| Nutanix | $193.9B | ($168,5) | 4.35 |
As noted, NTNX is priced competitively.
Conclusion: Buy
NTNX has shown remarkable revenue growth, and high gross margins; at its current valuation, we recommend investing.
Technology IPOs have done particularly well in 2016, and NTNX is likely to continue the trend.
Noted risks do include lack of profitability, a quickly evolving market for cloud software, and dual class structure, which will give 98.9% of voting power to directors, executives, and pre-offering investors, after the IPO.
Disclosure: I/we have no positions in any stocks mentioned, but may initiate a long position in NTNX over the next 72 hours.
I wrote this article myself, and it expresses my own opinions. I am not receiving compensation for it (other than from Seeking Alpha). I have no business relationship with any company whose stock is mentioned in this article.