Oil and natural gas companies had their best day in a long time on Wednesday as crude oil prices reversed course and surged higher on encouraging news that OPEC members have agreed to limit production. Investors reacted very positively to the news and shares of major oil companies such as Chesapeake Energy Corp. (NYSE:CHK) and offshore drilling company Seadrill Ltd. (NYSE:SDRL) went through the roof. Chesapeake Energy's shares advanced 8.35 percent on Wednesday whereas shares of Seadrill surged a whopping 19.69 percent. Expectedly, the more vulnerable companies saw a larger price increase on the back of the OPEC news.
Seadrill has suffered from a combination of falling crude oil prices, a reduction in capital spending in the offshore drilling sector, and pressure on contract rates. Further, Seadrill has levered up its balance sheet just before the oil price downturn, leaving the offshore drilling company on the hook for billions of dollars in debt. Though Seadrill has managed to repay a good portion of its debt over the last year or so, the company is still vulnerable, and needs to work out a major restructuring deal.
OPEC To The Rescue?
The Organization of Petroleum Exporting Countries said on Wednesday that its members have reached an understanding to limit production in a bid to support crude oil prices.
This was big news for energy companies, including offshore drilling companies that rely on higher oil prices to improve drilling economics. OPEC's production limitation is a response to the persistent supply glut plaguing producers around the world, and the effect on oil prices was immediately visible. After the oil cartel said that it was prepared to reduce production to 32.5-33.0 million barrels per day, oil prices went bananas, surging 6 percent.
WTI crude oil for November 2016 delivery now sits at ~$47/barrel, and Brent crude oil (also for November 2016 delivery) sells for ~$49/barrel at the time of writing.
Strong Catalyst
The OPEC understanding comes shortly after the International Energy Agency warned of a persistent supply glut that was expected to last until the 1st half of next year. My last piece on Seadrill specifically mentioned IEA's Oil Market Report and its predictions as a negative catalyst for Seadrill and other offshore/onshore drilling companies.
In any case, the OPEC decision to curtail production is set to help oil companies, including offshore drilling company Seadrill over the short haul.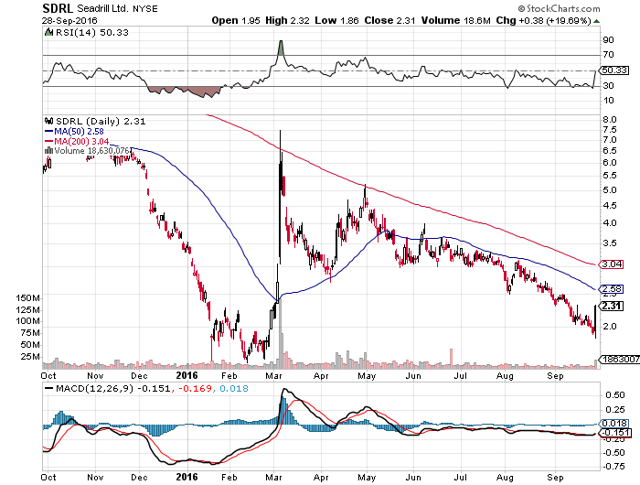 Source: StockCharts.com
Read also: 'Seadrill Ltd. - 10-20% Downside?'.
Your Takeaway
The OPEC decision to lower production in order to support prices is a major game changer for oil companies. The competition among OPEC member countries is fierce, and the cartel didn't work for many (smaller) members in the past because big oil producers like Saudi Arabia actively resisted production limits. Lower production limits obviously mean lower supply and higher prices, which would be a big help for struggling energy companies in the U.S. and around the world. As a result, Seadrill's shares may be ripe for a major rebound.
If you like to read more of my articles, and like to be kept up to date with the companies I cover, I kindly ask you that you scroll to the top of this page and click 'follow'. I am largely investing in dividend paying stocks, but also venture out occasionally and cover special situations that offer appealing reward-to-risk ratios and have potential for significant capital appreciation. Above all, my immediate investment goal is to achieve financial independence.
Disclosure: I am/we are long SDRL, CHK.
I wrote this article myself, and it expresses my own opinions. I am not receiving compensation for it (other than from Seeking Alpha). I have no business relationship with any company whose stock is mentioned in this article.