Oil major Chevron (NYSE:CVX) has been increasingly focusing on its petrochemicals business in the downstream segment in order to mitigate the weakness and uncertainty in oil prices. In my opinion, this strategy will bear fruit for Chevron going forward since the company is taking the right steps to capitalize on the growth of the chemical segment by way of its infrastructure investments.
So, in this article, we will take a closer look at the reasons why Chevron's petrochemicals business is expected to drive growth in the long run.
The end-market opportunity in petrochemicals
Demand for petrochemical products is expected to rise going forward, both in the U.S. and abroad. As an example, Asian polythene demand is set to increase over 5% next year to a total of 41 million tons on the back of growth in the e-commerce industry. This is not surprising as higher demand for e-commerce products will eventually lead to an increase in demand for plastics and packaging, which will have a positive impact on polythene demand.
Additionally, the demand for polyethylene is expected to grow across the globe going forward, rising at a CAGR of 4% to 99.6 million tons, worth $164 billion, in the next two years. At the same time, ethane demand will also continue to increase. For instance, in 2016, ethane demand is set to increase 6.5%, or by 70,000 barrels per day, with additional growth of 90,000 barrels per day anticipated in 2017.
The expansion of petrochemical plants will be a key driver behind the increase in demand for ethane as feedstock demand will go up on the back of an increase in the deployment of ethylene crackers. In fact, as shown in the chart given below, petrochemical products such as ethylene, propylene, butadiene, benzene, etc. will be the second-fastest growing segment in the chemicals segment.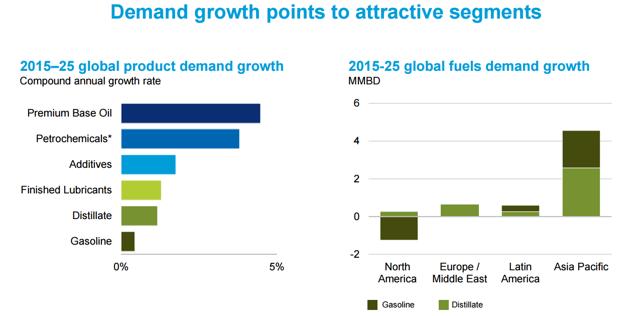 Source: Chevron
Hence, it is evident that the end-market opportunity in the petrochemicals segment is strong. This is the reason why Chevron has been investing aggressively in infrastructure development in the chemicals segment as this will allow it to tap the end-market opportunity more effectively going forward.
Chevron's chemical moves
In order to tap the demand in the end-market, Chevron has been bolstering its downstream infrastructure by way of the Chevron Phillips Chemical USGC petrochemicals project that's being built in Texas. This project will give Chevron an annual production capacity of 1,000 kMTA of polyethylene and 1,500 kMTA of ethylene.
At the end of the previous quarter, Chevron had completed around 80% of this project by putting in place polyethylene reactors, ethylene compressors, and furnaces. The company believes that it will be able to start-up this project by next year, which means that it will be able to bring its asset online just in time to tap the growing demand.
What's more, encouraged by the prospects of the downstream segment, Chevron has decided to increase its share of investment in the chemicals segment going forward and reduce investment in the refining and marketing segment. More specifically, Chevron invested 35% of its capital in the downstream segment toward the chemicals and lubricants business. By 2018, this share is anticipated to go up to 42%.
Moreover, another important fact that investors should note about Chevron's chemical segment is that its production and supply facilities are located at key locations across the globe, which will allow it to benefit from increasing demand across the globe.
This is shown in the chart given below: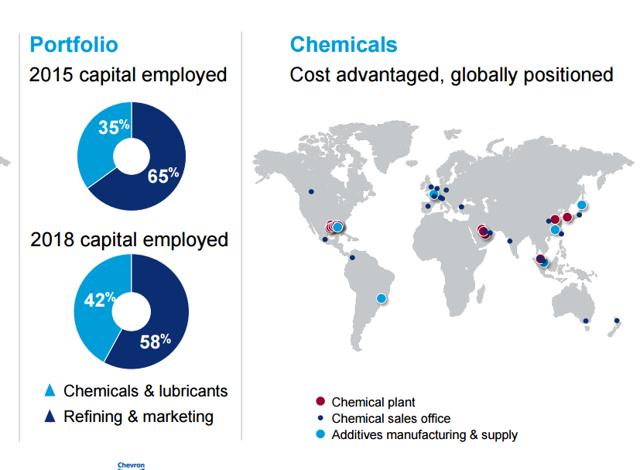 Source: Chevron
Conclusion
Hence, it is evident that Chevron is progressing in the right direction by looking to improve the chemicals business as this will allow it to improve its financial performance in the long run. The company will benefit from higher demand for petrochemical products and it is looking to capitalize on the same through its infrastructure development moves.
So, in my opinion, it will be a good idea to stay long Chevron in light of the points discussed above.
Disclosure: I/we have no positions in any stocks mentioned, and no plans to initiate any positions within the next 72 hours.
I wrote this article myself, and it expresses my own opinions. I am not receiving compensation for it (other than from Seeking Alpha). I have no business relationship with any company whose stock is mentioned in this article.