Despite the weakness in the railroad industry, CSX (NYSE:CSX) shares have been gradually gaining over the past three months and now trade at their 52-week highs. In fact, the stock has gained almost 19% in the past quarter, which seems surprising given the fact that the conditions in the railroading industry have worsened.
Why CSX's rise defies the industry's fundamentals
The railroad industry has been hurt by the weak commodity pricing environment, which has knocked the wind out of CSX's business this year. For instance, last quarter, CSX's volumes were down 9%, which had led to a 12% drop in the revenue. The primary reasons why the company saw lower volumes last quarter was the coal segment, where volumes were down 34%, while the intermodal business also showed weakness by going down 4%.
Ever since CSX reported its second quarter results a couple of months ago, these two businesses have continued to decline, leading to an overall decline in railroad traffic. For instance, in August, carload traffic was down 6.6% from last year, along with a 4.8% drop in container and trailer originations.
This weakness in railroad traffic was a result of a decline in both coal and intermodal shipments. For instance, last month, there was a 16% drop in shipments of coal. Additionally, intermodal containers and trailers have witnessed a decline of 3.1% in the first 35 weeks of the year.
The alarming point to note here is that intermodal carloads have been declining at a faster pace of late, dropping 5% on a year-over-year basis in the week that had ended on September 5.
As a result of such weakness, U.S. railroad traffic has trended lower in the first 35 weeks of the year by 7.2%. This is bad news for CSX investors as this means that the company will continue to see weakness in its business the next time it releases results as the struggle in both segments is expected to continue.
More downside ahead
Looking forward, CSX will see further declines in both its coal and intermodal businesses. For instance, the intermodal segment, which accounts for over 15% of CSX's overall business, will continue to struggle on account of low fuel prices that are making truckers more competitive against railroads. Last quarter, CSX's intermodal business saw a volume decline of 4%, which led to a drop of 7% in revenue.
As truckload pricing has declined rapidly on account of lower fuel costs, the lure of shipping through railroads has declined. The following chart clearly shows how low oil prices have made truckloads more competitive: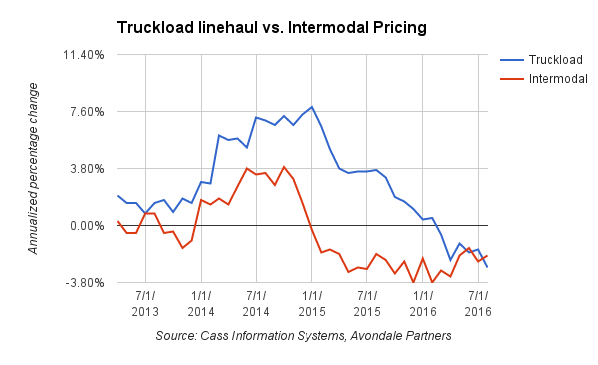 Moreover, a turnaround in the intermodal segment is not expected anytime soon as a persistently low oil price environment will continue to give truckers an advantage over railroads. Additionally, a sustained rise in oil prices does not look like a possibility at present since they could remain range bound and might even pull back as producers try to take advantage of any recovery. Hence, the possibility of a turnaround in the intermodal segment looks bleak right now.
On the other hand, the coal segment, which again accounts for 15% of CSX's business, will continue to drag down the company's performance going forward. This is because the demand for coal is declining in light of an increase in electricity generation from natural gas. In fact, there has been a 25% decline in coal production in the U.S. over the past couple of years, driven by plant retirements of 14,000 MW.
With 10,000 MW of plant retirements expected this year and 46,000 MW of retirements expected until 2022, the production of coal in the U.S. will continue to decline. This is bad news for CSX investors as there will not be a recovery in the company's coal volumes going forward.
Conclusion
As seen above, the coal and the intermodal businesses together account for 30% of CSX's overall business. Now, both these segments are expected to remain under pressure going forward, which will drag down the company's business. As a result, CSX will see a further decline in its financial performance, which is bad news for investors. Hence, in my opinion, it will be a bad idea to stick to CSX shares at 52-week highs since the stock could slide going forward.
Disclosure: I/we have no positions in any stocks mentioned, and no plans to initiate any positions within the next 72 hours.
I wrote this article myself, and it expresses my own opinions. I am not receiving compensation for it (other than from Seeking Alpha). I have no business relationship with any company whose stock is mentioned in this article.