Despite 2016 being a relatively "battered IPO market" per The Wall Street Journal, with year-to-date offerings down 62% versus prior year (68 in 2016YTD vs. 138 in 2015YTD), there are multiple absolute bright spots and a slew of IPOs on deck worth noting, suggesting increasing new issue market momentum.
Relatively Strong IPO Performance by 2016 Issuers that have "Gotten Out"
Average year-to-date returns for 2016 IPOs sits at +40% fueled by the Top 10 issuers which average 160% year-to-date returns. Healthcare has the largest share of Top 10 IPO performance representation with 5 companies, though the top 3 are made up of two technology companies Acacia Communications (NASDAQ:ACIA) (which posted quarterly revenue report post-IPO that was 30%+ street expectations) and Twilio (NYSE:TWLO) (which I have previously lauded for a variety of reasons, but which I have also expressed concerns over current valuation here) and then rounded out with industrials company IMPINJ (NASDAQ:PI).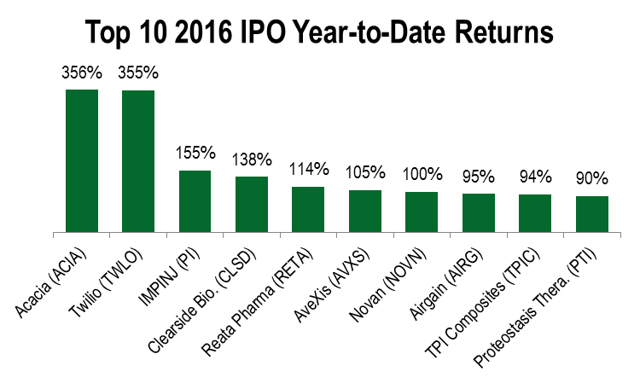 Considering 2016YTD IPO performance by industry, technology leads the pack with average year-to-date IPO returns of 93% (led by two high flyers in the pack of 10 tech IPOs this year), consumer comes in second with average IPO returns of 34% across the pack of 11 (most recently e.l.f. Beauty which posted 40%+ returns on first day of trading), healthcare comes in third with average returns of 32% across the slew of 26 companies (returns dragged by the 7 negative returns companies that have lost on average 22%), and last but not least being financials with 27% average returns but notably no losers that have lost value since IPO. Full 2016YTD IPO returns roll call and details below: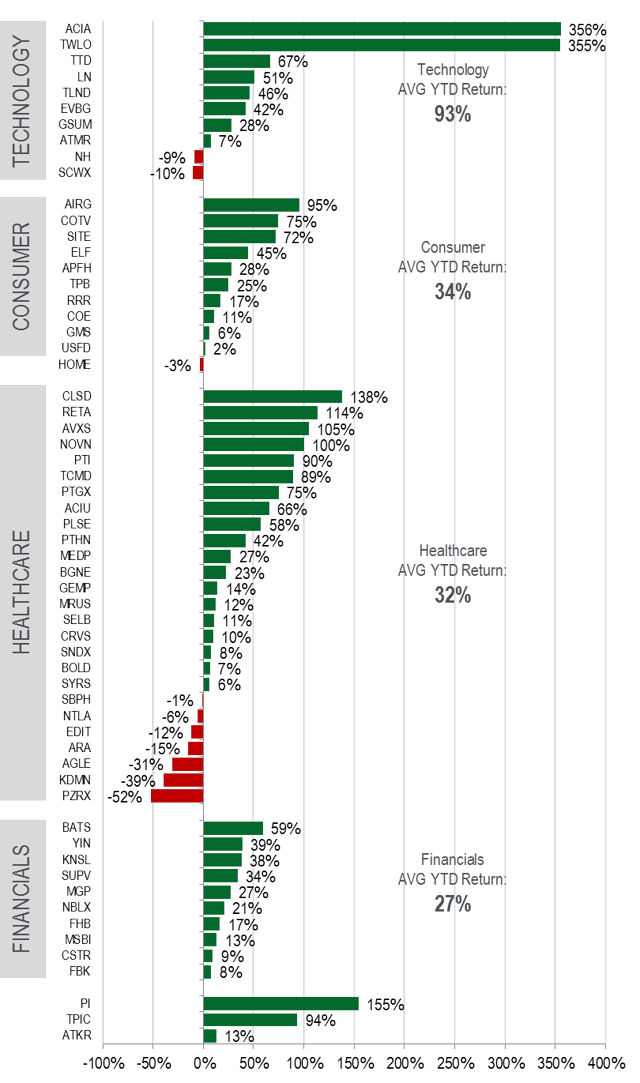 So, given the above attractive year-to-date returns of IPOs, I wanted to share with all who's currently on deck marketing their IPO and quickly note each's investment considerations for your review:
Interesting IPO Prospects on Deck with Investment Highlights Worth Your Consideration
Advanced Disposal Services, Inc. (NYSE:ADSW): Leading provider of solid waste collection and disposal services
Over $400M in EBITDA over trailing twelve months (June 2016)
Strategic network of vertically integrated disposal assets
Differentiated business model driving growth
Proven growth through acquisitions and new contract wins
Stability supported by revenue diversification and long-term contracts
Efficiency gains driving margin and FCF enhancement
Stable and growing industry with favorable tailwinds
AquaVenture Holdings Limited (NYSE:WAAS): "Water as a Service"
Over $30M in Adj. EBITDA in trailing twelve months (June 2016)
Multinational provider of water purification solutions
Plays to favorable clean water macro trends
Differentiated, high margin water-as-a-service business model
Recurring and contracted revenue
Broad footprint underpinned by long-term customer relationships
Experienced management team with a demonstrated track record of driving growth
Azure Power Global Ltd (NYSE:AZRE): India's first private grid connected MW Solar Plant
Leading company in Indian solar market
Scalable platform with a large and growing pipeline targeting 5GW committed or operating by Dec 31, 2020 (1,005MW portfolio today, with 250MW of capacity under auction)
Excellent track record of execution and growth (Operating project CAGR of ~114% since July 2012 to July 2016)
Fully integrated in-house capabilities minimizes execution risk and lowers LCOE (84% reduction in balance of system cost since inception)
Camping World Holdings, Inc. (NYSE:CWH): Retailer of RVs and accessories under Good Sam and Camping World brands
120 RV locations in US with 11M unique contacts and 3M active customers
Over $3.3B in revenue and $250M in EBITDA
Iconic / industry-defining brands
Comprehensive portfolio of services and protection plans/products
Significant customer database
Leading market position and scale
Core of high margin, recurring revenue products & services
Variable cost structure and capital efficient model
Experienced management team
Coupa Software Inc. (CSOFT): What Salesforce is to Sales, Coupa is to Spend
Disruptive cloud platform (measurable business value, unified platform, adoption by all)
Large addressable market ($16-25B)
Rapid platform adoption ($257B in spend under management; 1.5M employee users, 2M suppliers)
Attractive financial model ($109M LTM revenue, 71% LTM revenue growth)
Everspin Technologies (NASDAQ:MRAM): MRAM products offering persistence of non-volatile memory with the speed and endurance of RAM
Lost over $15M in EBITDA on $27M in revenue (minimal YOY growth)
Improves system performance and simplicity / bill of materials
1st and only company with MRAM solutions
Application specific memory targeted for high value markets
600+ customers and more than 60 million units shipped over last 8 months
Strategic relationship with GLOBALFOUNDRIES accelerates development and enables high volume production line for customer supply
Substantial IP portfolio with 300+ issued patents and 150+ patent applications
Existing ecosystem of SSD and RAID controllers are MRAM ready for product deployment
Significant design-win pipeline with market leaders in industrial, automotive and transportation, and enterprise storage markets
Attractive long-term growth and margin profile
MedEquities Realty Trust, Inc. (NYSE:MRT): Self-advised healthcare REIT in Nashville, TN with $509M invested in 24 properties and 1 mortgage and acquisition pipeline of $600M
Target growing acute and post-acute healthcare market driven by demographic trends and needs-based demand drivers
Differentiated investment strategy aligns with proven quality healthcare providers capitalizing on industry evolution and consolidation
Legacy-free portfolio of high-quality healthcare real estate generating predictable, growing and sustainable cash flows
Seasoned management team with a proven track record and extensive industry connections creating robust pipeline of off-market, relationship-driven investment opportunities
Scalable platform with acquisition growth capacity supported by clean, simple balance sheet
Motif Bio plc (NASDAQ:MTFB): Fund expenses associated with completion of two Phase 3 trials for iclaprim for the treatment of ABSSSI and prepare for a phase 3 clinical trial of iclaprim for the treatment of HABP, including VABP
Clinical stage biopharma company: novel antibiotics targeting multi-drug resistant bacteria
Iclaprim, a novel diaminopyrimidine antibiotic, is lead program
Efficacy and safety demonstrated in more than 600 patients and healthy volunteers
Attractive addressable patient segment: up to 936K patients annually in US hospitalized with ABSSI and co-morbid with renal impairment; 1.4M patients annually in US with HABP/VABP
Publicly traded on AIM since April 2015; raised $40M
Experienced team
Nutanix, Inc. (NASDAQ:NTNX): Cloud-based operating system for enterprise: bringing web-scale architecture to the masses
106% year-over-year billings growth to $638M in FY16 (July), but lost $165M from operations
Enterprise cloud OS
$100B market opportunity
Broad customer adoption
Sustainable technology advantage
Rapidly growing software business
Attractive financial model
Tabula Rasa HealthCare, Inc. (NASDAQ:TRHC): Leader in providing patient-specific, data-driven technology and solutions that enable healthcare organizations to optimize medication regimens to improve patient outcomes
32% revenue growth in 1H:16 to $43M ($80M LTM) and EBITDA over $10M, up 45% 1H:16
Multi-drug medication risk mitigation analysis intervention software - first-mover advantage; TRHC uses novel software to risk stratify one patient or large populations simultaneously
Strong investor demand cited given consistent growth, large addressable market, and technology enhanced services
Here's to hoping the "IPO Window" stays open and markets continue rewarding strong issuers with great valuations and returns (and best of luck to you in choosing the best investment opportunities).
Disclosure: I/we have no positions in any stocks mentioned, and no plans to initiate any positions within the next 72 hours.
I wrote this article myself, and it expresses my own opinions. I am not receiving compensation for it (other than from Seeking Alpha). I have no business relationship with any company whose stock is mentioned in this article.