Low interest rates around the globe increased businesses' appetite for new capital to finance new projects and developments, including -- and especially -- for New York real estate developers and REITs.
Up until 2008, commercial mortgage backed securities (NYSEARCA:CMBS) - bonds sold to investors - were the most popular way to raise capital for new projects and for refinancing existing portfolios.
Since hitting an $867 billion peak in Q4 of 2007 (SIFMA excel sheet download), value of CMBS securities outstanding has been decreasing greatly.
As of late-June, there were $566 billion of the securities outstanding - a 79% year-over-year and down 34.72% since the 2007 high.
This comes after the housing bubble nearly a decade ago.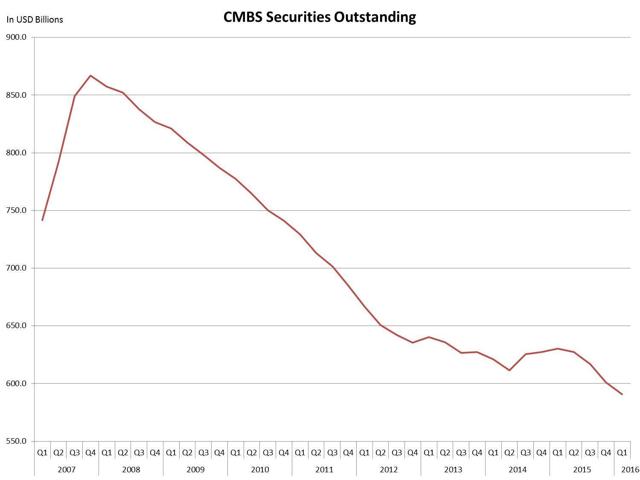 Source: Securities Industry and Financial Markets Association (SIFMA)
In the wake of the real estate market crash, domestic capital from CMBS has seen a tremendous decline. After reaching a $241 billion peak in '07 CMBS issuance plunged to $102 billion last year, a whopping 57.81% drop.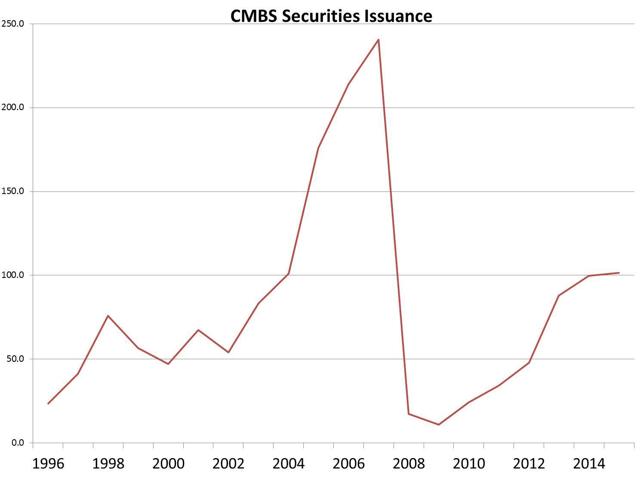 Source: Securities Industry and Financial Markets Association (SIFMA)
It's likely to get worse for CMBS financing as new regulations as part of the Dodd-Frank start to go in effect in December. Banks will have to keep a portion of the loans on their own balance sheet, increasing the issuers' cost of capital which will dampen the CMBS business.
This continuous decline of CMBS issuance equates to less capital from this source, leading to new sources of capital for developers - including what's now known as the "crack cocaine" and "land of milk of honey" of capital, respectively.
The rise of EB-5
Known as the "crack cocaine" of real estate financing, EB-5 has been a hugely popular source for developers in recent years, funding billions of dollars in new real estate developments.
Initiated in 1990, the EB-5 program is a government-issued program that allows foreigners to get a green card by investing $500,000 in a new business that would create 10 full-time U.S. jobs in a high unemployment or rural district. For $1 million, on the other hand, you can obtain a green card with no requirement of job creation.
After the fall of housing prices and CMBS issuance in 2008, the EB-5 program took off, correlating with the Chinese invasion of real estate investments, financing skyscrapers countrywide. In 2015, Chinese applicants accounted for 84% of all EB-5 visas, compared to just 13% in '04.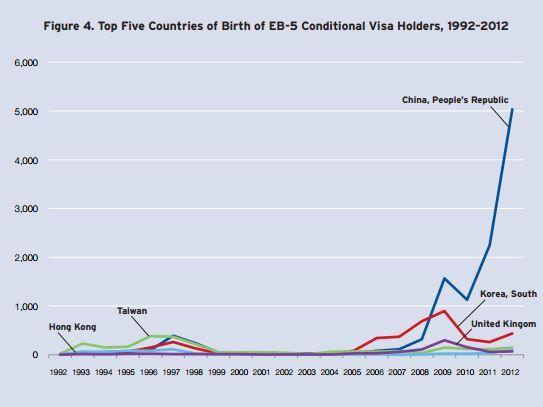 Graphic Source: the Brookings-Rockefeller Project on State and Metropolitan Innovation; Office of Immigration Statistics, Department of Homeland Security (Page 9)
Amid concerns of fraud - and demand for EB-5 visas skyrocketing - government has pumped the brakes on the EB-5, with speculation that it could not be extended beyond Sep. 30 -- and thus put an end to the easy source of capital.
"EB-5 investments are typically sold through unregistered securities offerings and rarely involve broker-dealers, so deal documents receive no SEC scrutiny and face little due diligence." - Fortune magazine, 2014
Even if the program were to be extended further, it could take up to 5 years for investors to obtain a visa as there are nearly 22,000 applications awaiting as of the end of 2015. The longer processing times will make it difficult for real-estate developers to get their hands on "easy" capital.
The Israeli bond market, explained
The demand from Israeli mutual funds, pension funds and institutional investors for exposure to foreign markets are increasing, especially for the U.S. real estate market. To mitigate the risks involved in investing far from home, the Israeli investors crop more yield.
The spread in the corporate bond market is lower compared with both the U.S. and Israeli stock markets, suggesting higher liquidity than the both markets.
Since 2008, U.S. firms have raised at least $2.8 billion in Israel. Last May, the Moinian Group raised $361 million (1.4 billion shekels) in Israel at 4.2% interest rate, backed by about 15 properties in New York, the largest debt offering on the Tel-Aviv Stock Exchange (TASE) to date by a U.S. real estate developer.
Much like the Chinese, Israeli investors see the U.S., specifically New York, as the safest investment.
Why investors are going to Israel
While the security of the U.S. market offers attractive vehicles for Israeli investors, the $87 billion Israeli bond market is attracting U.S. real estate developers in kind, mainly due to its advantages and flexibility.
For one, with fewer financing options and high interest mezzanine loans, real estate businesses are looking elsewhere for cheap capital, namely Israeli bonds.
And cheap it is. Unlike the double-digit rates of mezz capital, developers are getting capital -- unsecured, no less -- at rates in the 4-6% range.
"In the U.S., [limited liability companies] tend to use mezzanine loans, which carry 12% rates or higher," said Joe Berko in TheStreet interview, CEO of New York City-based Berko & Associates, a leading advisor on Israeli bonds transactions. "Israeli bonds generally go in the low-single digits."
As native of Israel, Berko holds exclusive rights with the main Israeli underwriter, law firm and accounting firm (E&Y), which also recently released a report on the very same topic (Page 32/33).
In addition to the low cost of capital, Israeli bonds offer some key advantages over other types of financing, making it a desirable source for both developers and investors.
For one, the real-estate bonds that would trade on the TASE don't have a first claim on the assets in case of a default - similar to a junior loan.
In other words, the loans are cheap, unsecured and don't have first position.
Huge.
Investors, which include Israeli mutual funds, would receive income generated by the portfolio of properties - a welcome change with a limited source of quality securities for investors to claim.
The low cost of capital: How it works
Of course, a major selling point is the unsecured bond issuance in Israel is the ultra-low interest rates. And in just two years, a who's who of New York players have raised billions in Israel, underscoring its popularity.
Established real estate operators (known as sponsors) can borrow against a pool of income generating assets by creating an offshore entity (or segregated portfolio company) which would include a portion of company's assets with its own balance sheet.

Source: The Real Deal
This, in turn, spreads out the risks and allows the developers to issue corporate debt with no tax implications at the aforementioned 4-6% interest rate, much lower than the traditional junior and mezzanine loan.
Bond credits and IPO requirements
U.S. developers expect a favorable credit rating. Better Israel rating can be achieved due to the different structure of bond market in two countries. A 'BB'-rated company in the U.S. would most likely receive an 'A' rating in Israel.
Another huge draw is the time. Unlike EB-5, which could take, on average, about roughly 17 months, Israeli bond issuance takes four-to-five months, with future issuances taking less than a month - a game changer for players who need capital fast.
Once the company is public, they will be subject to regulations and frequent monitoring of their business. This type of IPO isn't for everyone. Companies should have a minimum of $100 million of equity with minimum asset value of $250 million, as well as the cash flow to cover the debt.
A private company issuing a bond in Israel is basically going public. In order to raise the capital, the company will have to go through the same process companies planning to go public go though and that is due diligence.
Unlike U.S. IPOs, the company will have to be audited by an accounting firm under the International Financial Reporting Standards (IFRS) instead of generally accepted accounting principles (GAAP). The prospectus must be filed with the Israel Securities Authority (ISA), the Israeli equivalent of the SEC.
Why It's Changing the Game
Despite the glorious upside, it's not very straightforward to just waltz to Tel Aviv and tap into the wealth of, well, wealth of the Israeli securities markets. The equity, balance sheet and regulatory requirements are vast.
"To obtain those low rates, a firm needs to secure a good credit rating from one or both of the two major Israeli ratings agencies - S&P Maalot, a wholly-owned subsidiary of Standard & Poor's, and Midroog, an affiliate of Moody's," real estate trade publication The Real Deal reported in May.
Nevertheless, with the volatility of CMBS and EB-5 possibly ending, top developers, owners and US-traded REITs are taking meetings, with much more activity expected in the pipeline.
Extell, the developer behind the most expensive condo sale in New York City history, helped kickstart this trend in '14, and now has raised $450 million in total on TASE.
Whispers within the industry say that developers outside of New York could get jump on the bandwagon, opening the floodgates for billions in issuances in the near term.
"With all the uncertainties surrounding [EB-5 and CMBS]," Berko said in TheStreet interview, "I see [Israeli bond activity] hitting $3 billion in the next six to nine months."
Disclosure: I/we have no positions in any stocks mentioned, and no plans to initiate any positions within the next 72 hours.
I wrote this article myself, and it expresses my own opinions. I am not receiving compensation for it (other than from Seeking Alpha). I have no business relationship with any company whose stock is mentioned in this article.
Additional disclosure: I'm currently a corporate bond issuance research analyst intern at Berko & Associates. This article is done at my discretion and is an expression of my views alone.