The USD14bn Deutsche Bank's (NYSE:DB) fine came as a surprise even for those who have been consistently bearish on the stock. In our prior article, we have already mentioned that the fine could trigger a capital call at DB. In addition, we also see material implications for other European Banks: RBS (NYSE:RBS), Credit Suisse (NYSE:CS) and Barclays (NYSE:BCS).
In this article, we focus on Credit Suisse and estimate a negative impact from potential litigation settlements.
The implications for Credit Suisse are material
The below chart shows that since the announcement of Deutsche's fine, RBS has posted the second-worst performance among a basket of four European banks: Deutsche Bank, RBS, Credit Suisse and Barclays.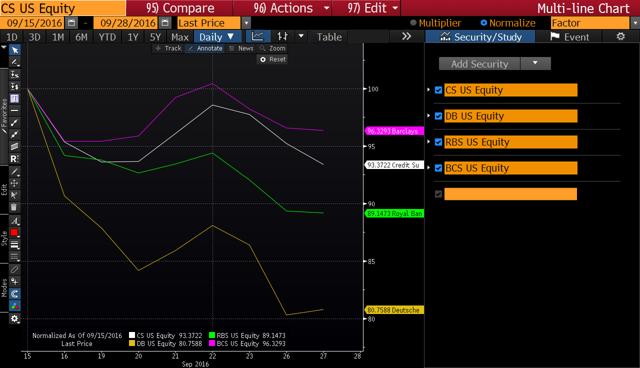 Source: Bloomberg
While we do agree that read-across from the USD14bn RMBS fine is most negative for RBS, we think that the market underestimates a potentially negative impact on Credit Suisse's financials.
The following table shows the RMBS payments made for the banks that have already reached a settlement with the US DoJ.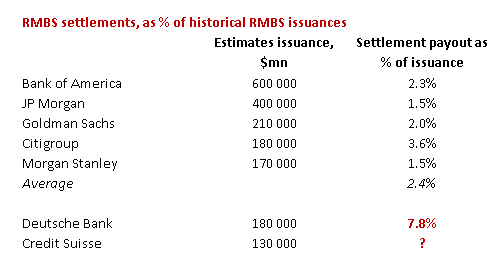 Source: HSBC Global Research, US DoJ, Company data
We do acknowledge that the level of issuance is not the only factor that the DoJ takes into account. Moreover, it is well-known that there are no rules of thumb for estimating penalties levied on banks by the DoJ. That being said, the average RMBS-related fine paid by Bank of America (NYSE:BAC), JPMorgan (NYSE:JPM), Goldman Sachs (NYSE:GS), Citigroup (NYSE:C) and Morgan Stanley (NYSE:MS) was approximately 2.4% of the notional value of the mis-sold RMBS.
For this very reason, before Deutsche Bank's announcement, investors and analysts had rightfully expected the DoJ to levy a USD4-5bn fine on Deutsche. However, as the table above shows, the implied percentage for DB's DoJ settlement is a whopping 7.8%.
Using a multiple of 7.8% on the notional value of the mis-sold RMBS suggests that the DoJ could levy a USD10bn fine on Credit Suisse. Should that happen, CS's share price would fall, given that the company has litigation provisions set aside of USD1.6bn.
Another way to estimate the CS's fine is to look at a ratio between DoJ fines and FHFA settlements for RMBS. As the table below shows, SocGen Research estimates that this ratio has averaged 2.8x. However, a multiple of 2.8x implies that the DoJ should have levied a USD5.4bn fine on Deutsche Bank, not a shocking USD14bn, which corresponds to a multiple of 7.4x (!) versus DB's FHFA settlement.

Source: Societe Generale Research&Analytics
If we apply a multiple of 7.4x to Credit Suisse's FHFA settlement, the DoJ fine would be USD6.5bn, still much larger than the bank's litigation provisions of USD1.6bn.
A capital call on the way?
On our estimates, a USD10bn fine levied on Credit Suisse would imply further provisioning of USD8.4bn. We note that while CS's CET1 ratio is in line with the sector average, the company's leverage ratio of just 3.3% looks very weak. As such, CS would have to consider deleveraging further. Otherwise the bank would need to raise capital. As a reminder, given that CS is trading at a significant discount to its book value, a capital call would be incredibly dilutive.
We are reiterating our recommendation: Avoid
CS is trading at a premium to the sector and its risk-reward ratio does not look attractive to us.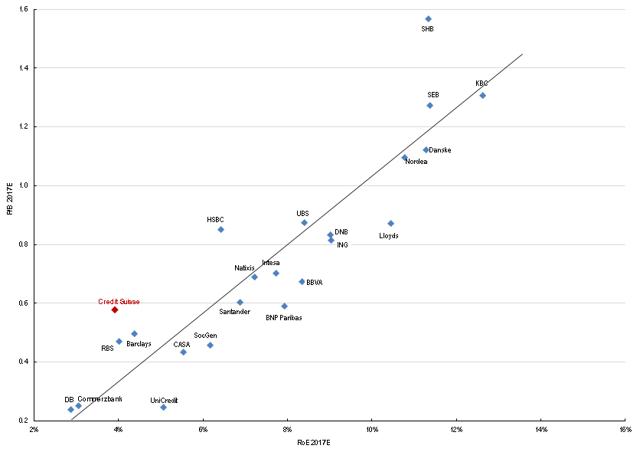 Source: Bloomberg, Renaissance Research
Given potentially costly litigation settlements, risks are clearly skewed to the downside, while upside potential looks limited. Credit Suisse will remain "a construction site" for the next 12-18 months and we do not see any reasons to buy or hold the stock.
Thank you for reading. If you are interested in equity research on U.S., European, LatAm and CEEMEA banks/financial companies, including fundamental analysis, DCF/multiples valuation, commentaries on price-sensitive events and actionable trading ideas, click the "Follow" button beside my name on the top of the page.
Disclosure: I/we have no positions in any stocks mentioned, and no plans to initiate any positions within the next 72 hours.
I wrote this article myself, and it expresses my own opinions. I am not receiving compensation for it (other than from Seeking Alpha). I have no business relationship with any company whose stock is mentioned in this article.