I have been investing in individual stocks for almost 10 years now. Along the way, I've had my share of home runs and strikeouts. And while I'm glad to say I've had more hits than misses, there is one stock I still think about.
It's a stock that I bought in 2011, held for two years, then sold after doubling my money. The reason I sold the stock was because I had booked a nice gain and didn't want to risk losing it. And, this particular company was shrouded in negative sentiment because of budget cuts in the U.S. that threatened its bread-and-butter business. As a result, very few analysts were recommending buying it at the time, and I didn't want to see my gains on paper disappear.
And so, I sold the stock. While I tend not to dwell on the mistakes I have made, I have to admit I still think about what a bad decision it was to sell. That stock has increased $100 in share price since I sold it, not including dividends.
That stock is Lockheed Martin (NYSE:LMT), which I still regret selling to this day.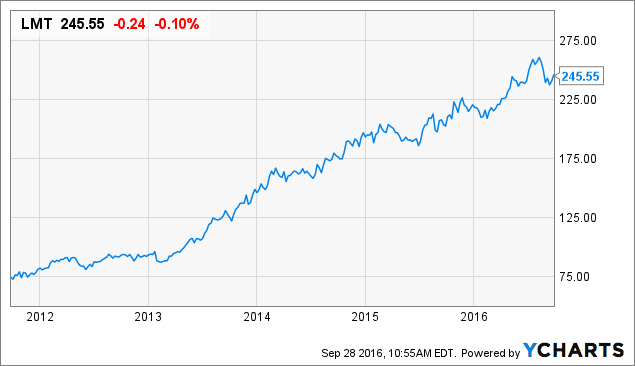 Free Cash Flow Takes Flight
The reason why I first took a position in Lockheed was largely because of its hefty free cash flow and rising dividends. Even though the company has had its struggles generating growth in a challenging economic environment over the past five years, one thing it has not struggled to do is generate free cash flow, and that has directly resulted in very strong dividend growth.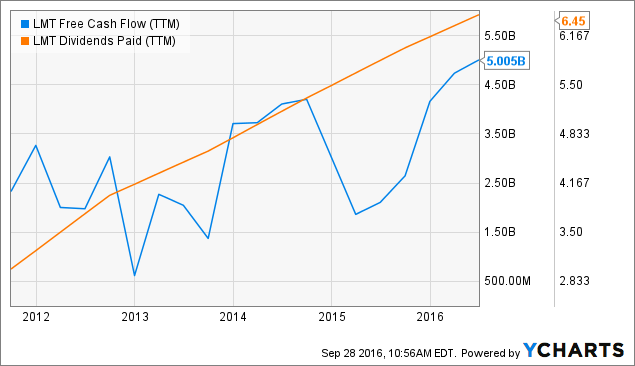 This speaks to the strength of Lockheed's business model. Thanks in part to the success of the F-35 program, which by itself accounts for 20% of Lockheed's sales, the company generated $4 billion of free cash flow last year, and is on pace to do even better this year. Last quarter alone, Lockheed booked $1.2 billion of free cash. Revenue and earnings per share increased 11% and 13%, respectively, year over year.
Going forward, there should be even more growth opportunities up ahead. A compelling future growth catalyst is increasing global defense spending. Defense budgets around the world are still rising, and Lockheed has made international growth a strategic priority. This was one of the reasons why Lockheed bought the Sikorsky business from United Technologies (NYSE:UTX), because Sikorsky generates 48% of its annual sales from international regions.
Lockheed generates huge amounts of free cash flow, which it uses to reward shareholders with a balanced capital allocation program. The company evenly splits its free cash flow between dividends and share buybacks.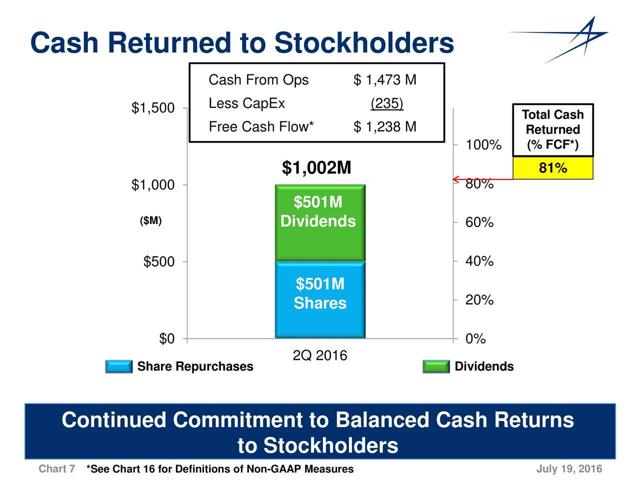 Lockheed has a shareholder-friendly management that is committed to returning lots of cash to shareholders. On Sep. 22, the company announced a 10% dividend increase and also added $2 billion to its share buyback. Lockheed has been one of the most impressive dividend stocks to own. Not only has it consistently offered an above-average dividend yield compared with the broader S&P 500, but it routinely delivers double-digit dividend increases.
Lockheed has now come through with at least 10% dividend growth for 14 years in a row. This has made it a dream stock to own not just for current dividend income, but for dividend growth investors as well. Lockheed Martin is a member of the Dividend Achievers list.
Click here to view all 274 Dividend Achievers.
A Lesson for the Future
To be sure, I had my reasons for selling Lockheed Martin. It was widely thought that the pending sequestration (remember that?) was going to be a death knell for the U.S. defense industry. When I wrote about Lockheed back then, most commenters contended that I was crazy to even think of buying stock in a defense company.
Feeling like the only person on one side of a trade can be a lonely feeling. So I decided to sell. And, it's not like I did poorly in the stock-one can hardly argue with a greater than 100% return in two years' time.
But the clear lesson going forward is that at times, it helps to have the courage of conviction. There is an old saying in the sports world that sometimes the best trade is the one you don't make. Going forward, what I learned is that high-quality companies with competitive advantages, leadership positions in their industries, strong cash flows, and steady dividends, should simply be held onto for long periods of time and not messed with. Congratulations to all Lockheed Martin investors who have held on over the past several years.
To summarize, the lesson I took from my experience with Lockheed Martin is that if it ain't broke, don't try to fix it.
Disclaimer: This article represents the opinion of the author, who is not a licensed financial advisor. This article is intended for informational and educational purposes only, and should not be construed as investment advice to any particular individual. Readers should perform their own due diligence before making any investment decisions.
Disclosure: I/we have no positions in any stocks mentioned, and no plans to initiate any positions within the next 72 hours.
I wrote this article myself, and it expresses my own opinions. I am not receiving compensation for it (other than from Seeking Alpha). I have no business relationship with any company whose stock is mentioned in this article.