Introduction
I recently conducted an exhaustive review of the 2015 performance of the 20 primary silver miners. The focus of my review was on determining the cost efficiency of these miners, especially as it resulted in free cash flow for shareholders.
I calculated the cost effectiveness of current operations, cost effectiveness of overall business, and long-term cost effectiveness of each of these miners using the methodology I recently outlined in my True Vine Letter. (Please refer to this methodology for a complete understanding of the approach taken in this article and how it compares to the commonly reported cash costs, all-in sustaining costs, and all-in costs commonly reported by miners.) These cost measures are similar to those reported by the miners, but they add value by bringing a consistent, cash flow focused approach to a broader industry analysis.
The results of this review, some of which I will highlight in this article, provide beneficial benchmarks to investors active in or considering silver mining investments.
Primary Silver Miners
I would loosely define primary silver miners as those miners whose prominent business is silver mining. Here is a list of the 20 miners I looked at, ranked by the size of their proven and probable silver reserves:
Silver Miner
Proven & Probable
Silver Reserves
(ounces; end of 2015 fiscal year)
Fresnillo (FRES - London) (FNLPF)
547,570,000
Tahoe Resources (TAHO)
334,959,000
Pan American Silver (PAAS)
280,100,000
Hecla Mining (HL)
175,429,000
Buenaventura (BVN)
172,681,536
Coeur Mining (CDE)
155,895,000
Silvercorp Metals (SVM - Toronto) (SVMLF)
101,020,000
First Majestic Silver (AG)
100,554,000
Hochschild Mining (HOC - London) (HCHDF)
73,900,000
Fortuna Silver (FSM)
35,800,000
Americas Silver (USA - Toronto) (USAPF)
31,116,000
GoGold Resources (GGD - Toronto) (GLGDF)
26,400,000
Sierra Metals (SMT - Toronto) (DBEXF)
17,600,000
Avino Silver & Gold (ASM)
13,638,653
Endeavour Silver (EXK)
11,990,400
Excellon Resources (EXN - Toronto) (EXLLF)
10,458,000
Gold Resource (GORO)
8,569,700
Santacruz Silver (SCZ - Vancouver) (SZSMF)
5,543,000
Impact Silver (IPT - Vancouver) (ISVLF)
Company does not disclose resources or reserves
Great Panther Silver (GPL)
N/A (9,926,700 M&I Resource)
TOTAL
2,103,224,289
*Silver Standard (SSRI) was not included because, despite the name, the company is moving in the strategic direction of a primary gold miner.
These 20 silver miners produced 200 million ounces of silver in 2015 which was 25% of the total global production of 804.2 million ounces. (65% of silver is currently produced as a by-product of primary zinc & lead (32%), copper (17%), and gold (16%) mines.) Their 2.1 billion ounces of proven & probable (P&P) reserves is enough to supply the world for 2.4 years, given 2015 demand of 875.3 million ounces.
These 20 silver miners also hold 26.6 million ounces of gold. Using a gold-to-silver ratio of 60, they had proven & probable silver equivalent reserves of 3.7 billion ounces (including only gold and silver).
The gold-to-silver ratio is currently around 70. What would be the implications for these miners if the gold-to-silver ratio fell substantially? Here is what the P&P gold equivalent reserves of the top 10 of these miners would look like at a gold-to-silver ratio of 30.
Primary Silver Miner
Proven & Probable
Gold Equivalent Reserves
(gold-to-silver ratio of 30;
end of 2015 fiscal year)
Fresnillo
27,792,333
Tahoe Resources
15,324,300
Pan American Silver
11,469,067
Hecla Mining
7,920,633
Buenaventura
7,849,250
Coeur Mining
7,635,500
Hochschild Mining
3,766,533
Silvercorp Metals
3,367,333
First Majestic Silver
3,351,800
Fortuna Silver
3,105,533
This exercise is useful for conceptualizing the potential size of the overall precious metals reserves held by these miners when compared to their gold brethren. For example, 15+ million gold equivalent ounces would be enough to categorize Tahoe Resources as a lower echelon gold major.
Mine Life
The average mine life (P&P Reserves/2015 Production) for these silver miners was 10.7 years. Here is how they ranked from highest to lowest: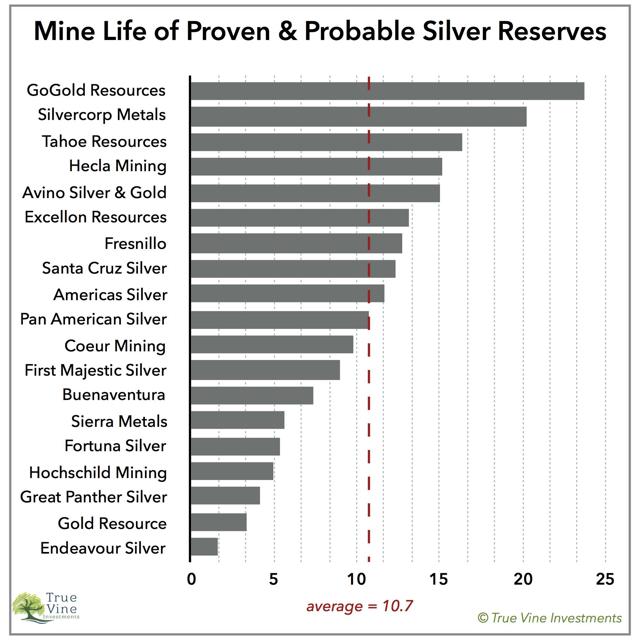 *Note: Impact Silver was not included because they do not disclose reserves or resources. Great Panther's mine life was estimated using resources and not reserves, which means their actual (economic) mine life is likely lower.
As you can see in the above chart, several of these miners (Sierra Metals, Fortuna, Hochschild, Great Panther, Gold Resource, and Endeavour) have very low mine lives. Unless they already have production increases scheduled in the pipeline, this could mean a lot of near term capital expenditures (MUTF:CAPEX) will be required to drill and expand existing resources and/or purchase new mineral properties. Increased CAPEX would generally mean higher all-in sustaining costs (AISC) and total costs in the coming years.
I recently completed a detailed review of the supply and demand fundamentals of the silver market. Shortly thereafter I published a silver price forecast where I came out as cautiously bullish in the near term and exceptionally bullish beyond 2018. Given this, I would prefer to own miners with a long mine life or those who are just getting ready to start producing so that they are well positioned to capitalize on the next silver bull market cycle. When silver prices are on the move to $25 to $35 per ounce, I want to see the free cash flow coming through. I do not want to see all the net operating cash being spent to develop mines so that eventual production comes online when prices have fallen again. In other words, the timing of production needs to be considered against the backdrop of the price cycle.
We will come back to mine life after looking at another key metric. Coupled together, we can gain insight into what miners may be well positioned to generate exceptional amounts of free cash flow in the next silver bull market.
Cost of Current Operations
Let us take a look at my Cost of Current Operations per Ounce of Silver Equivalent Production metric (at the beginning of this article there is a link to my Letter with the complete definition). This is the company's cash cost of silver equivalent production per ounce. This does not include the company's income tax, interest expense, sustaining CAPEX, and exploration & development CAPEX. In sum, this will show us the 2015 cost for each company's core mining operations on a silver equivalent basis. For companies that did not report silver equivalent production, I estimated it using only their reported silver & gold production.
The following chart shows how these silver miners stack up: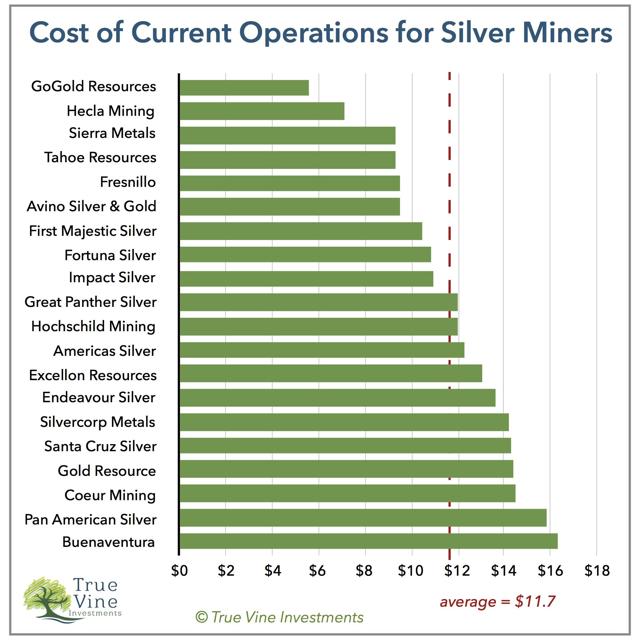 The average cost of operations for these 20 miners was $11.7 per ounce. For comparison, in their Silver Yearbook 2016, CPM Group estimated that the 2015 average reported cash cost for all primary silver producers was $8.12. My Cost of Current Operations number is typically higher because it is derived purely from the cash flow statement, and thus, generally a better metric for determining free cash flow potential.
Positioned for Exceptional Free Cash Flow Generation
We can now use the mine life and Cost of Current Operations numbers to calculate the hypothetical free cash flow generation potential of these miners. If we assume $20 per ounce silver and subtract out the Cost of Current Operations, we get a hypothetical Operational Cash Flow Margin. Multiplying this by the mine life, we get a final hypothetical number that may give us some clues as to which miners could be the best free cash flow generators in the years to come. Remember, we are using mine life because, all else being equal, the longer the mine life, the longer the company can put off exploration and development CAPEX. Reduced CAPEX demands leads to dividends and other steps to benefit shareholders.
In the following table I whittled it down to the top 10 silver miners for this calculation:
Silver Miner
Mine Life x Operational Cash Flow Margin
at $20 per ounce Silver
GoGold Resources
342
Hecla Mining
196
Tahoe Resources
175
Avino Silver & Gold
157
Fresnillo
134
Silvercorp Metals
117
Excellon Resources
92
Americas Silver
90
First Majestic
86
Santacruz Silver
71
In this article I have focused on mine life and core cash operating costs. This calculation provides a good way to weigh each of them together when evaluating these companies.
I would add here that the more established each of these companies are, the more likely excess free cash flow will result from higher silver prices. A company like Fresnillo with multiple, large high grade mines is far less fragile than a company like GoGold Resources with one small operation. That being said, the numbers do not lie so a higher number could very well mean opportunity for investors at the right valuation. There are other important factors to consider, namely balance sheet strength and geographic location, but I think this is a good starting point.
Conclusion
I hope readers found this article to be helpful for providing some benchmarks for the primary silver miners. I should also note that my research kicked up another 10 to 15 companies that may also become silver producers within the next few years. Some of these companies have substantial high grade mines set to begin producing. This means that the composition of the primary silver producers is likely going to expand and be shuffled up a bit within the next few years. I expect to write about some of these companies on the True Vine Letter or Seeking Alpha.
Promoting Quality Discussion
In order to promote quality discussion about the topics I address in my Seeking Alpha articles, I have decided to give away a free copy of my book, The Truth On Investing: From The Darkness Of The Crowd To The Light, to the individual who provides what I think is the most thoughtful comment on the article (U.S. residents only). This can also be a quality view that is opposed to my thesis. I will pick this person about a month after the article is published to allow time for comments. If there are no exceptional comments, then no book will be given out. Thanks for reading and hopefully contributing to the discussion.
Important Regulatory Disclosure
I am an investment adviser and owner of True Vine Investments, a Registered Investment Advisor in the State of Pennsylvania (U.S.A.). I screen electronic communications from prospective clients in other states to ensure that I do not communicate directly with any prospect in another state where I have not met the registration requirements or do not have an applicable exemption.
Any investment advice or recommendations involving securities referenced in this article is general in nature and geared towards a readership of sophisticated investors. This article does not involve an attempt to effect transactions in a specific security nor constitute specific investment advice to any particular individual. It does not take into the account the specific financial situation, investment objectives, or particular needs of any specific person who may read this article. Individual investors are encouraged to independently evaluate specific investments and consult a licensed professional before making any investment decisions.
All data presented by the author is regarded as factual, however, its accuracy is not guaranteed. Investors are encouraged to conduct their own comprehensive analysis.
Positive comments made regarding this article should not be construed by readers to be an endorsement of my abilities to act as an investment adviser.
Disclosure: I/we have no positions in any stocks mentioned, and no plans to initiate any positions within the next 72 hours.
I wrote this article myself, and it expresses my own opinions. I am not receiving compensation for it (other than from Seeking Alpha). I have no business relationship with any company whose stock is mentioned in this article.
Editor's Note: This article covers one or more stocks trading at less than $1 per share and/or with less than a $100 million market cap. Please be aware of the risks associated with these stocks.