Exxon-Mobil (NYSE:XOM) has under-performed the energy ETF (NYSEARCA:XLE) throughout 2016. XLE has increased 16% compared to Exxon's modest 11%. In one way this is to be expected. Exxon Mobil usually under performs in an up trending oil environment because of its integrated business model. On the contrary, it outperforms its competitors when crude oil prices are tumbling which we have had since June 2014. However, with ongoing investigations into Exxon-Mobil's accounts due to climate change and how it values its assets, we really have seen the stock decline meaningfully over the last three months. In fact, Exxon Mobil is down almost 5% in the last three months compared with the energy ETF, which is up 5%. However, similar to another stock with a very strong economic moat, Wells Fargo (NYSE:WFC), which is also going through its fair share of problems, I would use the recent downturn in Exxon Mobil to go long, for three very strong reasons, which I will outline below.

First, Exxon Mobil's profit will be predominantly determined by the price of crude oil. We definitely printed a strong intermediate cycle low in August in crude oil when the price of crude went under $40 a barrel. Now, if we look at the last intermediate cycle in oil which went from mid February to the start of August, we can see that intermediate cycles in oil can last for up to 6 to 7 months. The line in the sand is the August low of just under $40 per barrel of crude. As long as we stay above this, I maintain that crude oil is still in an up-trending market.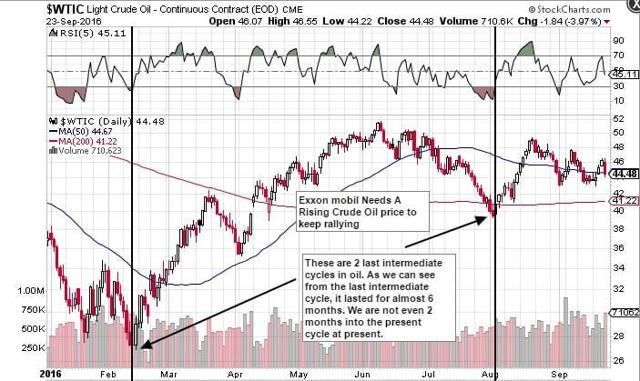 A rising oil price definitely has ramifications for dividend investors. However, this is where Exxon definitely has an advantage over its peers. Why? Because energy companies are not going to keep capex budgets elevated every year in the face of falling oil prices. If this were to occur, we would have ramifications down the road in terms of supply shortages. Exxon's balance sheet which currently reports a debt to equity ratio of 0.16 definitely seems to be the company that is going to be able to withstand current conditions for the longest period of time. Moreover I think that's the underlying issue here. How long can companies produce cash flows without high oil prices?
The other side of the coin of having low oil prices for an integrated company like Exxon is that you're going to see its cash flow break-even come down quarter over quarter. In fact, even if crude oil prices stay in the 40's, I can see Exxon-Mobil becoming cash flow neutral by the end of next year. This would be the result of reduced capex and more asset sales. Can we stay the same about Exxon's competition which need to maintain their borrowing? I don't think so.
So if you're an Exxon dividend investor, I wouldn't be too worried about the cash flow shortfall of $5.8 billion over the first six months of this year. As I have said, Exxon is the one company that can go the longest here. It has the assets and it can easily borrow debt if at any time it needs to. I think that 2nd quarter earnings that Exxon announced in July is going to be the worst it is going to get for this company. Net income fell to $1.7 billion which was well down from the $4.2 billion reported in the 2nd quarter of 2015. However, we have to take some things into context here. Firstly on the upstream side, the average price of oil was way below the average price of crude in the same quarter of 12 months prior. Furthermore, production levels were well down (due to temporary problems in Canada & Nigeria) but these problems now have been solved and production should be up in the third and fourth quarters.
Also, the downstream segment was poor in the 2nd quarter of 2016 mainly due to poor global refining margins which tanked that particular sector's earnings to $825 million. Nevertheless, in what was a poor quarter for Exxon-Mobil mainly due to factors outside its control, its $1.7 billion in net income still illustrated that this company can turn a profit in an environment where its competitors are still posting red numbers every quarter. Therefore this stock is definitely starting to interest me because of the downward movement of the share price over the last few weeks. Furthermore, if we look at the chart, we can see that the stock has strong support around the $75 area with overhead resistance around the $90 area. I would always trade Exxon-Mobil (especially now with oil prices in the mid $40's) from the long side. Sentiment is at bearish extremes which for a stock like this is rare. Therefore, we should get a spike back up to around the $90 area in the next few months.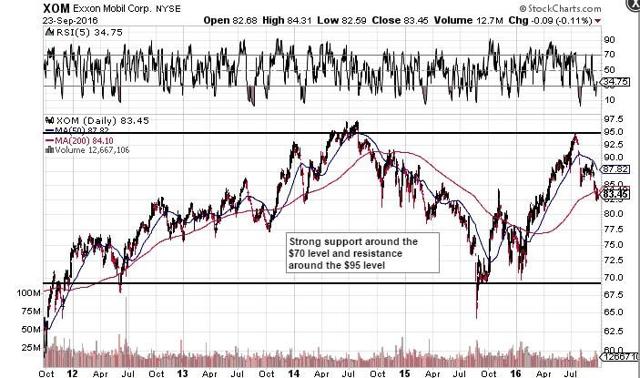 Exxon Mobil is for the investor who wants coverage in energy and is also mainly invested for income. This stock is not going to go to the moon nor is it going to break down. But what it will give you is an excellent trading range where you can drip feed your dividend payments back into the stock.
In terms of fundamentals, Exxon will continue its foray into LNG through acquisitions and partnerships. LNG's price is linked to oil which should lead to better cash margins over time. The acquisition of InterOil looks like a masterstroke plus the government in Papau New Guinea is also backing a new facility to be erected in addition to Exxon's expansion of its existing $19 billion PNG project. Exxon's focus on LNG makes sense. Demand for the gas is expected to grow robustly over the next few years. In fact we are looking at 1.6% sustained annual growth rate in LNG by 2040 which is double the rate for crude oil. Therefore I am not surprised to see the company also looking at fields in Mozambique for further investment. Investors should note that these LNG investments are all long term investments that wont produce for many years. Exxon Mobil is taking a long term view with these assets. It knows prices will probably remain range-bound for the next few years due to supply on the market. However it wants to be producing meaningfully when demand spikes meaningfully which should be after 2020.
To sum up, investors looking to get long Exxon Mobil should use its recent weakness to get long the stock. The share price rallied aggressively yesterday on news of a output cap by OPEC. Moreover I don't see anything untoward coming out of the investigations that are currently taking place. Furthermore the dividend is ultra safe and ongoing investment into LNG should bear fruit in years to come. In energy, Exxon is the best play for long term dividend growth in my opinion.
Disclosure: I am/we are long XOM.
I wrote this article myself, and it expresses my own opinions. I am not receiving compensation for it (other than from Seeking Alpha). I have no business relationship with any company whose stock is mentioned in this article.