Alkermes (NASDAQ:ALKS) is a medium-size biotech (market cap: $ 7.51 billion) that develops and markets products targeting schizophrenia and addiction. A recent article laid out an investment opportunity for their schizophrenia portfolio.
Yesterday, Alkermes held an Analyst and Investor Event focusing on the company's more mature commercial product, VIVITROL, an extended-release naltrexone injectable for the treatment of alcohol dependence as well as for the prevention of relapse to opioid dependence following opioid detoxification. The Event also marked the return to prominence of ALKS 6428 (Table 1), which had been AWOL from company news in 2016 (including the latest corporate presentation) as well as the Clinical Pipeline page. In their Second Quarter report, Alkermes had raised VIVITROL 2016 net sales expectations to range from $190-$210 million, up 10 million from a previous range of $180-$200 million. This goal is reachable, but there is now the potential for more explosive growth for VIVITROL in the coming years.
Table 1. Alkermes Clinical Pipeline
| | | | | | |
| --- | --- | --- | --- | --- | --- |
| Product Candidate | | Target Indication(s) | | Status | |
| ARISTADA Two-Month Dose | | Schizophrenia | | Filed with FDA | |
| ALKS 5461 | | Major Depressive Disorder | | Phase 3 | |
| ALKS 3831 | | Schizophrenia | | Phase 3 | |
| ALKS 6428 VIVITROL Seven-Day Taper Kit | | Opioid Dependence | | Phase 3 | |
| ALKS 8700 | | Multiple Sclerosis | | Phase 3 | |
| ALKS 7119 | | Various CNS diseases | | Phase 1 | |
| ALKS 4230 | | Immuno-oncology | | Phase 1 | |
VIVITROL Competitive Landscape
Besides generic oral naltrexone, VIVITROL only competes in the U.S. against two other active ingredients in either indication. For alcohol dependence, there are generic acamprosate and disulfiram. The efficacy of a camprosate has not been demonstrated in patients who have not undergone detoxification or not achieved alcohol abstinence prior to beginning treatment. Furthermore, acamprosate's efficacy in promoting alcohol abstinence in poly-substance abusers has not been adequately assessed in clinical trials. With the latter product, patients must abstain or face the threat of the infamous disulfiram-alcohol interaction, which could be severe enough to result in arrhythmias, myocardial infarction, acute congestive heart failure, or death. Unfortunately, neither the Black Box Warning nor the mechanism of disulfiram itself can prevent unintentional alcohol intoxication. Nonetheless, cost is an obstacle for inclusion of VIVITROL in many states' Medicaid prescription drug benefits (Figure 1).
Figure 1. Medications for Alcohol and Opioid Use Disorders on Medicaid Preferred Drug Lists, 2011-2013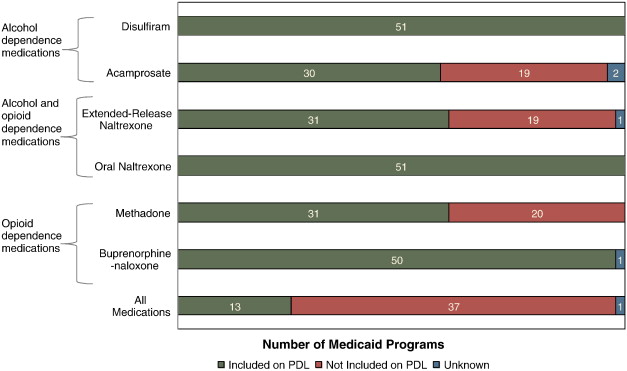 For opioid dependence, there are oral products containing methadone and buprenorphine/naloxone. Only the latter has branded representatives: SUBOXONE sublingual film from Indivior (OTCPK:INVVY), BUNAVAIL buccal film from BioDelivery Sciences International (NASDAQ:BDSI), and ZUBSOLV sublingual tablets from Orexo (OTCQX:ORXOY). Indivior's product dominates the oral market (Figure 2), although there is really no reason to include generic buprenorphine as it is indicated only for pain and typically used during induction therapy for patients hooked on long-acting opioids or methadone, not for maintenance. Omitting the generic brings ZUBSOLV's share closer to Orexo's claim of 6%, and it only got there courtesy of a very recent deal with Maryland's Medicaid program (Figure 3).
Figure 2. Oral Opioid Dependence Product Market, 2012-2016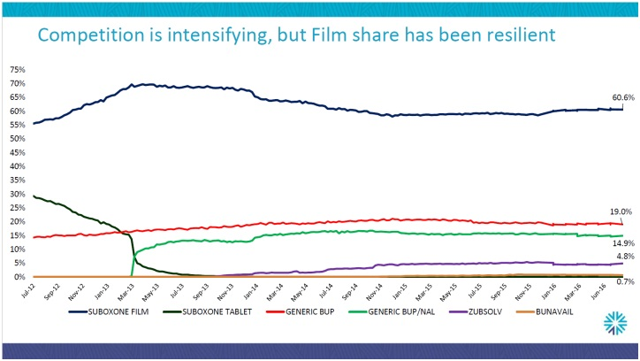 Figure 3. ZUBSOLV Market Share and Volume, 2014-2016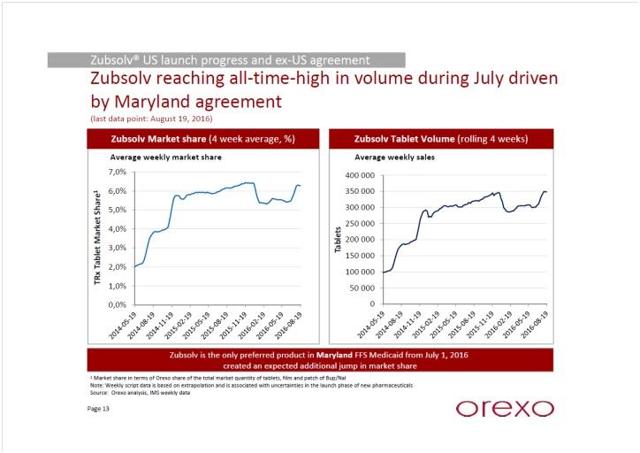 Meanwhile, SUBOXONE climbed back over 60% share with the help of inclusion in the 2016 CVS formulary as shown in a survey of the top health insurers in the U.S. (Table 2). Coverage-wise, it appears SUBOXONE is unassailable, but there are many other factors to consider.
First, there is potential for buprenorphine abuse; thus, physicians must have board certification/special training in addiction medicine or addiction psychiatry and/or complete to qualify for the federal waiver to prescribe buprenorphine.
Second, patients intending to be treated with SUBOXONE must find one of these prescribers who are willing to take on new clients. The Drug Addiction Treatment Act of 2000 (DATA) limited the number of patients these certified physicians may treat with buprenorphine/naloxone at any one time to only 30 or 100. Fortunately, the Affordable Care Act has helped increase the supply of buprenorphine-waivered physicians, especially in states either expanded Medicaid or established a state-based exchange. Also note that on July 11, the Substance Abuse and Mental Health Services Administration expanded the cap to 275 for certain practitioners who must meet even more requirements. On the other hand, probably fewer than 10% of waivered doctors are even close to the 100 patient cap, and only a fraction would even consider taking on the extra burden.
SUBOXONE patients are then bound by strict Federal Guidelines that regulate Opioid Treatment Programs (OTPs) employing medication-assisted treatment (MAT). For example, just to be able to take their controlled medications home unsupervised, a patient may have to be monitored for alcohol abstinence and regular clinic attendance.
Last but not least, there are lifetime limits on the total length of time (12-36 months) that an individual can receive SUBOXONE while enrolled in Medicaid or certain health plans.
Table 2. Medications for Opioid Use Disorders, T op 10 U.S. Health Insurance Companies, 2016
HEALTH INSURERS

VIVITROL

SUBOXONE

BUNAVAIL

ZUBSOLV

MEDICARE

PBM

CVS/Caremark

**

PBM

Express Scripts

***

2

Kaiser Permanente

**

**

**

**

3

Anthem Blue Cross Blue Shield (BCBS)

**

4

Aetna

**PA

5

Humana

*PA

**PA

Humana Medicaid

***PA

6

BCBS Illinois

**

BCBS IL Medicaid

**

**

BCBS Montana

*

**

BCBS NM/OK/TX

**

BCBS TX STAR (Medicaid)

PA

PA

7

Cigna HealthCare

***PA

8

Highmark

**

***

**

**

9

Blue Shield of California

**PA

**PA

10

Independence Blue Cross

**

**

**

**

MARKETPLACE

1

UnitedHealthcare (CA)

*PA

**PA

2

Kaiser Permanente (CA)

(*)

3

Anthem BCBS (OH)

6

BCBS IL/MT/OK/TX

**

**

**

7

Cigna HealthCare (TX)

8

Highmark

***

**

**

9

Blue Shield of California

(*)

(*)

(*)

COMMERCIAL

PBM

CVS/Caremark

PA

PBM

Express Scripts

2

Kaiser Permanente

***

3

Anthem BCBS

**PA

***PA

**PA

**PA

4

Aetna

***PA

**PA,ST

5

Humana

**PA

6

BCBS Illinois

*

***

***

***

BCBS Montana

***

BCBS New Mexico

***

***

BCBS OK/TX

***

7

Cigna HealthCare

8

Highmark

***

**

**

9

Blue Shield of California

(*)

(*)

(*)

10

Independence Blue Cross

***

*PA

*PA
LEGEND:
PBM = Pharmacy benefit manager
BLANK = Not listed
PA = Requires prior authorization
ST = Requires step therapy
* = Highest tier/Specialty
** = Non-preferred brand
*** = Preferred brand tier
( ) = May be covered after review
VIVITROL is the first and only non-narcotic, non-addictive, once-monthly treatment of opioid dependence. Thus, it has a vital place in OTPs but is not subject to DATA or the guidelines. Accordingly, prescribers may treat as many patients with VIVITROL as they can handle. Medicaid also doesn't impose lifetime limits on VIVITROL. However, VIVITROL costs around 3 times as much as the branded oral products, so Medicaid coverage remains limited (VIVITROL coverage was likely only in states that included all 6 then-available drugs in Figure 4). But with VIVITROL bucking drug price trends and the average unit cost actually decreasing from a year ago to $691, as well as several recent and forthcoming key changes in legislation (note the sparse implementation of the Opioid Treatment Law in Figure 5), things may change next year.
Figure 4. Medications for Opioid Use Disorders Covered under Fee‐For‐Service Medicaid Plans, 2013-2014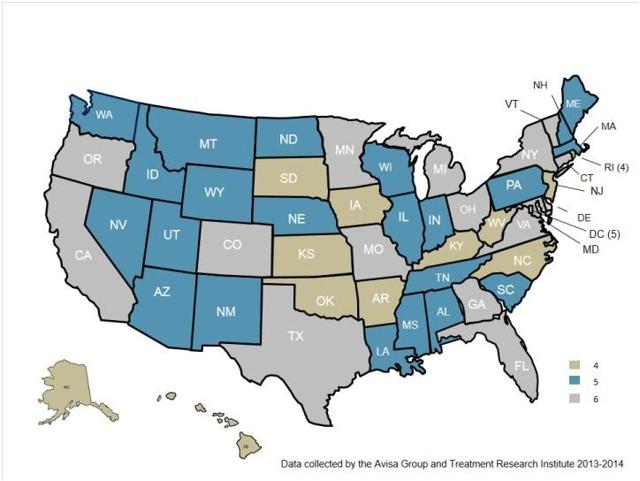 Figure 5. VIVITROL on State Policy Programs, 2016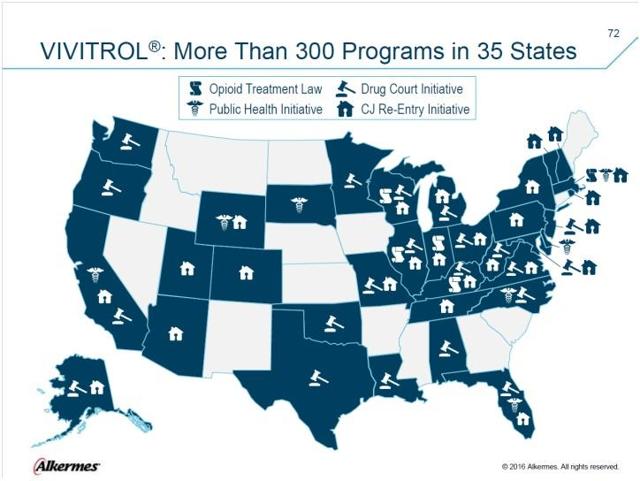 National Legislative Support for VIVITROL
On July 22, the Comprehensive Addiction and Recovery Act (CARA) became federal law and has major implications for VIVITROL. As examples, CARA made numerous significant changes to the Public Health Service (PHS) Act:
Section 107 (amended PHS Act §290dd-3) establishes grants up to $200,000 per year for Federally qualified health centers, OTPs, and certain other eligible entities to expand access to drugs or devices approved for emergency treatment of known or suspected opioid overdose; 20% of the grant award is the limit specifically to purchase or offset co-payments and other cost-sharing associated with said drugs or devices. Funds worth $5 million will be allocated from fiscal years 2017 through 2021 to carry out this section. With more medications available, more people who overdose are rescued; this means more surviving patients may be referred to appropriate follow-up treatments.
Section 110 (§290ee) creates grants to States, local governments, or Indian tribes to provide services that encourage pharmacies and implement strategies for pharmacists to dispense opioid overdose reversal medications pursuant to a standing order (without a person-specific prescription); and develop or provide training materials that prescribers may use to educate the public concerning the availability of the above drugs or devices. Another $5 million will be set aside from 2017-2021 for this Section. Standing orders cut through red tape during emergencies so patients can receive help immediately. States may receive one grant at a time which lasts 3 years, of which only 20% may be spent on educating the public. This still could be worth up to $200,000 of annual free publicity.
Section 202 (§290ee-1) gives further grants to States, local governments, or Indian tribes to make emergency treatment of opioid overdose available to first responders and members of other key community sectors; train and provide resources for first responders on carrying and administering such drugs or devices; and establish processes, protocols, and mechanisms for referral to appropriate treatment or follow-up services. This First Responder Training program budgets $12 million for each of fiscal years 2017-2021 ($60 million total). At least 20% of the funds will be awarded to eligible entities that are not located in defined metropolitan statistical areas. This means more people from rural areas with normally little access to health care may now be reached.
Section 301 (§290bb-10) bestows grants, contracts, or cooperative agreements to State substance abuse agencies, units of local government, nonprofit organizations, and Indian tribal organizations to expand activities, including the availability of evidence-based MAT, in the specific geographical areas of such entities where there is a high rate or rapid increase in the use of heroin or other opioids, such as in rural areas. This program is well-financed at $25 million for each of fiscal years 2017-2021 ($125 million total). At least 15% of the funds will be awarded to entities not located in metropolitan statistical areas. As a reminder, VIVITROL was featured this summer in the prestigious New England Journal of Medicine. This open-label, randomized, controlled trial compared six monthly injections of VIVITROL with usual treatment (brief counseling and referrals for community treatment programs) for the prevention of opioid relapse among criminal justice offenders. The primary outcome, the time to relapse, was twice as long in the VIVITROL group compared to the usual-treatment group (10.5 weeks versus 5.0 weeks, respectively; P<0.001). Consequently, the likelihood of an opioid-relapse event was half in VIVITROL users (hazard ratio, 0.49).
Section 601 (§290ee-3) offers grants to States or groups of States to implement an integrated opioid abuse response initiative which may include developing, implementing, or expanding OTPs by expanding the availability of MAT and extending recovery support services and programs to high schools or institutions of higher education. This program earmarks $5 million for each of fiscal years 2017-2021 ($25 million total).
CARA also enhanced the Omnibus Crime Control and Safe Streets Act. In particular, Section 201 gives grants to States, units of local government, and Indian tribes, for use to provide services:
Developing, implementing, or expanding treatment alternatives to incarceration programs, including drug courts and veterans treatment court programs;
Purchasing opioid overdose reversal drugs or devices for first responders who have received training on carrying and administering such items; Developing, implementing, or expanding MAT programs used or operated by criminal justice agencies, including training agency personnel on MAT.
The grants may not be longer than 4 years, but may be renewed. The federal government is heavily invested in this Comprehensive Opioid Abuse Grant Program, reserving $103 million for each of fiscal years 2017-2021 ($515 million total).
Conclusion
In short, the relevant CARA provisions take effect next year and have no bearing on 2016 earnings. Analysts have so far stayed put at $191.36 million in revenue for this quarter and $209.48 million next quarter. Next year's revenue estimates is $748.49 million, representing an expected growth of 22.6%. Meanwhile, VIVITROL net sales have increased over 12 months by 35%, a figure which will most likely continue or be surpassed. Management projected that at a compound annual growth rate of 20% (keeping the status quo of $700 unit price and 4-month duration per patient), VIVITROL sales will yield $462 million in 2021.
There are some additional near- and mid-term catalysts. ALKS 6428 Phase 3 data is anticipated in 2017. Detoxification is required before VIVITROL initiation to prevent opioid withdrawal. ALKS 6428 offers a convenient 7-day titration package of oral naltrexone which is intended to ease the transition to VIVITROL. There is also an exciting Phase 4 study (NCT02032433) sponsored by the New York University School of Medicine comparing VIVITROL and SUBOXONE head-to-head which may complete in November, with results coming early next year.
Disclosure: I/we have no positions in any stocks mentioned, but may initiate a long position in ALKS over the next 72 hours.
I wrote this article myself, and it expresses my own opinions. I am not receiving compensation for it (other than from Seeking Alpha). I have no business relationship with any company whose stock is mentioned in this article.