It had been a long lost decade and a half for investors in the Nasdaq (NASDAQ:QQQ). The Nasdaq posted a high of 4816.35 during the Dot Com Bubble and for 16 years the market could not get back to this level. In comparison, the S&P-500 (NYSEARCA:SPY) made an all-time high of 1552 in March of 2000, but the market blasted through that resistance in March of 2013. Since the S&P-500 SPY sits 35% above its highs made during the Dot Com Bubble, while the Nasdaq just took them out last month. All-time highs are not something to be scared of. The market is sending a loud and clear message to you that an expansion of the previous range is underway.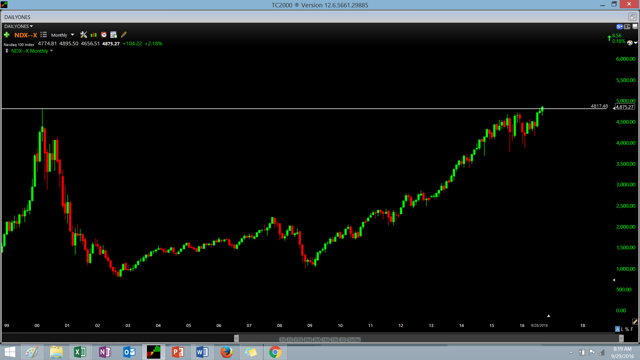 Source: Freestockcharts.com
Despite the Nasdaq QQQ trading below its 2015 highs until just last month, a few Nasdaq components were able to buck the trend. Amazon (NASDAQ:AMZN) and Facebook (NASDAQ:FB) have had clear uptrends in place since 2015, and have been two spots where investors could hide out while the Nasdaq remained in a range between 3600 and 4700. Unfortunately for investors in the Index, the largest weight stock Apple (NASDAQ:AAPL) and several others have been holding the Index back. In 2015 as AAPL began a new downtrend, it was hard for me to imagine the Nasdaq going to new highs any time soon. Strong leadership and participation from the majority of an index is the fuel a market needs to begin a sustainable move to all-time highs. While this leadership and participation was absent in 2015, it looks to be very alive as we enter the fourth quarter of 2016.
Nasdaq 100 Weightings
While Amazon AMZN and Facebook FB bucked the Nasdaq's trend through 2015 and 2016, their weight was simply not enough to make a difference. The two companies have a cumulative weighting of roughly 12% which is simply not enough influence to rescue an index with only their weight. Amazon and Facebook barely make up the weight of Apple alone which significantly dilutes their performance on an index weighted basis. Looking at the below table, what is needed to really sustain a move through all-time highs is participation from the majority of the largest weighted Nasdaq components. The top 5 spots on the Nasdaq 100 Index are held by Apple AAPL, Microsoft (NASDAQ:MSFT), Amazon AMZN, Facebook FB and Alphabet (NASDAQ:GOOG) (NASDAQ:GOOGL). These 5 companies from a weighting standpoint make up over 35% of the Index and it is imperative they are all participating in the rally. For the first time in nearly a year, all of these companies are trading above all of their key moving averages. The culprit here is our leader Apple, which until August has not been able to gain any traction over its 200-day moving average.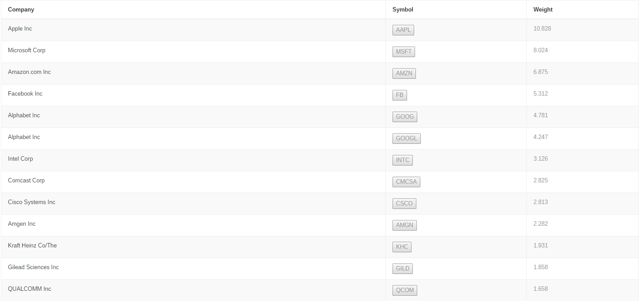 Moving to the top 10 weighted companies, we can add Alphabet (GOOGL), Intel (NASDAQ:INTC), Comcast (NASDAQ:CMCSA), Cisco (NASDAQ:CSCO) and Amgen (NASDAQ:AMGN). These 5 companies make up another 15% of the Nasdaq 100, putting the top 10 Nasdaq 100 companies at over a 50% weighting on the whole index. While these 5 companies were not hurting the index like Apple, they did not fall far from the tree either. Intel, Comcast, Cisco and Amgen were all stuck in ranges for the past year and were unable to gain any traction above their 2015 highs. What has changed in the past 3 months is that all of these stocks have now broken out of their ranges and are making new highs. This is a massive development for the Nasdaq 100 as we have 50% of the index having broken out and trading above their key moving averages. We have not seen this type of participation in over a year and the most important constituent Apple, is now finally on board.
A Technical Look At The Nasdaq 100 Top 10 Holdings
To better illustrate what I have discussed in the above paragraphs I have included charts of the new uptrends we are seeing in the Nasdaq 100's top 10 holdings. I will begin with the highest weighting companies and end with the lowest. The 200-day moving average is my line in the sand for bull and bear markets. Due to this I look for consecutive closes above this level to signal the beginning of new bull markets. I am also looking for higher lows and higher highs, but my main barometer to judge a bull and bear market is its relationship with the 200-day moving average.
Apple
As we can see from the chart below, Apple AAPL investors have not had an easy 12 months. Every rally during this downtrend has been met by a barrage of sellers at the 200-day moving average (yellow line). What looked like a breakout finally in April was met with a waterfall decline to new lows for the stock. Since the stock is looking much more constructive and has broken out with conviction above its 200-day moving average. This new uptrend was nearly extinguished by earnings earlier this month, but the stock found support exactly where it needed to - at the 200-day moving average. The stock has been making higher highs and higher lows since July, and has even taken out its April resistance. This is the type of chart you want to see from a leader as it is in the midst of beginning a fresh new uptrend and should see strong support above the $102 level going forward. I primarily trade equities on the Canadian market but if I did trade U.S. equities, Apple would be a top long candidate. I would have gone long the stock at $110.30 on September 14th, and would have a stop-loss on any close below the $101.80 level.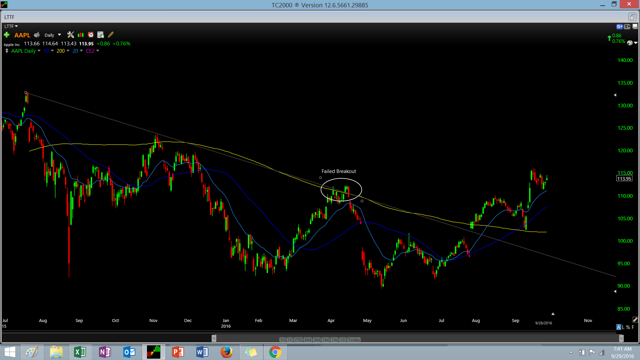 Source: Freestockcharts.com
Microsoft
While Microsoft MSFT has not been a dead weight on the index like Apple the past year, it has not done much to help. The stock has been locked in a range between $48 and $56 since late last year and has not made any significant ground. I believe this could be changing as Microsoft has finally broken out of its 10-month trading range to the upside. What was past resistance at the $56 level now looks to be support and the stock's uptrend is in the process of continuation to the upside. As we can see, Microsoft has higher lows in place since last year and trendline support which comes in at the $53 level. I believe Microsoft to be a great long candidate and would have gone long the stock at $57.00, with a stop at $53.70 on a closing basis. The uptrend looks to attempting to break to the upside and I believe this is only a matter of time. My main way of assessing the strength of a stock's new highs is to see if it can hold its past level of resistance. Thus far Microsoft has proven it can do this as any weakness in the stock since its August breakout has found buyers at the $55.50 - $56.00 level. The stock is above all of its key moving averages and is clearly in a bull market.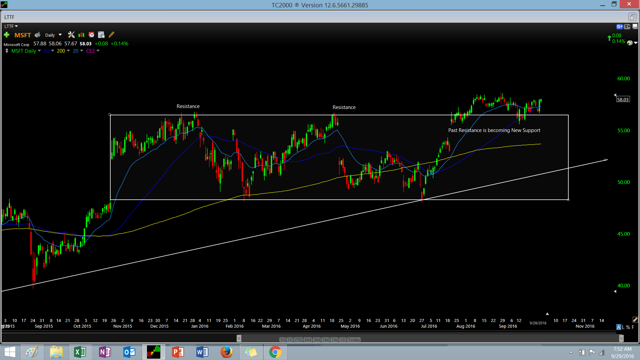 Source: Freestockcharts.com
Amazon
Amazon AMZN is the clear leader for the Nasdaq 100 Index. The stock has been carrying the weight of the Nasdaq 100 on its back for the past 2 years, while protecting it from even deeper corrections. The stock has been in a clear uptrend the past 2 years and continues to make new highs and defy value investors. The stock has rising 20, 50 and 200-day moving averages, and has just exploded to more new highs. As long as Amazon remains above the $700 level there is no need whatsoever to question this uptrend.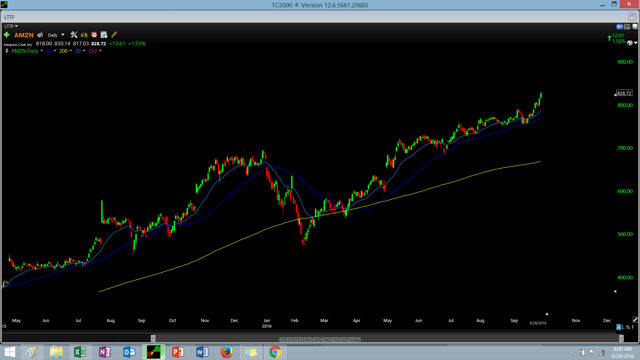 Source: Freestockcharts.com
Facebook
Facebook FB is another massive performance leader and in a clear uptrend since early 2015. The stock has had a massive run recording a 52% gain over the past 1.5 years vs. a gain of 9% for the Nasdaq 100. The stock remains above all of its key moving averages with its uptrend line and 200-day moving average coming in at the $114 level. As long as the stock remains above the $114 level I see no reason to question the uptrend and would remain long the stock. Several naysayers like Kevin O'Leary like to question the quest and say it's too expensive or too overbought, but the fact remains the stock continues to power higher. New highs are bullish and bears would be better served to wait for a close below the $114 level before trying to get cute on the short side.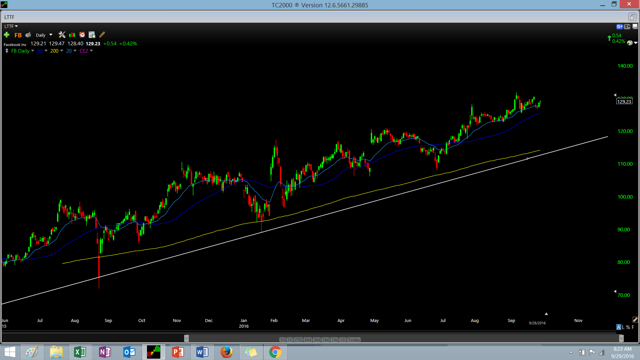 Source: Freestockcharts.com
Alphabet - GOOG
GOOG has had a similar year to MSFT, being trapped in a range for the past year. The stock has finally broken out of a descending triangle pattern and looks to be trying to build a bull flag after its recent gap up. The stock remains above all key moving averages and gave a buy signal based on my trend following strategy at the $745 level. As long as the stock remains above $732 I see no reason to be bearish. Unfortunately the stock has still not broken above its early 2016 highs at $789 on a closing basis. The current bull flag looks like it could be a base from where the stock can finally catapult to new highs. The fact that the stock remains in a clear uptrend and bull market is a positive for the Nasdaq, and new highs above $790 should accelerate the uptrend going forward.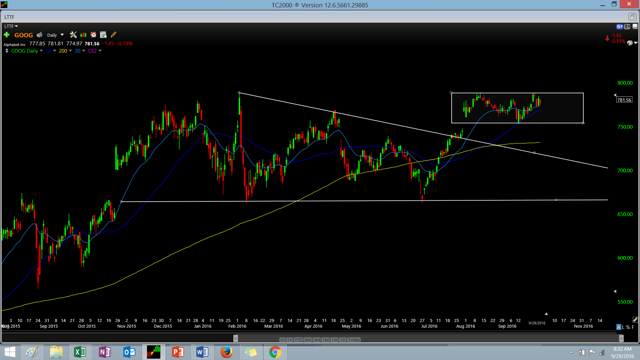 Source: Freestockcharts.com
Alphabet GOOGL
GOOGL's chart is very similar to that of GOOG and MSFT. Microsoft was trapped in a 1 year range and has since broken out to the upside. GOOGL has done the same and continues to hold onto its old resistance level. I would prefer to see new above $820.00 in the near future, but there is nothing bearish about this charts. Longs should feel comfortable as long as the stock remains above the 200-day moving average at $752.00. The stock has held its gap-up in a very positive way giving up almost none of its ground thus far. Trends often continue in the direction of the gap and I believe this will hold true for GOOGL.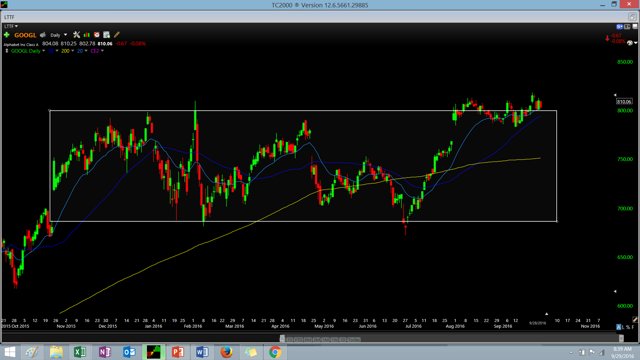 Source: Freestockcharts.com
Intel
The chart of Intel INTC is a very positive development for the Nasdaq. The stock has been going sideways for the past year, but has just recently completed a 12-month upside breakout. The longer the stock remains in a range, the more powerful the ensuing breakout usually is. I love the look of Intel's breakout here and believe it should contribute nicely to the strength of the Nasdaq going forward with its 3% weighting. If I traded U.S. equities I would be long Intel at $36.00, with a stop below the $33.00 level on a closing basis. Intel's 200-day moving average has gone from trading sideways to beginning to slope positively, which is what we want to see at the beginning of a new uptrend for the stock. The 50-day moving average comes in at $35.60 level which is roughly the exact same level as the breakout. I expect Intel to hold the $35 level going forward, but any weakness will likely be bought heavily at the $33.00 level. Intel was previously doing nothing for the Nasdaq and I expect its new uptrend to help the Nasdaq add to its rally going forward.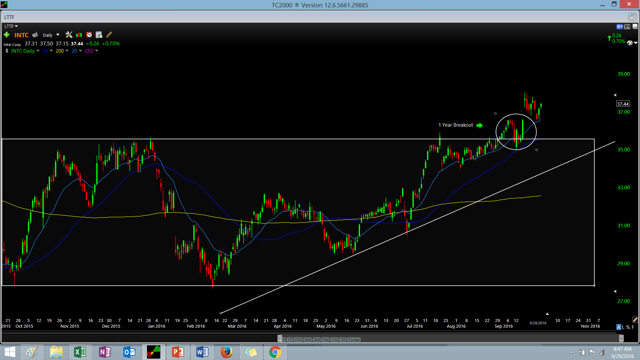 Source: Freestockcharts.com
Comcast
Comcast CMCSA is another example of a 1-year breakout as the stock took out its 2015 resistance just 2 months ago. Comcast's past resistance at $64.75 has become support which is a good sign of the strength of the breakout. The 200-day moving average comes in at the $61.50 area and I believe bulls should feel comfortable above this level. Comcast is another of the stocks that was doing nothing to help the Nasdaq and has since begun to resume its uptrend, and pull away from its sideways range. Any new highs above the $68.50 level on a closing basis would get me long the stock, with a stop below the $62.00 level. The stock looks to be building a base above its past resistance at $64.76 before it makes its next move higher through resistance at $68.00.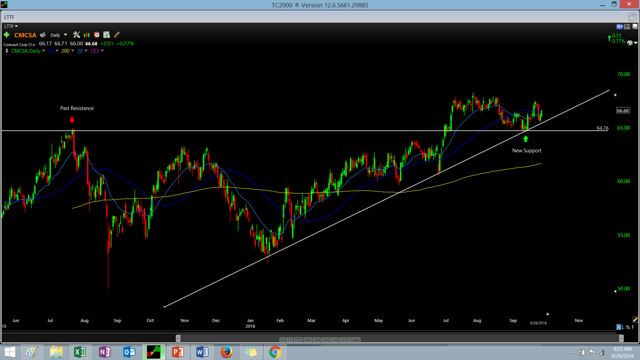 Source: Freestockcharts.com
Cisco
Cisco CSCO is a very interesting chart as it looks to have completed a reverse head and shoulders breakout in late July. In addition to this the stock has broken out above stiff resistance at the $29.37 level. The stock continues to make higher highs and higher lows, which are very clear signs of a strong uptrend. I would currently be long Cisco from $30.00 with a stop below the $28.50 level on a closing basis. I believe any weakness in Cisco should be bought at the $29.40 level, where past resistance sits. This type of 1-year breakout usually holds the breakout level and I would this to hold true for Cisco as well. This is another positive development for the Nasdaq as a stock that was not contributing at all has seen a bullish resolution out of its sideways range. Longs should be comfortable above $28.50 and if the breakout level does not hold, I would expect $28.50 to find a stampede of buyers.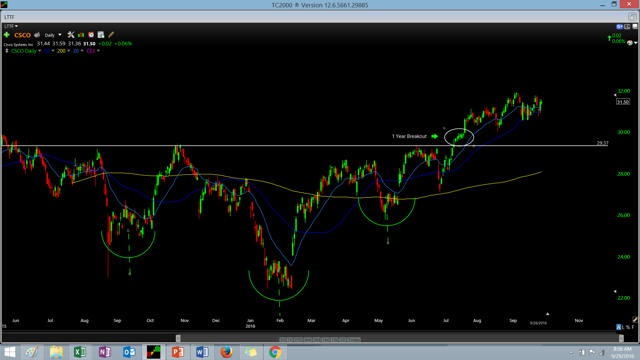 Source: Freestockcharts.com
Amgen
Amgen AMGN is the weakest of the top 10 holdings of the Nasdaq. Having said that, it is only weak on a relative basis as the others are performing so well. Amgen is the only one of the top below its 50-day moving average but I do not believe this is a problem for longs. Longs should be watching the $160 - $162 instead, as this is the 200-day moving average and the back-test level of the previous downtrend. Amgen broke out of its downtrend in mid July and has since seen a nice run of roughly 10%. The stock is now attempting to build a base outside of this level and looks quite good on a technical basis. The stock looks like it could resolve this base to the downside but I expect strong support to come in at the $161 level if this occurs. While Amgen may not be a huge help to the Nasdaq until it gets back above resistance at $177.00, it is certainly not hurting the index like it was for the past 12 months.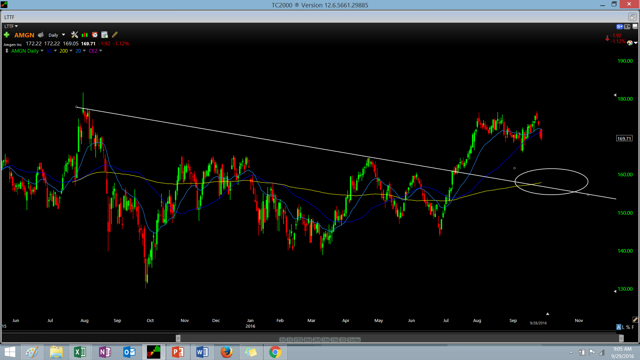 Source: Freestockcharts.com
Summary
Scanning through the top 10 holdings of the Nasdaq, we can clearly see strong participation and leadership from Apple, Amazon, Facebook and Microsoft. Past laggards that have been stuck in ranges like Intel, Cisco and Comcast have seen resolutions to the upside from their breakouts and this should bode well for the index. Taking a look at the Nasdaq 100 Advance/Decline Line, we can see a clear picture of what these charts are showing us. Up until late July of this year the Nasdaq 100 was seeing limited participation, displayed by breadth on the Nasdaq 100 Advance/Decline Line. Since breadth has broken out of resistance to the upside and a clear uptrend is in place. This is exactly what longs want to see from an index. When new highs are made on an index it is imperative to look under the hood to see if breadth is confirming this move. In the case of the Nasdaq, this could not be more true. The Nasdaq Advance/Decline Line sits at highs and is in near perfect symmetry with the index itself.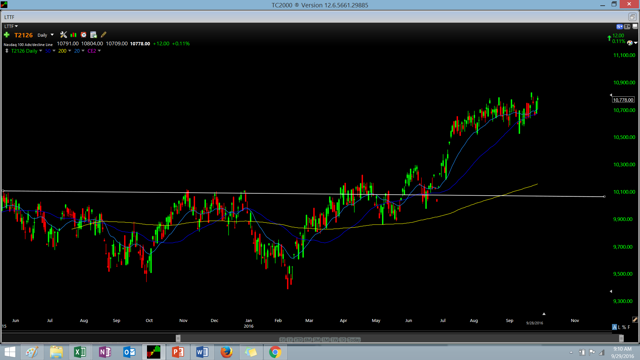 Source: Freestockcharts.com
I expect the Nasdaq to continue its move higher and would not be surprised to see it at the 5600 level by late next year. This would equate to a 15% move in the index. All-time highs on an index are usually followed up by very strong performance and breadth is clearly confirming this move. The S&P-500 after completing a 13-year breakout in March of 2013 posted a 23% return over the next 12 months. The Nasdaq just completed a 16-year breakout, therefore I would not be surprised to see strong follow through from it as well.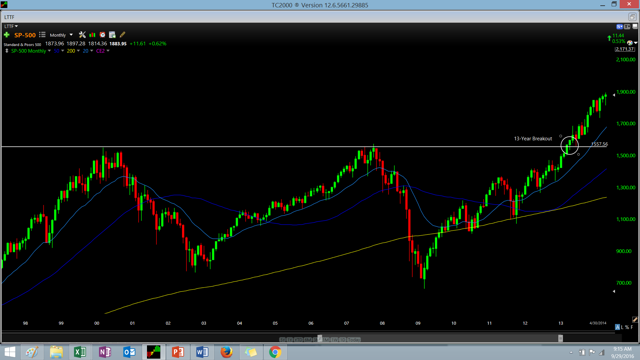 Source: Freestockcharts.com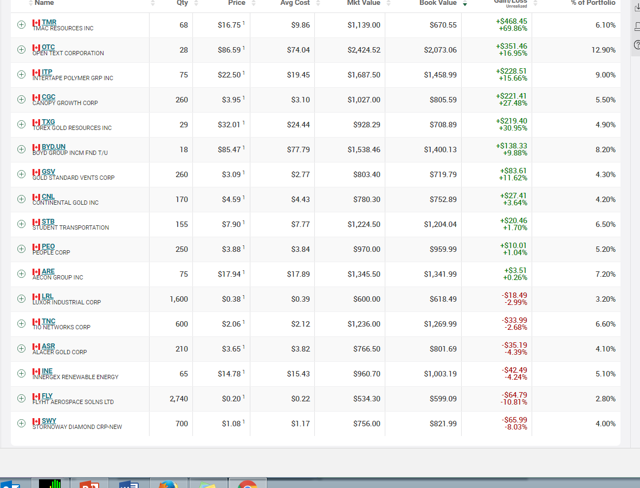 Source: TD WebBroker
I expect to see strong support at the 4500 level if it sees any weakness going into earnings season. I believe this to be an index you want to be buying the dips on, and if playing the stocks I have outlined levels of support on the individual charts. Most of these stocks have only just broken above their 200-day moving averages and these levels should provide very strong support on any subsequent tests in the future. I am currently only long one Nasdaq constituent Open Text (NASDAQ:OTEX) as there are few tech stocks that trade on the Canadian markets. It is my largest position across all my portfolios sitting at roughly 13% of my main portfolio. I am up over 16% on the position and am in no rush to take any profits. I have enclosed a picture of my portfolio above to show that I continue to hold the stock and am not trimming. While I believe the S&P-500 will continue its up-trend and could easily see 2400 next year, I would not be surprised to see a slight outperformance by the Nasdaq going forward.
Disclosure: I am/we are long OTEX, SPY.
I wrote this article myself, and it expresses my own opinions. I am not receiving compensation for it (other than from Seeking Alpha). I have no business relationship with any company whose stock is mentioned in this article.
Additional disclosure: If you liked this article and found it useful, please feel free to follow me by clicking on my name next to my avatar at the top of this article. I also invite you to check my performance at TipRanks.com where I am ranked in the Top 100 Contributors for performance with an average return this year of 60% on new long positions.