Probably the best way to illustrate the point we wish to make is this picture.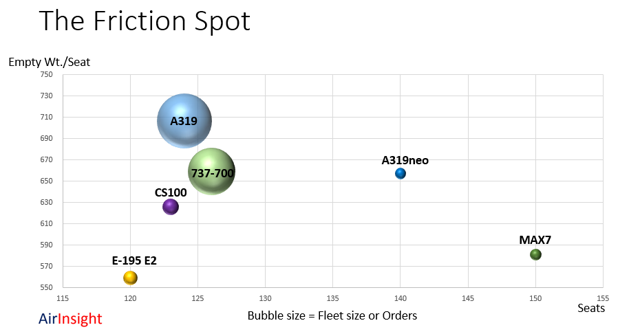 Look at the big bubbles for the A319 and 737-700. As of 2Q16 there were 1,430 A319s in service and 1,058 737-700s in service. These two aircraft pretty much make up 90% of the global fleet between 120 and 150 seats. There is a small fleet of McDonnell Douglas rapidly retiring. So the market is worth at least 2,500 aircraft.
Now look at the small bubbles to the right - these are the next generation of the Airbus (NYSE:AIR) and Boeing (NYSE:BA) products. The number of orders, as the bubble size indicates, is to be charitable, pathetic, in comparison to the in-service fleet. Especially when one considers the roaring trade Airbus and Boeing have done on the larger models, where orders are in the multi-thousands.
The small bubbles on the left apply to the products from Bombardier (OTCQX:BDRBF) and Embraer (NYSE: ERJ). As their vertical location shows, their aircraft are more efficient from a weight perspective. Aircraft can only make money from payload - so the lighter the aircraft the more efficient it is.
Note the bubble size for the Bombardier and Embraer aircraft is larger than for Airbus and Boeing. Airbus and Boeing have had to add seats to their next generation aircraft in order to escape the competition. This has brought their new models lower on the vertical axis. But in doing so, they have abandoned the sub-130 seat market.
As stated, this is a 2,500 aircraft segment. That is big. By comparison, the 757 replacement market people often discuss was worth about 1,000 aircraft.
Now we can be sure that some airlines will follow Airbus and Boeing up the seat count. Southwest Airlines, for example, is apparently enamored with the MAX7.
Even if 25% of the Airbus and Boeing customers move up market, that leaves Bombardier and Embraer with a market of nearly 1,900 aircraft to replace. Bombardier and Embraer need less than 50% of that number to make their new programs exceed breakeven level.
We think this is a bullish signal for Bombardier and Embraer. They literally are staring at an abandoned market with no competition except each other. Other potential threats like the COMAC C919 is at 150 seats, or the ARJ21 is at 100 seats. This is why Bombardier has hardened its CSeries pricing. Embraer's customers are also probably not going to see the discounts they had previously come to expect.
Disclosure: I/we have no positions in any stocks mentioned, and no plans to initiate any positions within the next 72 hours.
I wrote this article myself, and it expresses my own opinions. I am not receiving compensation for it (other than from Seeking Alpha). I have no business relationship with any company whose stock is mentioned in this article.
Editor's Note: This article discusses one or more securities that do not trade on a major U.S. exchange. Please be aware of the risks associated with these stocks.