There is no doubt that Flower Foods Inc. (NYSE:FLO) is a good long-term investment candidate. However, given the recent deflationary food market, its profit margin and revenue will continue to tumble throughout the rest of the year and into 2017.
According to Q2 results, sales have increased 5.2% to $935.0 million, with Flower Foods foray into the organic bread market through its acquisitions of Dave's Killer Bread and Alpine Valley Bread contributed 5.6% to the overall sales increase. Excluding the acquisitions, the sales volume actually fell. Both dollar sales and unit sales percentage changes showed negative signs in Q2. (See figure 1)
Figure 1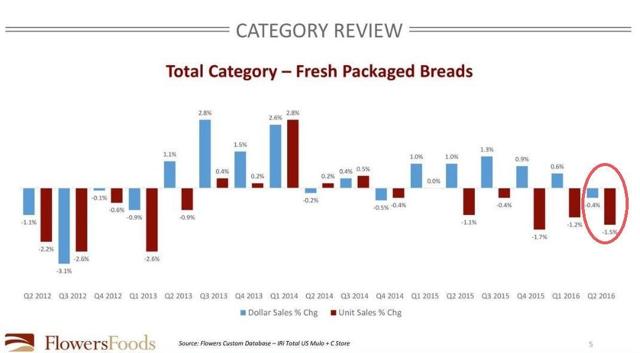 Source: Flowers Foods Inc.
Intense Competition
Meanwhile, Flower Foods direct competitor Bimbo Bakeries USA, the biggest bakeries company in the USA is expanding its market share with strong profitability due to effective sales promotions and currency tailwinds. (See Figure 2)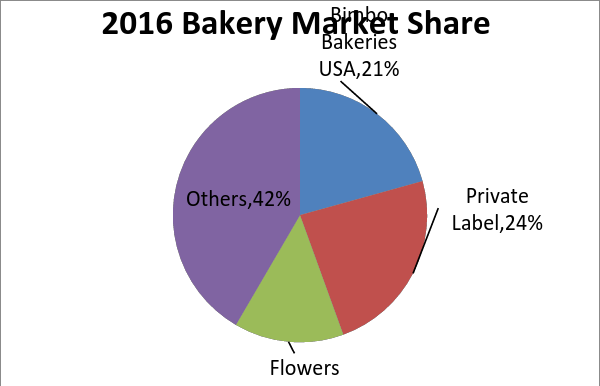 Bimbo Bakeries USA is a subsidiary of Grupo Bimbo (OTCPK:GRBMF), the world's largest bakery company headquartered in Mexico City. Bimbo Bakeries USA saw a strong increase of revenue and profit margin in the first half of this year. Currency exchange benefit drove lower commodity cost and raised the Bimbo's margins. After Bimbo acquired Sara Lee in 2011 (Flowers Foods acquired Sara Lee California), Bimbo started to focus on restructuring, including plants closures as well as integrating a route system to save significant cost. Now Bimbo Bakeries USA is moving from restructuring to efficiency and productivity.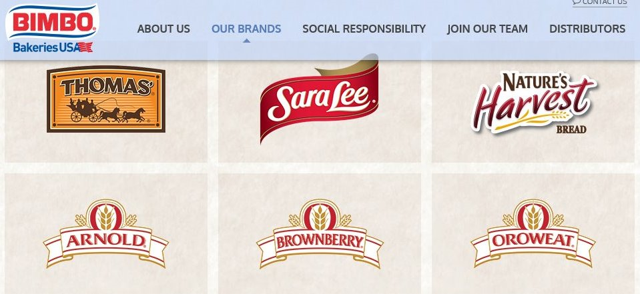 In contrast to the Bimbo Bakeries USA, Flowers Foods is facing a tough situation. The current deflationary nature of food market plus the decline of sales volume continued to squeeze company margins. In response, Flowers Foods has announced Project Centennial to do an in-depth analysis of its revenue stream, profitability, and cost structure. At the same time, the company faces a lawsuit and Its cash to debt ratio is less than 0.01. Cash reserves are very tight. Debt levels may increase significantly with a debt-equity ratio of 0.89. The company has limited room to expand its market share.


Last year, Flowers Foods acquired two popular organic bread brands: Dave's Killer and Alpine. It is anticipated Fiscal 2016 sales of $160 million to $170 million for Dave's Killer and $85-$95 million for Alpine. Still, added together, the total sales of the two brands account for less than 10% of the overall sales of the company. Dave's Killer realized compounded average growth rate of 32% over the past three years. Even if the two brands continue to grow at 20%-30% annually; it will be hard to move the needle next year. If the company can fully realize synergies after acquisitions, it may take three years to see actual results.
Flowers Foods expects weakness in the industry to continue throughout the year. As a result, Flowers cut its guidance for the full 2016 year. Now, the company expects sales of $3.93 billion to $3.986 billion, down about $50 million from its previous guidance. Similarly, adjusted earnings of $0.90 to $0.95 per share are down 10 cents from previous predictions. Long term shareholders worry the declining trend will most likely continue into next year. The stock price fell after Q2 earnings released.
Downside Risk in the Food Industry
The Consumer staple sector is less volatile during a recession. Here we use Consumer Staples Select Sector ETF index (NYSEARCA:XLP) to track the peak-to-trough drawdown risk. Based on the historical performance during the last two recessions (2000 and 2008), it has a drawdown around 20% to 30%(See Figure 3). So far the index is still at an all-time high, which indicates the potential downside risk for the bakery industry is imminent.
Figure 3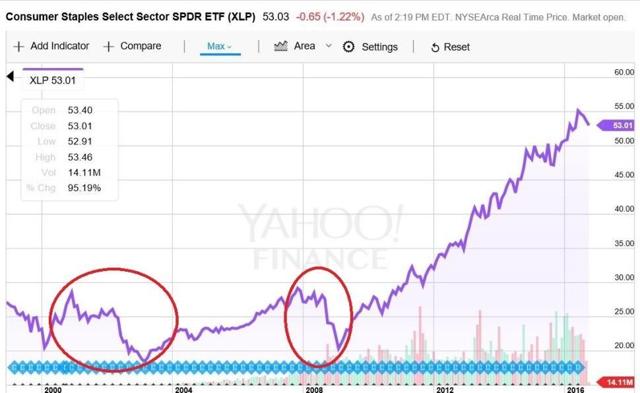 Source: Yahoo! Finance
The current deflationary environment has impacted on the organic food industry even more. Consumers start choosing less pricey products to fit a tighter budget. Whole Foods (NASDAQ: WFM), Sprout (NASDAQ: SFM) and Kroger (NYSE: KR) all saw the decline of sales volume in recent months. The downside risk for Flowers Foods will not diminish soon.
Insider Selling
According to the latest filing, George E Deese, the Chairman of Board of Director, sold 462,500 shares at $15 and exercised a stock option for 587,587 shares at $11.11 with a net increase of the 125,000 shares. The stock option plan will be expired by the end of December. He exercised his option before the expiration date in December of this year, which indicates he might need more shares to have more influence at the board meeting. Insiders and institutions currently hold 12.4% and 67.3% shares respectively. Major shareholder T. Rowe Price has reduced its shares; while newcomer American Century Investment Management added 7.6 million, 2.45% of shares. So far the board added two new members this year. Changes of the management team are expected.
The valuation ratios of Flowers hit 2008 level, with P/E 17, P/B 2, P/S 0.8 and P/Cash Flow 10.6. In the last two recessions, Flowers and Bimbo both experienced drawdown around 30% to 40% from peak to trough. (See Figure 4) It took approximately one year to recover.
Flowers vs. Bimbo

Drawdown Analysis

Flowers

Bimbo

Recession

Peak

Trough

Drawdown

Recession

Peak

Trough

Drawdown

2001/11-2002/12

$ 3.67

$ 2.57

-29.97%

2002/3-2003/1

MXN 6.00

MXN 3.60

-40.00%

2008/10-2009/5

$ 13.18

$ 9.41

-28.60%

2008/9-2009/2

MXN 17.18

MXN 10.76

-37.37%

2005/10-2016/8

$ 27.00

$ 14.91

-44.78%

2016/6-2016/9

MXN 57.22

MXN 50.85

-11.13%
Potential investors need to pay close attention to its downside risk and wait until a positive sign occurs to initiate a long position, either new strategies are put into effect, or the deflationary food market turns around.
Jenny Liu, Analyst - LeverageEquityResearch.com
Disclosure: I/we have no positions in any stocks mentioned, and no plans to initiate any positions within the next 72 hours.
I wrote this article myself, and it expresses my own opinions. I am not receiving compensation for it (other than from Seeking Alpha). I have no business relationship with any company whose stock is mentioned in this article.
Editor's Note: This article discusses one or more securities that do not trade on a major U.S. exchange. Please be aware of the risks associated with these stocks.