Dorman Products Inc (NASDAQ:DORM) is a supplier of replacement parts and fasteners for cars and trucks in the aftermarket. The company has a very wide variety of products that serve this niche.
DORM operates in a highly specialized field. The company has an engineering focus and a unique business model that help imbue it with a compelling competitive advantage. Plus, because of the nature of the repair part business, DORM has customers that are motivated to pay for a quality product from a company they can rely on. This further strengthens the competitive position of DORM.
However, to get a better idea of how these characteristics and attributes impact a potential investment in DORM, I'm curious to dig deeper into some of the long-term financial trends behind this business. By looking at the operating results over a longitudinal period, I can try to get a sense of whether these supposed competitive traits are providing tangible and quantifiable benefits to shareholders. After all, shares of DORM are knocking on all-time highs so something must be driving it.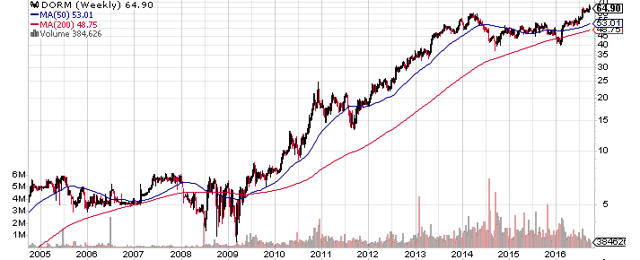 DORM Business Overview:
DORM was originally founded in 1978 as a family company. In fact, the founding family still retains 24% ownership in the business. The company sells over 53,000 unique parts and 150,000 SKUs across 175 different categories (source). All of this is reported in one operating segment.
Luckily, DORM does provide some breakdown of sales numbers by product. Powertrain is the largest category, making up 38% of sales. Auto body and chassis parts make up 30% and 25% of sales respectively, while hardware sales make up the remaining 7%. And product distribution is split almost evenly between traditional aftermarket automotive service providers, and retail. This broad mix of products means DORM isn't too reliant on one particular solution.
Interestingly, this is also because DORM has an engineering-focused business, with very little in the way of manufacturing assets. The company leverages a global supply chain of design, development and sourcing to deliver products just in time as customers need them. While some may see this lack of vertical integration as a disadvantage, it makes DORM more adaptable, leaner and more effective at getting a wide array of products to market in response to changing conditions and opportunities.
This is especially important in the case of DORM because they are constantly creating new products based on the needs of the aftermarket. They're able to quickly engineer and create unique parts that were previously available only through the original equipment dealer or the salvage yard. Customers of DORM like this because it allows them to drive same store sales growth each year by continuously bringing new needed products to their end market.
And I must admit, the competitive position of DORM seems very strong at this point, based on the qualitative traits of the business. But in order to get a better handle on the value for shareholders, I'd like to take a closer look at the financial results.
DORM Financial History:
When looking at the long-term financial results of DORM, I'm especially keen to keep an eye out for trends. The multi-year trends in operating results can help provide a lot of context to headline earnings results. I'm particularly interested in finding consistent and predictable trends. This is because those reliable results are more likely to continue in the future, which makes forecasting a little bit more meaningful. By the way, all the charts below are made with data freely available from Morningstar (source).
In terms of metrics, the first place to start is always the top line. That's because this shows how companies are meeting consumer demand in the market. If a company is serving a large amount of demand, we should see a steady increase in top-line numbers. On the other hand, it's best to be cautious with a company that can't grow sales.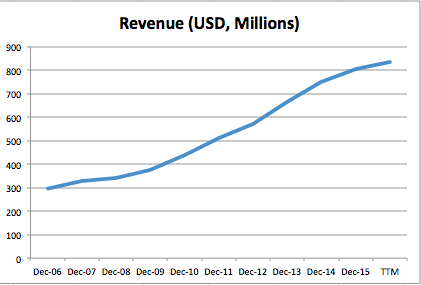 In the case of DORM, I think the revenue numbers look very good. And one of the most reassuring things is that because of the unique nature of the business, growth is likely to continue. Companies will continue to release more automobiles and trucks, which will eventually need replacement parts. DORM has plenty of room for line-extensions, cross-selling and new product development.
Interestingly, because of the engineering focus of this company, the cost to DORM in producing these solutions is also competitive. Not only that, but customers purchasing repair parts are usually doing so in a bind. Due to the urgency, and the relative low cost compared to the magnitude of the problem, DORM has even more pricing power. The gross margin chart reflects this well.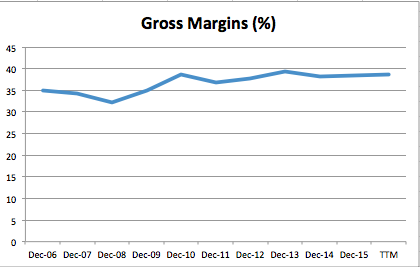 As you can see, the margins are quite healthy. And even more importantly, they're very consistent. Combined with the steady top-line growth above, we can expect that bottom-line results will follow a similar trend. Here's what the chart looks like.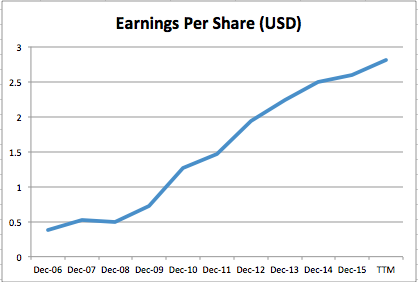 Once again, these are strong results. The trends in DORM have been consistent all across the board, which is something I really like to see because it speaks to the high quality nature of the company's competitive advantage.
Another place this is abundantly clear is on a book-value-per-share basis. As a shareholder, I love to see book value growing over the long term. It's one of my favorite trends. That's because it means my ownership value of the company is growing, on an absolute and per-share basis. It's almost like another margin of safety in the investment. So what does the chart look like for DORM?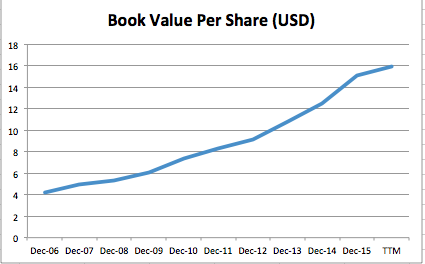 To be honest, I think this is about as good as it gets. The consistent growth further reinforces the strong competitive advantage and powerful economics of the DORM business.
But while the returns in book value per share are impressive, unfortunately I don't have a dividend chart to show you. Personally, given the return on equity of almost 20%, I'm happy to let DORM continue to compound their cash internally. But I appreciate that for income investors this may not be appropriate. In addition to a lack of income, there are other potential downsides to investing in shares of DORM.
Potential Risks to Investing in DORM:
Although DORM looks like a very appealing opportunity thus far, there are always risks to keep in mind. For this aftermarket auto parts maker, there are some unique things to consider.
First, DORM is at risk of a general economic slowdown. While you could make an argument that replacement and repair parts would suffer less than the purchase of new goods in tough times, they still aren't immune. Additionally, DORM has a highly concentrated customer base, with four customers making up over 60% of their sales (source). If any of these customers run into trouble or have a change of heart regarding their relationship with DORM then the company is likely to suffer.
Another risk facing DORM shareholders is the reliance on vendors and service providers to fulfill orders. While the lack of manufacturing assets helps keep costs down, DORM is more dependent on others and supply chain issues could impact results. This is further complicated by global currency and exchange risks.
So is DORM worth the price? Adjusted for cash the price to earnings ratio is still high, but at below 20 it's hardly outrageous. While the stock is priced at a bit of a premium to the S&P 500, maybe a high quality company is worth the price. This chart from Morningstar provides further historical perspective (source).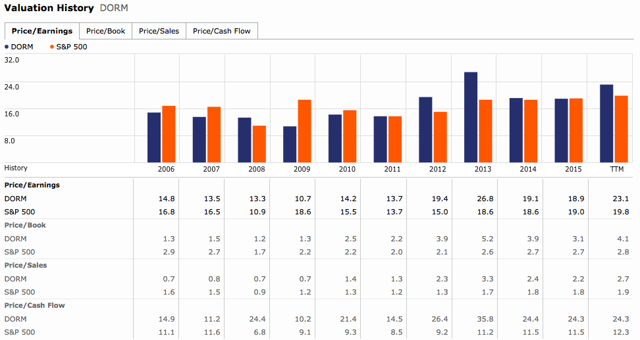 Conclusion: Shopping for Shares of DORM
DORM strikes me as a very appealing business due to its numerous qualitative advantages. And best of all, the trends in financial results back it up. Finally, while prices are at an all-time high, I don't think they're outrageously expensive given the quality of the company. For that reason, I've added DORM to the top of my shopping list and as soon as I have more cash to invest in the next few weeks I'll plan to initiate a position in DORM. But what do you think? Is this company worth a place in your portfolio?
Disclosure: I/we have no positions in any stocks mentioned, and no plans to initiate any positions within the next 72 hours.
I wrote this article myself, and it expresses my own opinions. I am not receiving compensation for it (other than from Seeking Alpha). I have no business relationship with any company whose stock is mentioned in this article.