In the race to acquire Twitter (NYSE:TWTR), much has been speculated about the company's probable suitors. Seeking Alpha Contributors have already evaluated Google/Alphabet (NASDAQ:GOOG), Salesforce (NYSE:CRM), IBM (NYSE:IBM), and Disney (NYSE:DIS)'s acquisition merits.
If, however, Twitter's Board is unwilling to sell in the near term to focus on its turnaround, CEO Jack Dorsey could turn to a strategic partnership - similar to Microsoft and Workday (NYSE:WDAY)'s announcement yesterday. Such a partnership could provide Twitter with renewed strategic vision and focus, factors some believe have plagued the platform.
Recently re-branded Snap, Inc. (PRIVATE:SNAP) and Twitter have significant similarities, and would likely realize impactful synergies in a tie-up. This article dives into how such a deal would impact both firms.
Platform Overlap/Synergies:
Several potential synergies would make TWTR and SNAP strong strategic partners:
Live, "As-it-happens" strategic focus:
A defining characteristic of both SNAP and TWTR is their strategic focus on real-time events. "Live-tweeting" and "Trending" on Twitter and "Stories" and "Discover" on Snapchat act as primary factors which engage audiences.

Platforms like Facebook (NASDAQ:FB), Instagram, and LinkedIn (NASDAQ:MSFT), in contrast, primarily feature historical data. Though Facebook has been growing Facebook Live and Instagram is pushing "Explore," the core use case for these platforms still revolves around recent events, rather than what is happening in the world now.

James Camak, analyst with independent equity research firm Monness, Crespi, Hardt & Co., says that "Live [video] is going to be the next big battleground for social media, including Facebook, Twitter and Snapchat."

According to Ericsson's 2016 Mobility Report, live video will indeed be a critical market for next-generation consumers - between 2011 and 2015, teenagers increased their TV/video viewing at home on smartphones by 85%, while in the same time period, decreased their viewing of traditional TV sets by nearly 50%.

Where users go, advertising dollars follow; if video streaming represents the dominant form of media consumption, advertising companies will spend the majority of their marketing budgets through the channel. A strategic partnership between TWTR and SNAP would act to solidify their market position as the primary video streaming platforms.
Consumer Demographic Profiles:
Twitter and Snapchat also both possess sought-after demographic profiles: audiences which are skewed global, diverse, and young. These populations represent the next promising generation of consumers, and TWTR/SNAP could leverage both their similarities and differences to drive top-line growth.

Location - International Similarities:
Both TWTR's and SNAP's user bases are skewed internationally: 79% of TWTR accounts are outside the United States, and though SNAP's exact user base is unknown, its four highest penetration markets are ex-U.S.: Ireland, Saudi Arabia, Sweden, and India.

TWTR's breadth and SNAP's distinct markets (Western Europe, Africa, Eastern Europe, and Southeast Asia) offer the companies incredible diversity and a broad range of consumer profiles which advertisers demand.

A partnership would leverage advertisers from both platforms and allow for the design of more in-depth (and expensive) marketing campaigns.

Ethnicity - Differences With Benefits:
45% of African-Americans age 18-29 use Twitter, while only 25% of this same population uses Snapchat.

As a result, the companies could leverage each other's knowledge, gaining insights into segments of the population they currently know little about. TWTR/SNAP could begin to bring into the fold users which have not yet embraced their platforms.

Age - Promising for Both Future and Present:
Snapchat and Twitter both skew toward a younger crowd. 60% of Snapchat users are under 25, while 40% of Twitter users are.

Why is this important? Future growth:
Turn Research estimates that marketers are currently spending absurd amounts of money on Millennials:


However, the next generation of consumers, "Gen Z" is already a bigger generation than Millennials, and will boast higher spending power as they mature:

(source)

As Millennials shift out of their prime spending years and Gen-Z shifts into them, a TWTR/SNAP deal could prove forward-looking and prescient, driving advertising revenue from the new economy.

Twitter's "older" viewers give promise to current results as well:
Currently, however, Twitter is much stronger in "older" viewers, - while only 14% of Snapchat's user base is over the age of 35, this cohort represents 38% of Twitter. If TWTR was able to steer its older customers to adopt Snapchat, both companies would realize benefits - Snapchat from an extended user base and Twitter from cross-promotions.
Use Cases:
TWTR and SNAP's typical use cases are similar.

Snapchat's featured "Discover" categories are:

Sports:
Channels include ESPN, NFL, & MLB

News:
Featured channels are CNN, WSJ

And Entertainment:
Featured channels are Buzzfeed, Cosmopolitan, Mashable, & MTV
Twitter's popular accounts match up well. In its top 50 accounts, Twitter has
Sports:
Cristiano Rinaldo (#13), SportsCenter (#30), ESPN (#31), and the NBA (#49)

News:
CNN Breaking News (#16), NTY (#28), CNN (#33)

And Entertainment:
Katy Perry (#1), Justin Bieber (#2), and Taylor Swift (#3) are the 3 most-followed accounts on Twitter, and Rihanna, Lady Gaga, Justin Timberlake, and Ellen DeGeneres round out the top 10.
Synergies Conclusion:
Significant synergies seem likely to exist between TWTR and SNAP. Scaling their user bases and operations would benefit both companies on the top-line:
Similarities between the two platforms (live focus, demographics, and particular use cases) would afford the companies stronger bargaining power with advertisers. Combining user profiles and data across platforms would allow advertisers to design in-depth ad campaigns reaching consumers at several distinct touch-points.

At the same time, differences between TWTR and SNAP's (different age groups, different sample use cases) would expose the companies to a broader set of advertisers than they were previously able to reach. A partnership would allow for the leveraging of one population cohort to drive sales to another.
The two companies' bottom-line would also likely be improved.
Their geographic overlap would allow for the consolidation and elimination of office spaces, data centers/cloud resources, as well as many duplicate positions. The company could save these expenses or invest them into development.

Cost reductions on a broader scale could be achieved in the event of a significant tie-up that shared resources such as software programming and design implementation.
Why a Partnership Would Be Ideal - Business Lifecycle Stages Very Disparate:
It seems, for the moment, that Twitter wants to sell itself. However, a tie-up between TWTR and SNAP would likely have to take the form of a partnership, as the companies are at very different stages in their business lifecycles; nothing more should be expected.
Valuation:
Investors valued SNAP at over $20B in May. Twitte's equity market cap of ~$16.5B would nearly double the size of the company in an acquisition scenario. As such, it seems unlikely that SNAP would raise the capital to purchase Twitter outright.
However, the similar valuations could make the two sides perfect for a joint venture or strategic partnership.
Recent Strategies:
In addition, SNAP's recent rebranding included the announcement that the company will begin selling hardware (video-enabled glasses):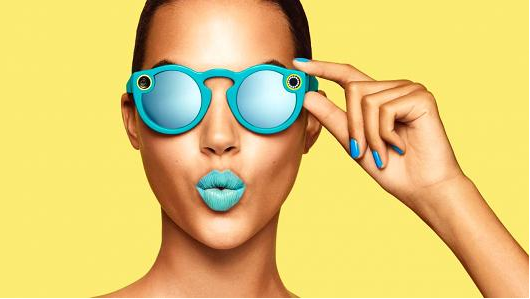 If the company seriously has sights on augmented and virtual reality, it is unlikely to want to be bothered by a large acquisition or joint venture.
If, as mentioned at the beginning, Twitter's Board is unwilling to sell because they want to focus on the company's turnaround, they too are unlikely to approve any meaningful corporate changes.
Conclusion - Limited likelihood of large deal, but the synergies exist:
Due to their business cycle lifestages, the companies are unlikely to form a major tie-up, acquisition, or merger. However, a strategic partnership could make sense - there seem to be many potential synergies between TWTR and SNAP.
Disclosure: I/we have no positions in any stocks mentioned, and no plans to initiate any positions within the next 72 hours.
I wrote this article myself, and it expresses my own opinions. I am not receiving compensation for it (other than from Seeking Alpha). I have no business relationship with any company whose stock is mentioned in this article.