The EIA reported an injection figure of +49 Bcf, bringing the total storage number to 3.60 Tcf. This compares to the +96 Bcf build last year and the +97 Bcf build for the five-year average.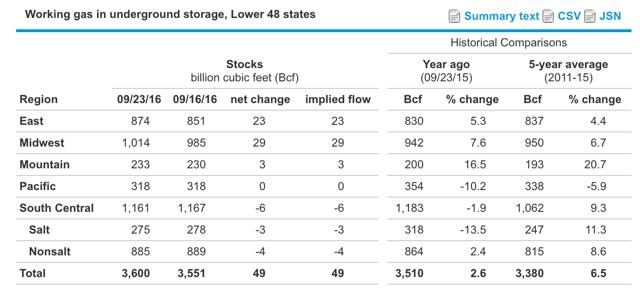 Source:EIA
Going into this report, a Reuters poll of 17 traders and analysts showed an average +55 Bcf build with a range of +50 - +65. We expected a +53 Bcf build and towards the lower end of the range.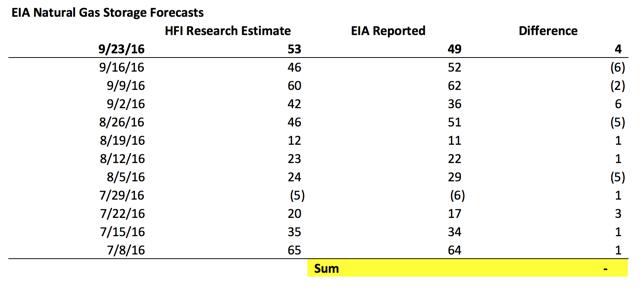 Source: HFI Research Estimates
After last week's natural gas (NYSEARCA:UNG) storage report, we highlighted this:

As we expected, this was a catch-up report to last week. The +52 Bcf injection was far too high given the storage figures reported earlier that week, and pipeline flow indicated it should've been below +50 Bcf, and this week's report of +49 Bcf reflects that.
Since we started giving weekly natural gas projections, we have projected +421 Bcf in storage builds or exactly what EIA has reported since 7/8. We hope to continue our streak and give readers a better understanding of weekly natural gas storage figures.
Despite this report being more bullish than what the consensus estimated, natural gas prices are down slightly.

The record net long position increase reported last week was certainly concerning. We noted that the market has already somewhat priced in a year-over-year storage deficit.

Looking at our current projections, we continue to expect year-over-year surplus to completely go away by mid-October. If you look at some areas, Pacific and South Central are already in year-over-year deficit territories. We think the current projections we have will continue to be supportive of prices.
Overall, this was another record-breaking storage report. The adjustment catch-up is now done so that we don't have to artificially lower our projections for next week. Be sure to read our next week's projections tomorrow.
If you are interested in reading our updated weekly natural gas outlook and get our injection forecasts weeks in advance, please consider signing up for our premium service. Thank you for reading our Weekly Natural Gas Storage Report.
Disclosure: I/we have no positions in any stocks mentioned, and no plans to initiate any positions within the next 72 hours.
I wrote this article myself, and it expresses my own opinions. I am not receiving compensation for it (other than from Seeking Alpha). I have no business relationship with any company whose stock is mentioned in this article.