One of the most interesting companies on the market right now, in my opinion, is Legacy Reserves (NASDAQ:LGCY). Although I own its preferred units (LGCYO) and there's also another class of preferred units (LGCYP) and this changes the risk/reward payoff to some degree, the company as a whole is interesting in my opinion. However, as I've stated before, some risks do exist with the business and in this piece I'd like to put forth one plan management should consider if it wants to lower the long-term risk of the enterprise and increase the potential return for investors moving forward.
Cash flow is strong
In my last article about Legacy, I analyzed the company's cash flow based on current energy prices. My objective with this article is not to rehash those numbers because nothing but the price of energy has changed since the publication of that piece, but I do believe it's important to remind investors that, at current prices, Legacy is profitable through at least 2019. In the table below, you can see the financial picture of the company with current energy prices (oil at $46.99 per barrel and natural gas at $3.014 per Mcf) from 2017 through 2019.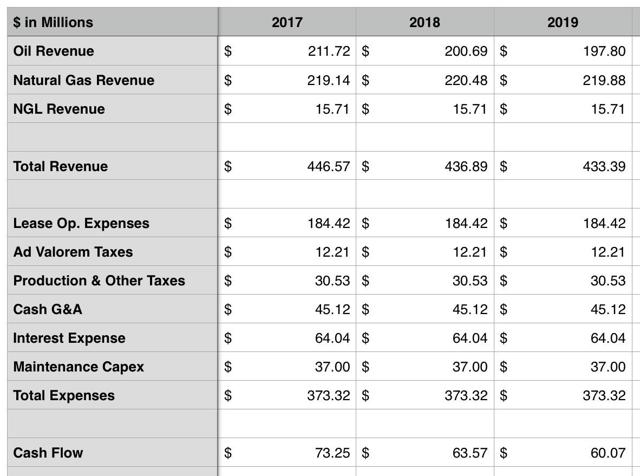 *Created by Author
Based on these numbers, the picture for Legacy appears to be attractive. The same can still be said even if the company had no hedges at all. Keeping all else the same, if Legacy sold off its hedges tomorrow, it could break even if oil prices were as low as $35.34 per barrel, which means that oil prices would have to fall by 24.8% from current levels before it would begin to bleed cash.
The big fear for Legacy, however, relates to the fact that its credit facility redetermination is nearing and if lenders get greedy or impatient, they could push the company into bankruptcy or even just force it to allocate all excess cash to them until debt has been paid down some more. With $520 million in borrowings under its credit facility right now and $108.6 million in wiggle room, market participants seem to be fearing the worst.
What management should be working on
One thing I've been perplexed about regarding the business is why management isn't doing something innovative to mitigate current risks. In the first several months of this year, the company engaged in asset sales totaling $92.47 million and this, combined with cash flow, was used to buy back Senior Notes at a discount and was used to repay $88 million under its credit facility, allowing total debt to fall by $272.36 million so far compared to the end of last year.
This is a great move by the company and will lower not only debt repayment amounts in the long run but annual interest expense as well. However, in the event that the company's credit facility gets cut by much more than its wiggle room, this could all be for naught. One idea to battle this, besides additional asset sales (which should be considered) and allocating excess cash flow toward reducing the credit facility, however, would be to seek out a second lien debt lender.
It's difficult to know what kind of interest rate this would be at but, given the seniority involved, which would protect lenders more than Senior Notes investors, a rate somewhere in the range of 9% would probably be reasonable. The question, though, is what kind of impact this would have on Legacy both from a leverage perspective and a cash flow perspective. The idea I have in mind would involve Legacy taking on somewhere around $300 million in debt on and to use $150 million of that toward reducing its credit facility. With an interest rate of around 3.22% right now, this means that the Second Lien Notes would increase interest expense for the firm (on just the $150 million used to reduce the facility) by $8.67 million per year. But what about its Senior Notes?
At this moment, the weighted average market price of Legacy's Senior Notes stands at $0.51315 on the dollar, which means that management could buy back a great deal of its debt at a discount. As opposed to engaging in a tender offer, management should use open market purchases for these notes. If market participants know that management is earmarking a set amount for buying back Senior Notes on the market, it's likely that prices will rise so, to account for this, I created the following table below, which shows the amount management could buy back at different prices and the final interest expense impact on the firm under those different scenarios.

*Created by Author
What we see from this is that management can reduce its credit facility lending by $150 million, giving it wiggle room of $258.6 million instead of its current $108.6 million, and it can retire a great deal of Senior Notes at a discount in an effort to mitigate the impact from the higher interest rate. Under the most pessimistic scenario I considered reasonable, total debt would fall by $64.29 million, lowering risk for all lenders, and annual interest expense would rise by just $6.94 million as a result. For an unhedged Legacy, this implies a breakeven price that is just $0.40 per boe (barrel of oil equivalent) or $1.56 per barrel of oil more than what I cited above.
Takeaway
Based on the data provided, a Second Lien move by management would be attractive under the proposal I offered up, even if management changes the composition of the debt reduction. Yes, interest expense would increase but total debt would fall and all stakeholders should be happy (with the possible exception of the holders of Senior Notes). While the probability of landing a Second Lien investment may seem slim by some investors, the low cost structure of Legacy, combined with, perhaps, a concession whereby management would hedge additional output for the sake of safety, should be appealing to a number of potential suitors. Should management engage in a move of this nature, investors should see it as a positive sign for the company in the long run.
Disclosure: I am/we are long LGCY.
I wrote this article myself, and it expresses my own opinions. I am not receiving compensation for it (other than from Seeking Alpha). I have no business relationship with any company whose stock is mentioned in this article.
Additional disclosure: I own LGCYO, not LGCY