In my previous article about industrial robotics, I argued that while many focus on future possibilities in robotics, the more tangible and imminent possibility is in industrial robotics, where some industries are already far ahead in adopting robotics and with many more joining them.
In this article, I have narrowed down the most relevant investment opportunities according to robotics exposure, geographical attractiveness, sound valuation and more. So with no further ado, here is my review of the most relevant industrial robotics companies.
Emerson Electric (NYSE:EMR)
Emerson Electric is a USD 33bn US company. It was a fairly diverse company until 2015, with several operating segments. Approximately 18% of revenue was in the Industrial Automation segment, with a further breakdown as can be seen below.

Source: Company 2015 annual report, Industrial Automation
The company is undergoing transformation and will divest parts of the business and gather in two division, where the Automation Solutions would account for 66% of business. Obviously some of those parts were previously in some of the other divisions, but transparency will improve now and also shows EMR's commitment and belief in industrial robotics/automation. It is however still more of a play on components than actual robots.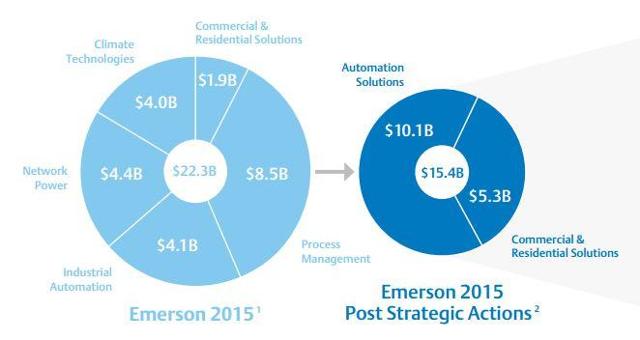 Source: Company 2015 annual report
Emerson has seen negative growth in the last year, which has carried into 2016, but still sports improving margins and a high and improving ROE and ROA.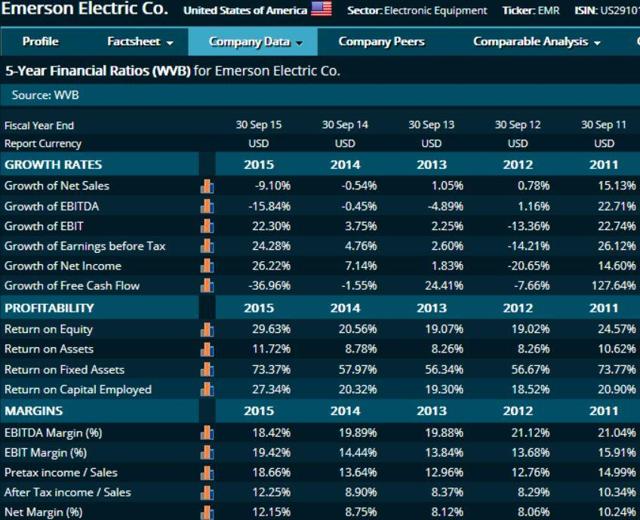 Source: FactSet, InFinancials
HollySys Automation (HOLI)
HollySys is USD 1.3bn Chinese company, which is exposed to robotics/automation, albeit more on the power generation and transportation side as opposed to manufacturing. Furthermore, it is heavily exposed to growth of automation/robotics in China, which I find attractive, as previously discussed.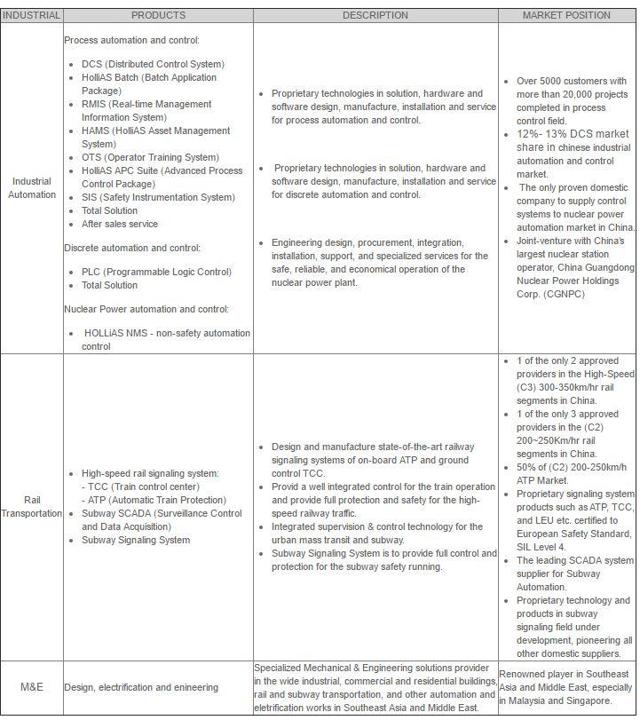 Source: Company website
As can be seen in the 5-year financial overview below, growth is erratic and the latest full year results show low growth and declining margins.
Source: FactSet
However, valuation also shows that HollySys is one of the cheapest stocks in the universe (see valuation section for more details).
Rockwell Automation (ROK)
Rockwell Automation is a USD 15bn US company and is a good pure-play on robotics/automation with a strong footprint in control systems, motors etc. (68% of revenue are physical products).

Source: Company website
But also much like HollySys, Rockwell is struggling with poor growth, which has also carried into 2016 and has limited exposure towards Asia/China.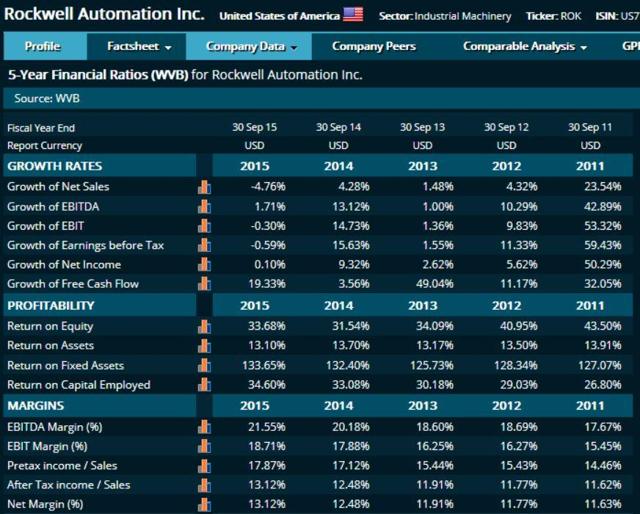 Source: FactSet, InFinancials
ABB (ABB)
ABB is a USD 47bn Swiss-Swedish industrial conglomerate but with a strong focus on robotics/automation with anything from robotic arms, sensors, software and more, but with more than 80% of business coming for physical products. They have recently sold their cable business to NKT, which further narrows ABB's focus to robotics/automation.

Source: Company website
Growth took a major hit in 2015, which has carried into 2016 as ABB looks to focus their business but at the same time has also been hit by less larger orders throughout the segments.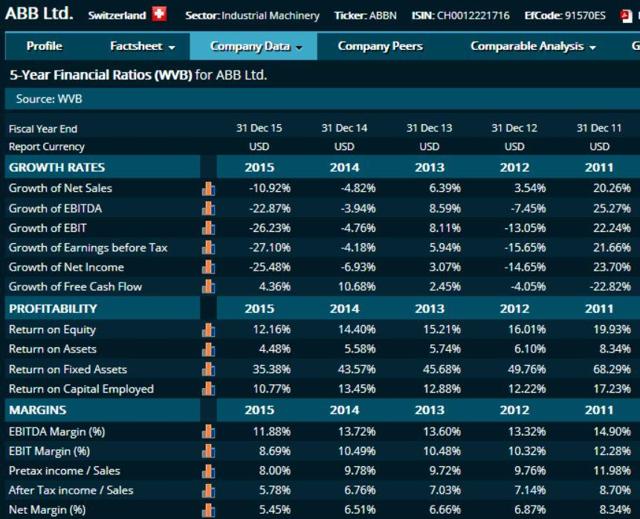 Source: FactSet
Fanuc (OTCPK:FANUY)
Fanuc is a USD 32bn Japanese company, heavily focused on robotics and I also give it my undisputed worst webpage award.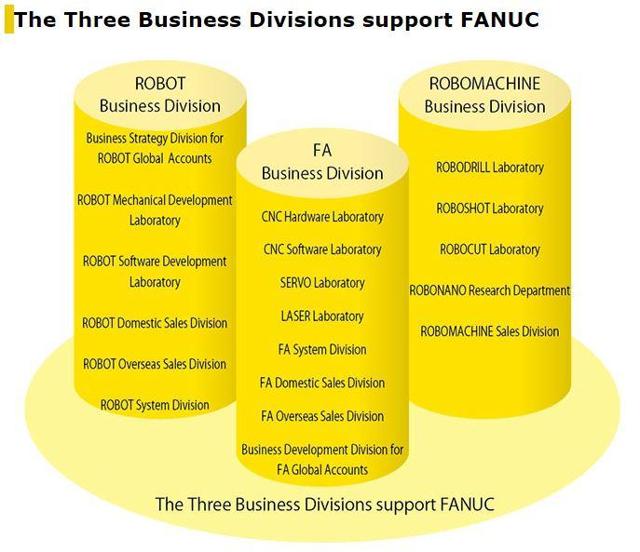 Source: Company website
Besides the outdated look, Fanuc also posted horrendous FY 2016 figures, with large double digit declines across the board. The company does however have some of the highest margins in the industry.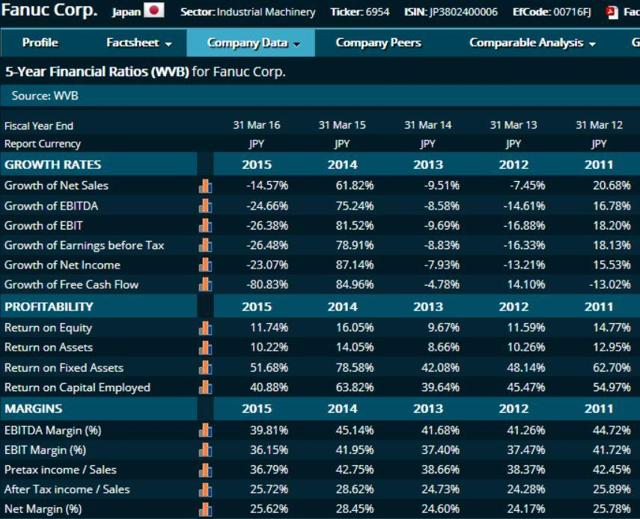 Source: FactSet, InFinancials
Kuka AG (OTCPK:KUKAY)
Kuka is a USD 3.4bn German company and very much a pure play on robotics.
The majority stake in Kuka has recently been bought by Midea through a public takeover, where they offered EUR 115 per share. The offer ended on 3rd of August with only 71% acceptance by shareholders. Effectively this means that an investment in Kuka is betting on Midea to take the company to the next level as they will call the shots from now on. The shares has as a result come back to pre-offer levels of around EUR 85.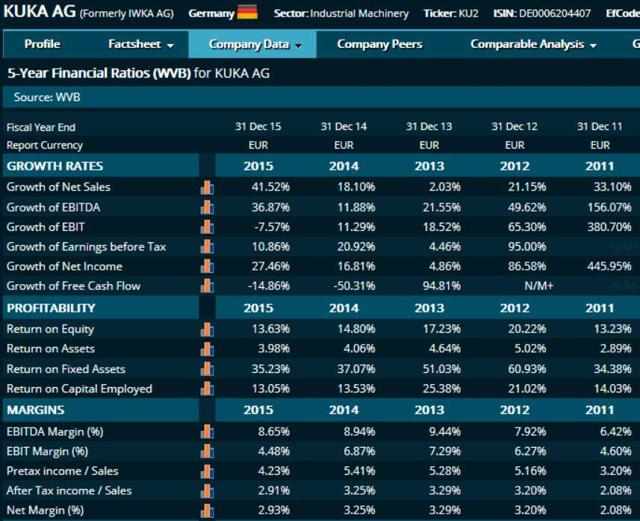 Source: FactSet, InFinancials
Kuka seems to be the only player showing good growth in the industry over the last years - albeit from lower absolute levels. Margins also show that this is a growth company that has not reached industry profitability yet.
Yaskawa (OTCPK:YASKY)
Yaskawa is a USD 4bn Japanese company and another name with a large exposure to robotics and motion control.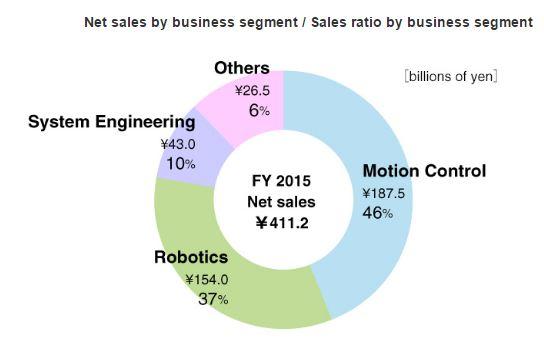 And just speaking of Midea and Kuka, Midea last year initiated a joint venture with Yaskawa, which was to be responsible for research, manufacturing and selling service and industrial robots, especially in China. Midea's deal with Kuka would indicate that the joint venture with Yaskawa has not been successful.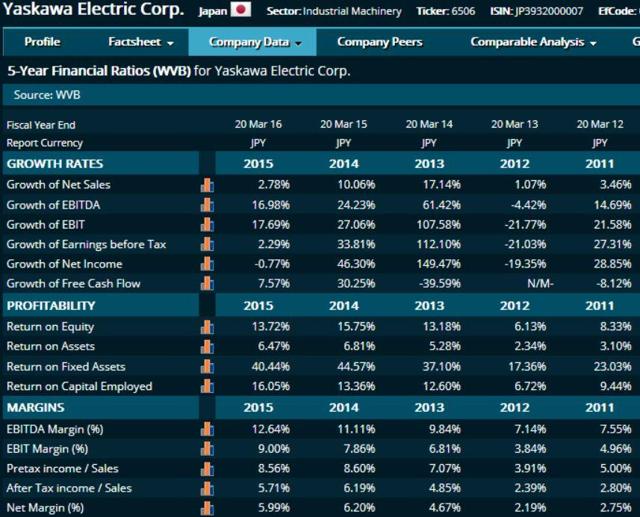 Like many of the other robotics companies, Yaskawa has seen a slowdown in the last year, but has managed to improve margins.
Source: FactSet, InFinancials
Nachi-Fujikoshi Corp. (no US ticker)
I round off my overview with a look at the cheapest company in this sphere based on peer group multiples, the USD <1bn Japanese company, Nachi-Fujikoshi.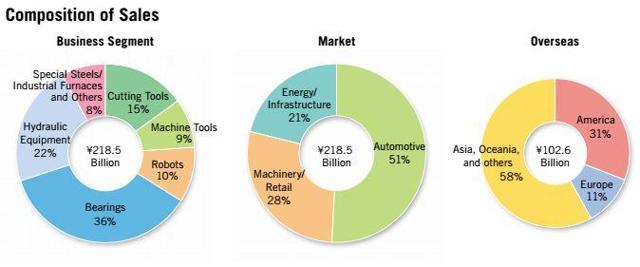 Source: Company Annual Report 2015
In my view the company is exposed to robotics, but in a more "low-tech" and component sense. They are however heavily exposed towards Asia/China and are investing in more sales personnel to capture the Chinese growth.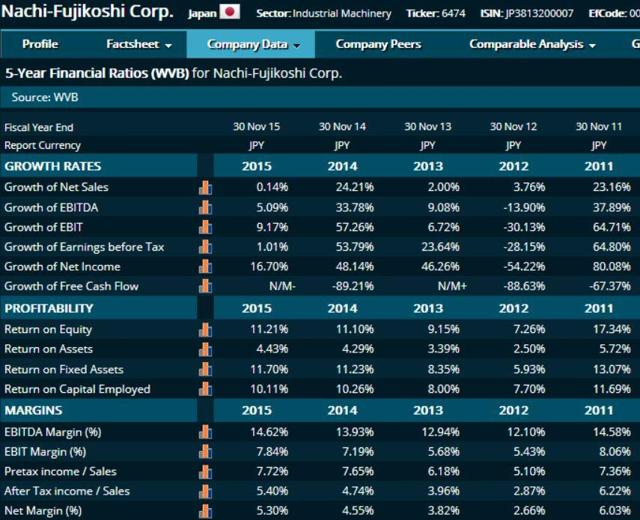 Source: FactSet, InFinancials
Like many of the other companies, Nachi has seen slowing growth, which has carried into 2016, but with a low valuation, it warrants a further look.
Analysis and valuation
Looking across the sector and the companies above, it is evident that 2015 and 2016 has been down years for almost all of the players with significantly slowing or even negative growth. Many companies have cited weakness in the economy, slowdown in China etc.
It is also evident that when you look into some of these companies, some are large, less agile and visionary companies, while others are focused on Internet of Things (IOT), connectivity and expansion.
I think the interested investor in robotics stocks should look for:
A high degree of exposure in robotics/automation (>50%) and with an IoT vision
Exposure to future growth market (China in particular)
Healthy margins or trend of improvement
Sound valuation - both compared to peer group and to historical company levels
In my previous article, I stated that the sector valuation as whole looks neither cheap nor expensive at the moment. When diving into the specific companies mentioned, I find Kuka to be the most expensive stock at the moment (which would be expected as it is the only one showing good growth) and Nachi the cheapest on EV/EBITDA and HollySys on P/E.

Source: FactSet, InFinancials
Conclusion
Based on the above high-level analysis and valuation, my top picks for robotics investments are:
Kuka (growth, deal with Midea)
HollySys (China exposure, cheap on P/E)
ABB (a larger company with increasing robotics focus and decent Asia exposure - perhaps with turnaround potential)
I will do a deep dive analysis and valuation of these three names in the near future. Thanks for reading, look forward to your comments and feedback.
Disclosure: I/we have no positions in any stocks mentioned, and no plans to initiate any positions within the next 72 hours.
I wrote this article myself, and it expresses my own opinions. I am not receiving compensation for it (other than from Seeking Alpha). I have no business relationship with any company whose stock is mentioned in this article.
Editor's Note: This article discusses one or more securities that do not trade on a major U.S. exchange. Please be aware of the risks associated with these stocks.