Given the big news on a potential OPEC deal, the next question that arises is: What should we be buying? I'm not an industry specialist, but I do look at everything that's undervalued. Over the last few years, I've looked at a lot of potential oil investments. Without claiming to know the entire universe, here's a look at a number of compelling companies of various sizes.
Aker ASA
Aker ASA (OTCPK:AKAAF) is a owner/operated company I wrote about on Dec. 30, 2014, as my best idea in oil (accessible to Seeking Alpha Pro subscribers and The Black Swan Portfolio subscribers) when it traded at NOK 140. At the time, it traded at 59.6% of net asset value after selling off strongly, and today shares are NOK 263. I didn't do this well, though, because the NOK fell vs. the EUR. At the time I wrote:
the chairman and major shareholder is an experienced capital allocator, as evidenced by an excellent track record of returns, who communicates in a clear and straightforward manner. Management encourages ownership and 43 of 53 employees own shares. Employees receive bonuses when net asset value growth is achieved and when dividend payments are realized. The dividend is a way for shareholders to profit from the discount to net asset value even when the spread doesn't narrow.
In each of its holdings, Aker holds a sizable stake and attempts to create value by pushing for important changes. You could call it a euro-style ("behind the curtain") activist. The company has a few fairly concentrated positions, which makes for some volatility. Here's a recent overview of its positions: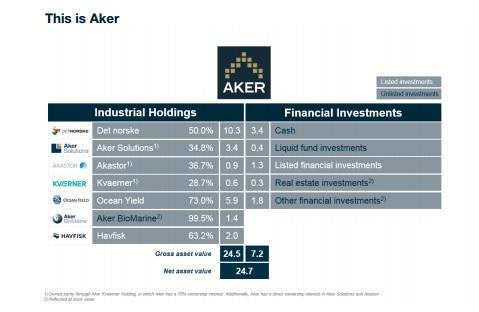 Source: Company Fact Sheet
NAV per share is currently NOK 364, up significantly since I first discussed the stock, but I continue to hold. 49% of the assets are related to oil and gas.
Royal Dutch Shell
I certainly haven't been a fan of Royal Dutch Shell (NYSE:RDS.A) since day one. Recently, I've been warming to Ben van Beurden's moves, and the share price went down enough where some faults can be forgiven. From my most recent article "How A Loser Can Be A Winner":
With a markedly different strategy which more closely resembles Exxon's philosophy it seems reasonable to expect the firm to, at least, close the performance gap a bit. If RDS in fact continues to cut costs and keeps capex below $30 billion I find it fairly convincing it will track much closer to Exxon on a variety of performance metrics.

Given its advantage starting at a much lower price to tangible book ratio, my money is on RDS to show the best total return over the next three years. Ultimately, the only metric that really matters.
It continues to trade at a modest valuation, especially compared to Exxon Mobil (NYSE:XOM), which has a much better track record in terms of value creation. But how much cheaper should it be? With two exceptions, I prefer to keep my money in smaller companies. But at these levels, and given the changes that are being made, I can get behind this stock.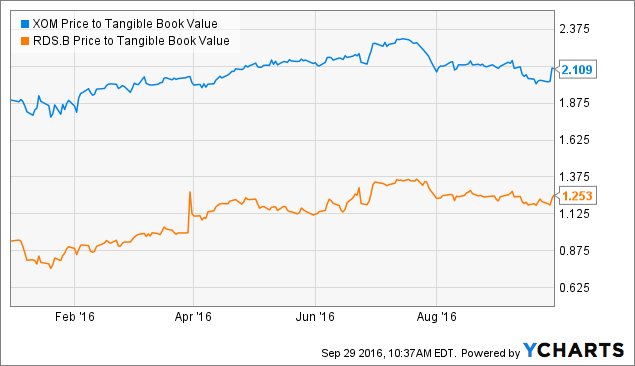 XOM Price to Tangible Book Value data by YCharts
Philips 66
Philips 66 (NYSE:PSX) is a company I looked at because Warren Buffett keeps buying it. The problem with these huge companies is that they are rather complicated, and I'm not an industry expert with deep knowledge of these operations. Looking at it from an investor's perspective, thinking about what hidden nuggets of value could there be, I came up with the pipelines discussed in "A Buffett Inspired Way To Look At PSX":
If Philips 66 pipelines are worth $1 million / mile that's 18.000 x $1 million or $18 billion. That's close to half of Philips 66 market cap. What I wanted to show with this exercise, yielding a very rough valuation, is how a company that's first and foremost viewed as a refiner has a number of 'hidden assets' on its balance sheet that explain almost half of its market cap. We haven't taken into consideration the asset value of any of its storage facilities or refinery facilities. Both of which are real, tangible and valuable assets.
Hidden assets and asset valuations are ways to make a bet on oil-related companies without encountering as much risk. Buffett's smarts should never be underestimated.
PBF Energy
Seth Klarman put me onto PBF Energy (NYSE:PBF), which has a few very attractive qualities I tend to look for: high insider ownership, valuable real assets, and a somewhat obscured FCF because of a drop-down structure it's involved with. When you look at operating cash flow, the company looks terrific: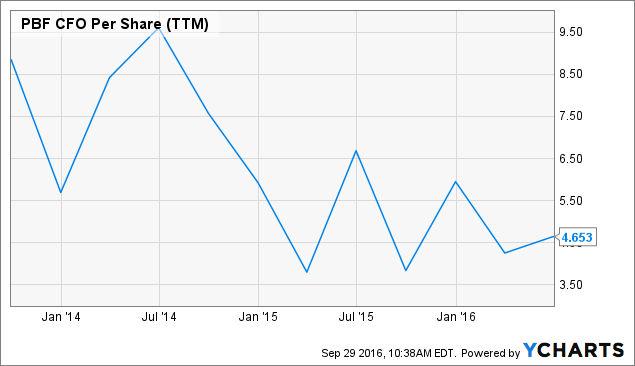 PBF CFO Per Share (ttm) data by YCharts
The company is the fourth-largest refiner in the U.S., but it lags the others pretty badly. One explanation for its relatively strong operating cash flow could be its high Nelson Complexity Rating, which I learned tells us something about the quality of its plants. Refiners with higher ratings tend to be more valuable. At $22.45 per share, the stock trades at about 4.5x operating cash flow per share.
Disclosure: I am/we are long AKER ASA.
I wrote this article myself, and it expresses my own opinions. I am not receiving compensation for it (other than from Seeking Alpha). I have no business relationship with any company whose stock is mentioned in this article.
Editor's Note: This article discusses one or more securities that do not trade on a major U.S. exchange. Please be aware of the risks associated with these stocks.