President Obama wrote in a recent piece about self-driving cars, "In the seven-and-a-half years of my presidency, self-driving cars have gone from sci-fi fantasy to an emerging reality with the potential to transform the way we live." Technology companies such as Alphabet (NASDAQ:GOOG) (NASDAQ:GOOGL) and Apple (NASDAQ:AAPL), and automobile manufacturers including Ford (NYSE:F), Volvo (OTCPK:VLVLY), Tesla (NASDAQ:TSLA) and BMW, among others, are investing in autonomous driving technology.
In fact, Ford has been developing and testing the technology for more than a decade and targets fully autonomous cars for ride sharing services by 2021.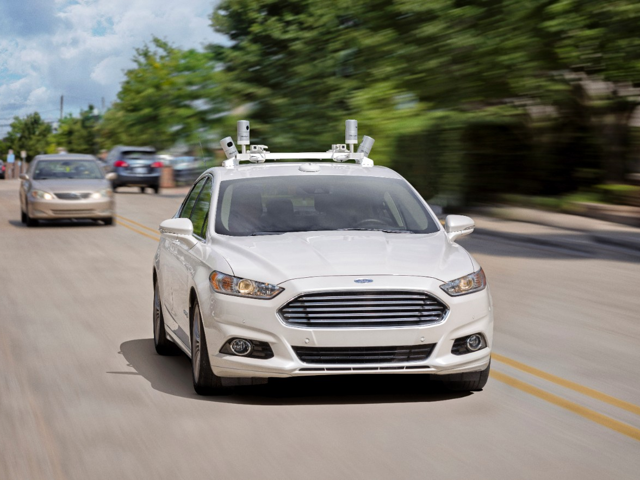 In April 2016, Ford, Google, Uber, Lyft, and Volvo formed the Self-Driving Coalition for Safer Streets, a lobbying group to advocate for autonomous driving. Volvo is testing self-driving vehicles in London. BMW, which has not joined the coalition at this point, has tested them in China.
State and Federal Push
The Obama administration first issued definitions for driverless car safety technology in 2013. Earlier this year, President Obama proposed roughly $4 billion in federal funding for R&D on this technology over 10 years. He also recently published the editorial above noted in The Pittsburgh Post-Gazette, indicating that driverless cars could save tens of thousands of lives annually.
The National Safety Council estimates that 38,300 people were killed on U.S. roads in 2015 and 4.4 million were seriously injured, the most lethal auto accidents since 2008. 2015 recorded an 8% Y/Y increase in deaths from automobile accidents, the biggest annual increase in 50 years. In large part, this is being attributed to driver distractions - for instance drivers speaking on their cell phone or texting while driving. According to Alphabet, 94% of domestic accidents involve human error.
Several states have passed legislation regarding autonomous driving, with most requiring that a licensed driver be in the car during testing. However, earlier this month, Michigan eliminated that requirement if the car can be controlled remotely or can stop or slow autonomously.
The Department of Transportation has also released guidelines outlining safety expectations for driverless vehicles and encouraging uniform rules across states. The guidelines cover a 15-point safety standard for the design and development of autonomous vehicles, including how driverless cars should react in the event of a technology failure, measures to safeguard passenger privacy, measures to protect passengers in the event of a crash and how cars can communicate with passengers and other road users. Commenting on the guidelines, Ford noted that they "will help establish the basis for a national framework that enables the safe deployment of autonomous vehicles. We also look forward to collaborating with states on areas that complement this national framework."
Tesla Next-Gen Technology: Shift in Focus to Radar
The auto-drive feature is seen as a way to increase passenger and pedestrian safety. But we know that the technology itself might also pose risks, as evidenced by a recent May 2016 accident involving Tesla's autopilot that ended with a fatality when the car didn't detect a truck ahead of it. Tesla has indicated the failure was related to the automatic emergency braking system and not to autopilot. Whether that's true or not, we believe it calls into question the readiness of autopilot and other autonomous systems for deployment or even testing on heavily trafficked public roads.
Until now, Tesla's autopilot system has relied primarily on camera detectors. Although it also includes front-facing radar, it has primarily leveraged Mobileye's (NYSE:MBLY) camera-based detection technology. But following the May 2016 crash, Tesla and Mobileye terminated their relationship and Tesla has begun working on a sensor featuring more radar antenna around the vehicle. Radar is not as impacted by lighting and atmospheric conditions (fog, for example) as cameras are. Radar can detect metal objects in front of the car even under poor conditions, although apparently it is not as reliable at detecting people or wood or plastic objects.
Other companies such as Alphabet, Uber and Ford are developing self-driving technology around lidar (light imaging, detection and ranging). Lidar is a laser sensor system that creates detailed 360 degree, 3Dmaps of a car's surroundings. In fact, Ford, along with China's Baidu (NASDAQ:BIDU), jointly are investing $150 million in Velodyne, which produces lidar sensors for self-driving technology. Lidar uses lasers to map the world around it and to determine the distance between the car and any surrounding objects. It is considered highly accurate, according to Business Insider. According to Clean Technica, "LIDAR works well in all light conditions, but starts failing with increases in snow, fog, rain, and dust particles in the air due to its use of light spectrum wavelengths." The following figures are from Clean Technica.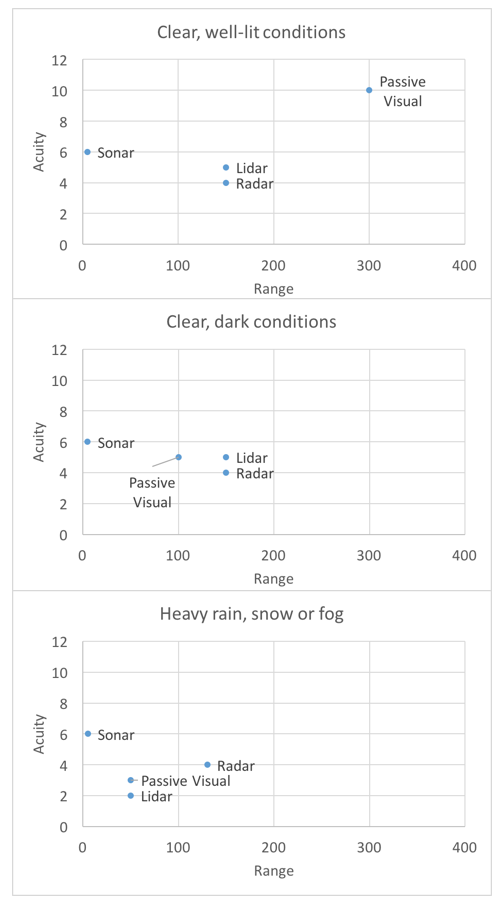 It would seem that redundancy is necessary in self-driving systems to cover a broad range of atmospheric conditions. Nvidia (NASDAQ:NVDA) says its self-driving DRIVE-PX 2 system "can fuse data from multiple cameras, as well as lidar, radar, and ultrasonic sensors... to accurately understand the full 360-degree environment around the car to produce a robust representation, including static and dynamic objects."
However, Tesla has chosen not to include lidar. Tesla's next generation autopilot software is expected to use temporal smoothing to construct cloud maps for autonomous driving. With its next generation system, Autopilot Version 8, Tesla will use radar pulsing up to 10 times per second to create a 3D image of anything in front of the car. The company's radar partner, German auto parts supplier Bosch, illustrates the technology in use.
Tesla Version 8.0 will also disable the system if three incidents occur within an hour. This feature is intended to correct for drivers who cruise hands free for long periods because even with autopilot technology, drivers still need to be alert and aware of their surroundings. Once the autopilot automatically disengages, the driver must pull over and put the car in park to restart it.
Conclusion
Auto accidents are occurring with greater frequency and leading to more fatalities, with driver distraction from cell phone usage a likely cause. The government, automobile manufacturers and tech companies are looking to auto-driving technology as a solution to help reduce collisions and accident related injuries. Self-driving technology alone cannot solve the problem. In fact, it could make it worse, in some ways, if drivers believe that they are operating a completely autonomous vehicle that doesn't need their oversight.
The National Economic Council has said that with self-driving technology, "in the future, you can take your hands off the wheel, and your commute becomes restful or productive." That may be true in the future. For now, however, until the technology has truly been proven to be safe, drivers must still control the vehicle or be prepared to control the vehicle.
According to Forbes, in the aftermath of the fatal crash in May 2016, Mobileye has said that it is "concerned Tesla was "pushing the envelope in terms of safety" in how it designed Autopilot." Tesla's next-gen Version 8.0 might be a big improvement over its older autopilot, but we believe that Tesla will be under tremendous scrutiny regarding its autopilot system for the foreseeable future.
Disclosure: I/we have no positions in any stocks mentioned, and no plans to initiate any positions within the next 72 hours.
I wrote this article myself, and it expresses my own opinions. I am not receiving compensation for it (other than from Seeking Alpha). I have no business relationship with any company whose stock is mentioned in this article.