Yesterday I wrote an article titled, An Intelligent Way To Build REIT Wealth: Use The Right Metrics, in which I explained two of the most important metrics for valuing shares in real estate securities. I summed my investment strategy as it relates to my Durable Income Portfolio as follows:
we gear our strategies around dividend growth hoping to select companies that have steady and predictable growth attributes - both dividend and share price - while we thoughtfully analyze each individual property sector and sub-sector.
One of the REIT sectors that has been down the hardest has been the lodging REIT sector, trading at 10x P/FFO, well below the historical average of 14x.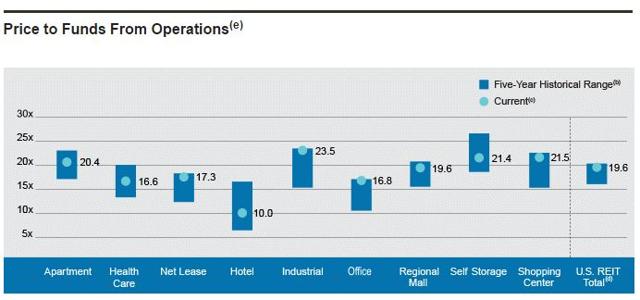 Source: Cohen & Steers
Lodging REITs trade at a significant discount to NAV and we find these valuations to be rather attractive in light of the broader pace of new supply. We especially like the more recent acceleration seen in the luxury and upper upscale lodging sectors indicative of a recognizable improvement in business travel and improved economic outlook.
Keep in mind, I am no stranger to luxury branded hotels, especially since I have spent the last three years traveling around the world visiting every property owned by Donald J. Trump.
Around two weeks ago, I was the very first customer to check into The Trump International Hotel in DC (the Old Post Office on Pennsylvania Avenue). I was not planning to spend a night there but I had to stay at the 5-star hotel just to experience the ultra-lux amenities that the irreplaceable asset offered.
Having visited each hotel owned by Trump in the world, I can honestly say that Trump "raised the bar" in DC. I'm not going to weigh in on politics but who can argue with the fact that Donald Trump took a non-income-producing eyesore in DC and turned it into a sustainable source of long-term economic wealth. Trump's DC hotel will compete with all of the other high-end hotels in DC but he has delivered on his goal of greatness (I am writing this article from my Airbnb apartment in NYC…back to reality).
Let me be clear, I will not be writing about Trump's hotel collection today, instead, I want to help you build wealth like Donald Trump. Having spent considerable time researching Trump's hotel holdings and interviewing his management team, I am eager to help you unlock some of the secrets.
Today, I am going to provide you with details on a REIT that has some "Trump-like" ingredients: well-located high-quality properties located in gateway markets. More importantly, I am going to provide you with dirt cheap price, as we all know, Trump always insists on bargains. This is what I would refer to as "Buying Boardwalk for the price of Baltic Avenue".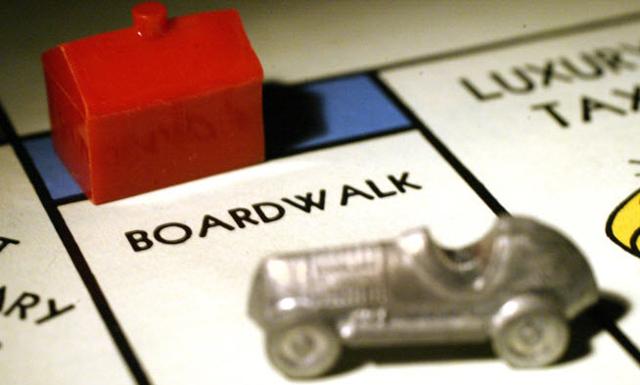 Peeblebrook Hotels
Most hotel landlords were hit hard during the Great Recession; however, Pebblebrook Hotel Trust (NYSE: PEB) dodged the disaster, as the Maryland-based hotel REIT launched its IPO at the end of 2009.
The timing could not have been better (for PEB), as the Great Recession had a major impact on the performance of hotels, with the average hotel's cash flow declining by 50% between 2008 and early 2010.
But the company took advantage of the financial collapse by raising $400 million in an IPO that has led to 35 hotels (8,111 guest rooms) and over $2.68 billion of invested capital. Since the IPO, PEB has acquired 37 properties (sold 2):

It's important to note that PEB has "no legacy assets," and the company was able to acquire hotels operating significantly below comparable operating margins. This presents substantial margin expansion opportunities.
PEB's hotels are located in major U.S. gateway cities like San Francisco, West Los Angeles, Seattle, Portland, New York, Boston, Washington, D.C., and Miami. Currently, the company has properties in 14 major urban markets, with 15 different operators. Around 62% of its 2016 hotel EBITDA comes from West Coast properties.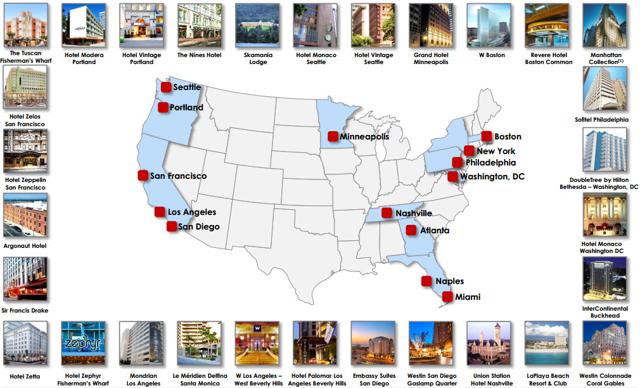 Here's a snapshot (below) that illustrates PEB's geographic diversification. As you can see, San Francisco (24%), Los Angeles (14%), and Portland (12%) are the top markets: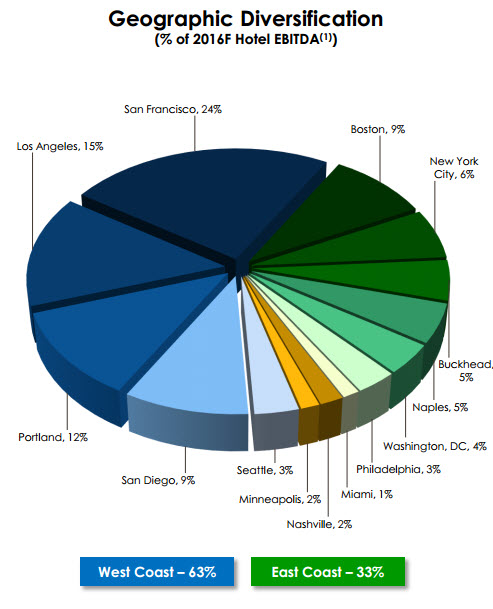 Pebblebrook focuses on acquiring assets that are broken, either operationally or physically, and then utilizing its expertise, in collaboration with the expertise of the operators, to fix the problems and significantly improve the performance of the hotel, thus creating significant value for shareholders.
As you can see below, around 58% of its operators are independent and 42% represent major brands (like Kimpton, Viceroy, etc. ...) Here's a snapshot of the company's operators: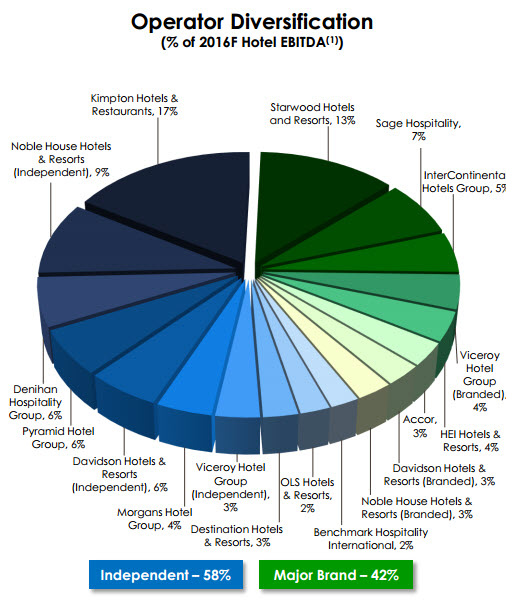 The Value Creation Process
Here is PEB's mission statement:

PEB expects to outperform the urban markets by 100 bps in 2016 by continuing to focus on renovations. By successfully repositioning its acquired hotels, the company is likely to increase value by increasing occupancy and reducing costs. There is significant upside across a majority of its portfolio from redevelopments and repositionings.
There is significant upside opportunity from prior RevPAR underperformance due to capital deprivation, foreclosure, receivership, lack of asset management or poor positioning by prior ownership and recent renovation impact. As you can see below, there is a 250 bps growth outlook in RevPAR between April 2016 and 2018, which represents ~6.3 million in EBITDA upside.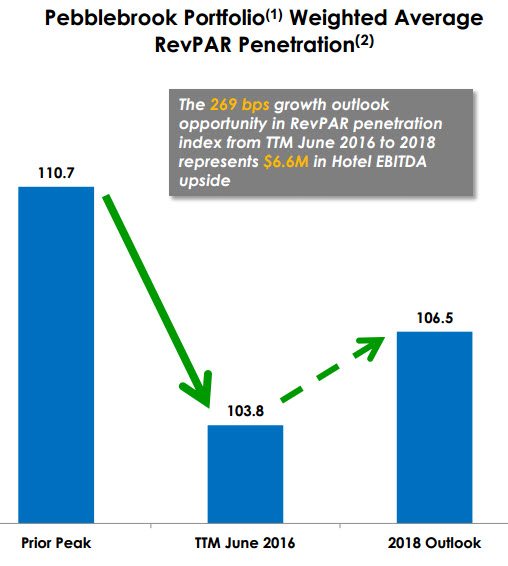 Despite the difficult macro environment, PEB has been able to add value at the property level by adding hotel rooms and cutting expenses. Here's a snapshot of the company's EBITDA margin upside opportunity as compared with the direct peer group: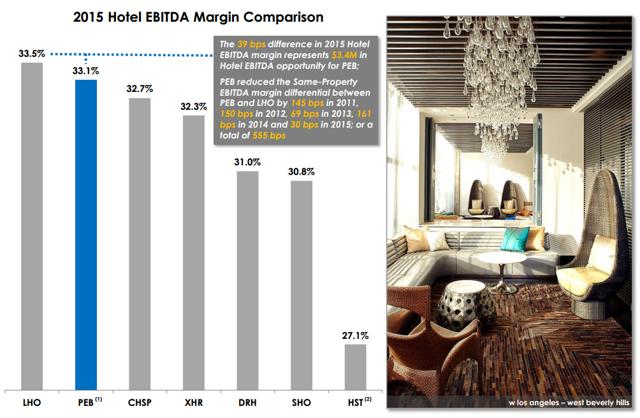 The company has kept expenses low. Re-concepting food and beverage outlets and right-sizing hotel staffing continue to drive costs lower, and PEB also increased margins by improving the guest mix at some hotels. Incremental hotel EBITDA growth is expected to continue during the next several years as asset management initiatives are implemented.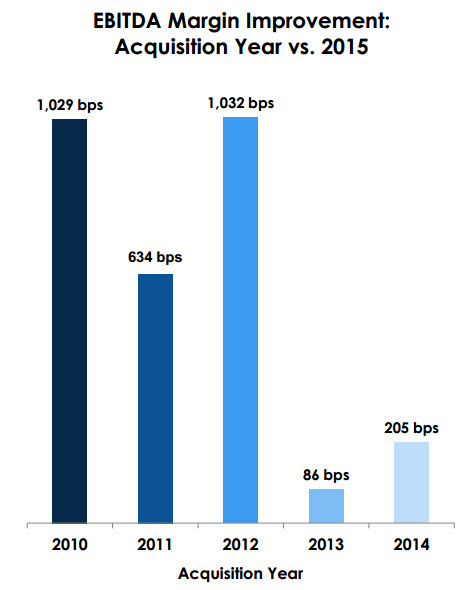 Since its inception, PEB has implemented $36 million in total estimated annual savings: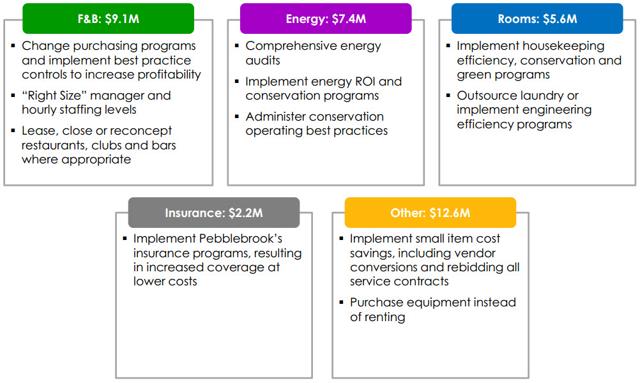 The company's overall process for value creation takes around 6-12 months to do the visioning and planning, another 3-6 months to execute the renovations and other changes, and then 3-4 years to change the customer mix in order to attract the customers willing to pay for the upgraded product. However, upon completion, the hotel offers a unique "experiential vision."
Total invested capital of $174.6 million in major renovations and redevelopments through mid-2016 has assisted in producing $55.5 million of incremental hotel EBITDA.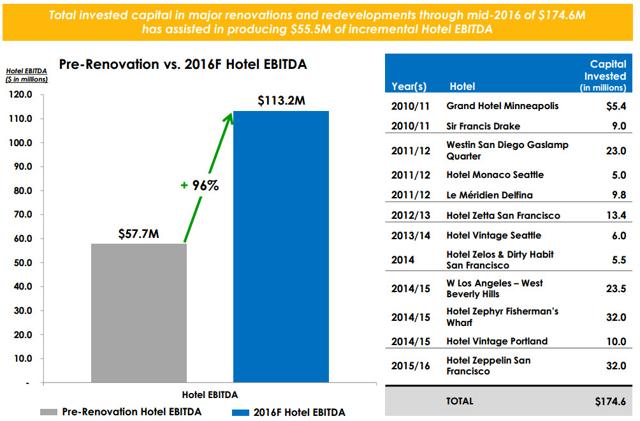 Assuming a 15x EBITDA multiple, total invested capital of $193 million in experimental redevelopments is forecasted to create $27.5 million of incremental hotel EBITDA and $219.5 million of incremental value above the investment amount.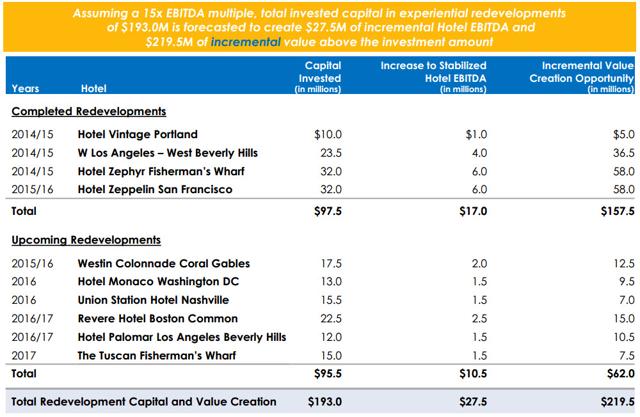 PEB's already-identified hotel EBITDA opportunities of $30.2 million drive stabilized operating hotel EBITDA to $338.6 million.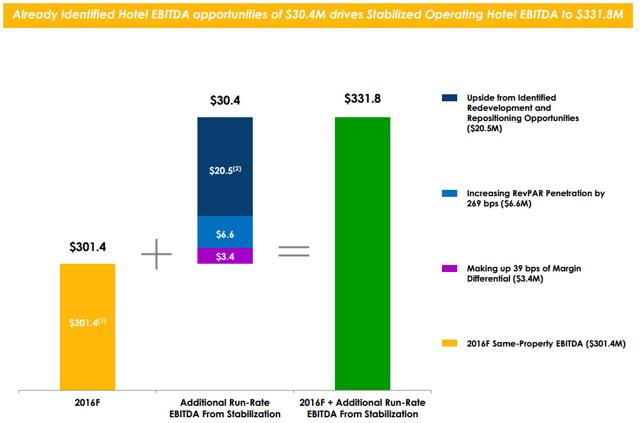 The company's stabilized EBITDA multiple is materially below the long-term average premium of the peer group: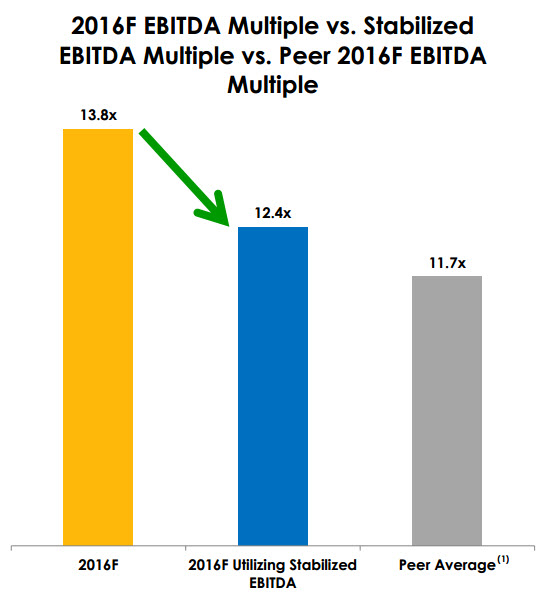 The Balance Sheet
On June 1, PEB announced three separate dispositions; (1) sold the 148-room luxury Viceroy Miami Hotel for $64.5 million, which equates to a 4.2% net income capitalization rate and is 17.7 times EBITDA multiple, (2) sold a 57-room all-suite Redbury Hollywood Hotel for $40.9 million, which equates to a 5.2% net income capitalization rate and a 15.5 times EBITDA multiple, and (3) sold an undeveloped 3,200 square foot parcel located adjacent to the Revere Hotel Boston Common for $6 million.
On a weighted basis, these $111.4 million of dispositions were completed at a 4.4% cap rate and a 17.7 times EBITDA multiple and PEB estimates that GAAP gain on sales to be approximately $40.3 million, which is reflected in the net income reported in the quarter.

On June 9, PEB completed a $125 million preferred offering at a rate of 6.375%, which is the lowest rate of the four preferred equity offerings that the company has completed to date.
As a result of the property sales and preferred equity raise, PEB has ~$30 million outstanding on its $450 million unsecured credit facility. The company's fixed charge ratio coverage ratio was 3.3 times and debt-to-EBITDA ratio is now 4.4x.

PEB has no debt maturities into Q1-17. PEB's currently outstanding debt: 90% is at fixed rate and 10% is at floating rates.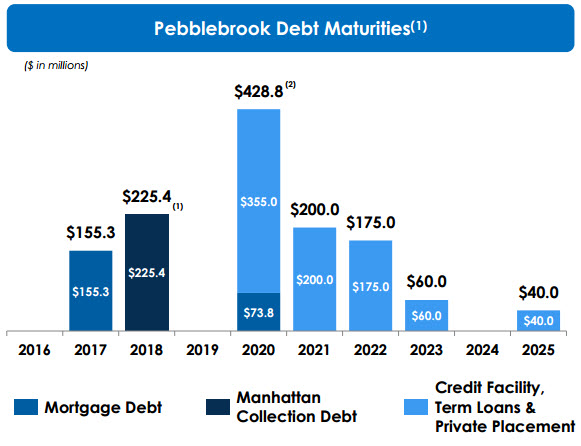 During Q2-16, PEB invested $24.8 million across the portfolio, with much of this capital related to the renovation and repositioning projects at Hotel Zeppelin San Francisco, Westin Colonnade, Coral Gables, Union Station Hotel Nashville, Hotel Monaco Washington DC, and Revere Hotel Boston Common. Year to date, PEB has invested $61.1 million into hotels as part of its capital reinvestment programs. Credit metrics are sound:

The Latest Quarter
During the second quarter, industry operating trends continue to moderate and PEB's performance was no different. While the industry's RevPAR growth actually accelerated to 3.5% in Q2 from the first quarter's 2.7% growth rate, it benefited from the Easter shift to March from April last year, as well as the shift from July 4 falling on a Monday this year instead of a Saturday last year.
Fears of an impending recession have substantially dissipated but business demand is still weak. Until corporate profit growth rebounds and business confidence increases, the hotel sector will be flat.
International inbound travel remains weak due to the strong dollar and weakening global economies. Growth in U.S. citizens traveling abroad has been robust with the latest year-to-date statistics through March showing overseas travels up over 9% and travel abroad, including Mexico and Canada, by U.S. citizens is up almost 11%.

Unfortunately, U.S. citizens that can afford to travel abroad are, in many cases choosing those trips over domestic travel, particularly to major U.S. cities, which partly accounts for the weaker performance of urban markets versus the industry. And while acts of violence in foreign countries may divert some of this travel, the dollar has only strengthened since the Brexit vote.

PEB's same property RevPAR growth in the second quarter was 2.5%, which slightly exceeds the revised outlook. RevPAR growth was driven by a combination of occupancy and rate growth - occupancy increased 1.1% and ADR increased 1.4%. Room revenue grew 3.1%, higher than the RevPAR growth due to the increase in the average room count as PEB added 44 guest rooms from the prior-year period.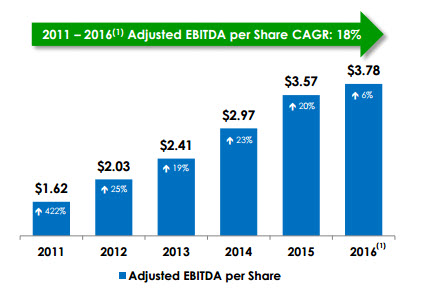 Adjusted EBITDA for the second quarter increased 6.7% and adjusted FFO per share climbed 12.5% compared to the prior-year period. And year-to-date, same-property RevPAR increased 4.9%, same-property room revenues grew 6.1%, same-property toll and revenues have improved 4.5%, same-property EBITDA increased 7.1%, adjusted FFO per share grew 30.5% versus last year.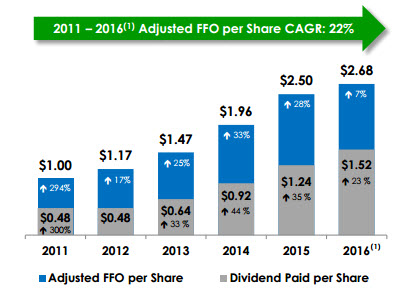 Unlike PEB, when the company went public, the focus today is on internal growth and the company's strategic plan is to create value by selling upwards of $1 billion of select hotels, including an interest in the Manhattan collection and utilizing net proceeds to reduce debt, distribute capital gains, and potentially repurchase up to $150 million of stock.
Buying Stock?
Speaking of buying more stock, let's take a look at PEB's valuation metrics, starting with the dividend yield:

Source: S&P Global Market Intelligence
We find PEB's 5.9% dividend yield highly attractive. Let's examine the history: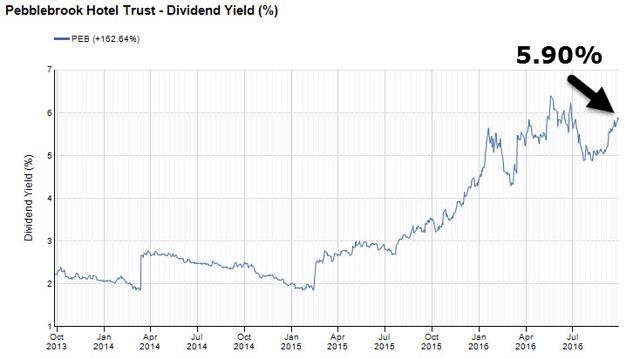 Source: S&P Global Market Intelligence
Now let's examine PEB based on P/FFO:

Source: S&P Global Market Intelligence
PEB is not the cheapest lodging REIT, but remember that the company owns higher-quality hotels and the price per key is substantially higher. PEB is trading around 15% below NAV (based on the consensus estimates below):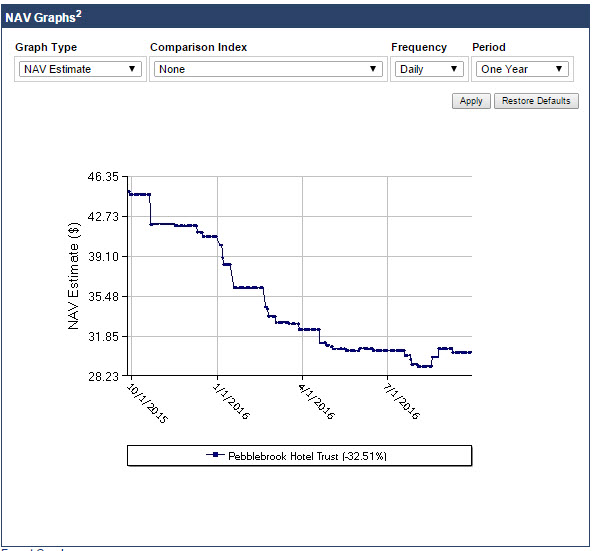 Source: S&P Global Market Intelligence
Keep in mind, PEB has maintained a very steady and predictable earnings platform and while the overall lodging business has been under macro-economic pressure, we find PEB's experienced management team a plus: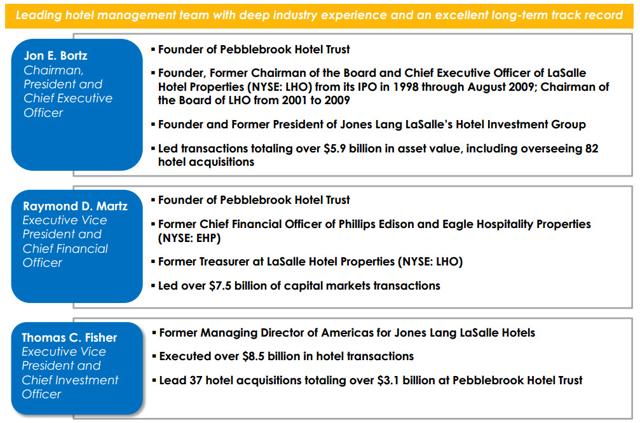 Over the past 12 months, PEB has been the worst-performing lodging REIT (based on Total Return):

Source: S&P Global Market Intelligence
But wait, PEB is the "Boardwalk" in REIT-dom and thanks to Mr. Market, we can now buy shares for the price of Baltic Avenue.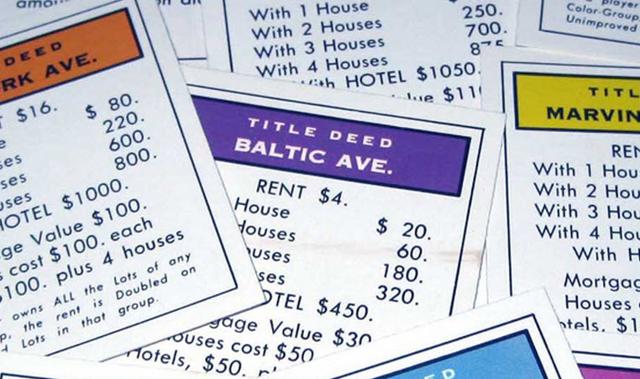 Let me be clear, my book (The Trump Factor) is not a political book on Donald Trump, it's 100% BUSINESS. I have been researching his investments for well over three years and one thing that I've learned over the course of my writing (on Trump) is that this guy knows how to shop for bargains. Today, I'm writing about one bargain-priced REIT - Sir John Templeton framed it best when he said,
To buy when others are despondently selling and sell when others are greedily buying requires the greatest fortitude and pays the greatest ultimate rewards.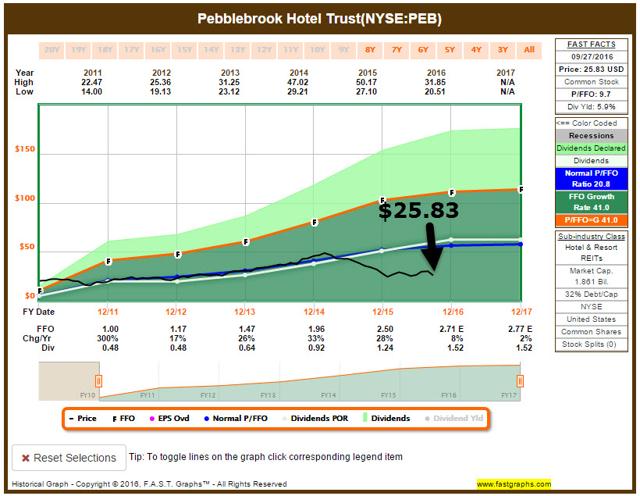 Author's Note: Brad Thomas is a Wall Street writer and that means that he is not always right with his predictions or recommendations. That also applies to his grammar. Please excuse any typos, and I assure you that he will do his best to correct any errors if they are overlooked.
Finally, this article is free, and the sole purpose for writing it is to assist with research (Thomas is the editor of a newsletter, Forbes Real Estate Investor) while also providing a forum for second-level thinking. If you have not followed him, please take five seconds and click his name above (top of the page).
Sources: S&P Global Market Intelligence, F.A.S.T. Graphs and PEB filings.
REITs mentioned: APLE, AHP, AHT, CLDT, DRH, FCH, HT, HPT, HST, LHO, RLJ, INN, SHO, XHR, CDOR and RHP.
Disclaimer: This article is intended to provide information to interested parties. As I have no knowledge of individual investor circumstances, goals, and/or portfolio concentration or diversification, readers are expected to complete their own due diligence before purchasing any stocks mentioned or recommended.
Disclosure: I am/we are long O, DLR, VTR, HTA , STAG, GPT, ROIC, HCN, OHI, LXP, KIM, WPC, DOC, EXR, MYCC, TCO, SKT, UBA, STWD, CONE, BRX, CLDT, HST, APTS, FPI, CORR, NHI, CCP, CTRE, WPG, KRG, SNR, LADR, PEB, BXMT, IRM, CIO, LTC, DEA, NSA, HASI.
I wrote this article myself, and it expresses my own opinions. I am not receiving compensation for it (other than from Seeking Alpha). I have no business relationship with any company whose stock is mentioned in this article.
Editor's Note: This article covers one or more stocks trading at less than $1 per share and/or with less than a $100 million market cap. Please be aware of the risks associated with these stocks.