I wrote an extensive article that focused on the obstructive advertisements MeetMe (NASDAQ:MEET) has been showing its users (click here to read). This is a follow up article that will analyze recent events or findings that have occurred since my last article.
Update: Negative reviews start to name advertisements as the source of users displeasure. The first image is for a MeetMe negative review and the second image is for a Skout negative review (I encourage readers to click the source to read more reviews):


SECTION I - SHARE REPURCHASE
In the last share repurchase announcement on September 29, 2015, MeetMe announced that it would repurchase $1M in stock over the next six months. At the time, the stock was trading around $1.6 and there were around 45M shares outstanding. On September 6, 2016, MeetMe announced that it would repurchase $15M in shares over the next year because it felt its shares were undervalued. Around the time of the 2016 announcement the shares were trading at around $5.9 and there were around 54M shares outstanding. In that time period, MeetMe has diluted its stock holders with an additional 9M shares. If MeetMe bought all the shares from the 2015 announcement, they would have reduced the outstanding shares by 625,000. If they buy back all the $15M in 2016 Q3 (unlikely), they would reduce the outstanding shares by about 2.5M shares. Overall the past year has been dilutive to stock holders and with the acquisition of Skout (+5.37M shares), the trend seems to continue over the next couple of quarters. Let's not forget about the possible stock-based compensation Skout's management will receive as they continue to operate Skout as a separate entity.
More importantly, I question the large increase in cash spent to repurchase shares when the last share repurchase agreement was $14M less than the most recent one. Could it be that MeetMe "enticed" Skout to accept 5.37M shares of MEET instead of cash because MeetMe's management pitched their stock as undervalued? At the time of the negotiations, the stock price was around the $4-$5 range, and as the stock increased over time to over $8 it seemed like a smart idea. However, once the stock returned to the $5-$6 range, MeetMe's management might have taken actions to ensure Skout continued to think the 5.37M shares they were offered were a good "deal."
I question if management really believed MeetMe's shares were undervalued or there were other reasons as I mention above or in Section 3 below for the share repurchase.
SECTION II
MEETME GAINS 3% OVER LAST YEAR'S MILLENNIALS CONCENTRATION
MeetMe issued the following press release:

SOURCE: MeetMe press release on 09/16/2016 09:00
Please read the highlighted sentence above and ask yourself what is MeetMe's business strategy. MeetMe is not an advertisement company but from that sentence you might assume otherwise. In addition, is the "high ranking" that favorable? Let's take a look.
If you didn't get a chance to read the Comscore report, MeetMe is mentioned in a table that shows concentration of Millennials for the respective app (Based on apps with >1.5 MM users in that age group). Please keep in mind the apps used in this comparison range between 1.5M users to well over 50M+ users.
I found the same information for the year 2015 and compared the percentages and trends for most of the apps.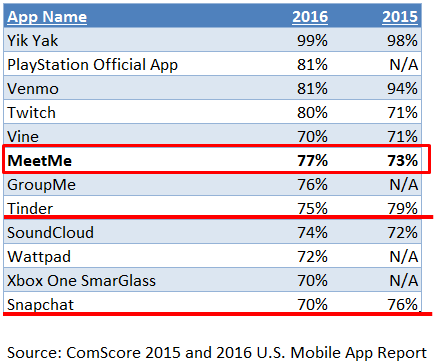 If you look at Tinder and Snapchat in the chart above, you will see that both actually decreased in percentage of Millennials. Is that negative? I argue that it's not because it shows well rounded growth in user demographics. Tinder and Snapchat are able to gain new users from different age groups, and if you look at MeetMe or Yik Yak, they cannot penetrate other age groups as they grow. In the case of MeetMe, I feel they have problems gaining "older" audiences, which leads me to question the acquisition of Skout. My speculation is that they will use Skout's older users to increase the age demographics in MeetMe to make themselves more attractive to advertisers. This could be risky. If you look at the "Discuss" feature in MeetMe, it allows different ages and genders to post anything they want, making it a possible PR nightmare in the future (please check out "Discuss" on MeetMe for yourself to see the current state). Ironically, Skout has the "Buzz" feature that looks almost identical to the "Discuss" feature in MeetMe.
SECTION III
MEETME'S LITIGATION AND INSIDER SALES?
In the process of looking at news and press releases for MeetMe, I noticed there is very little to almost no mention of the patent lawsuit that MeetMe received a couple of weeks ago. MeetMe received a complaint on 08/02/2016, and the complaint alleges that MeetMe (Defendant) has infringed on patents now owned by Banertek, LLC. (Plaintiff) Please read the summons and complaint here:
If you read the complaint, you will find that it alleges patent infringement going back to 2005, plus the potential of interest for the past 10-plus years on any damages amount won by the Plaintiff. It seems the complaint alleges the form of communication that connects users back to MeetMe's servers is at issue, but please read for yourself. This group has sued other entities and some have settled out of court for undisclosed amounts. For this reason, I don't think this is a case that should be disregarded by investors. For example, similar cases were presented to MeetMe in 2013 and 2014. This is how it was disclosed in the 10-Ks for 2013 and 2014:
2013:

2014:

As you can read above, MeetMe had to settle to dismiss the suit from court for an undisclosed amount.
Here's a trademark litigation settlement reported in the 2013 Q1 report:
"By letter dated October 23, 2012, a third party accused the Company of breach of contract and infringement of trademark. The Company recorded a contingent liability of $1 million for the probable settlement of this matter to accrued expense and other liabilities and charged this expense to general and administrative expenses for the year ended December 31, 2012. In settlement of the matter, on March 21, 2013, the Company paid $400,000 to the third party and issued a non- interest bearing $600,000 note payable that is convertible solely at the option of the Company into shares of its common stock (see Note 7)."
You might think of this case as a "Patent troll" but that does not dismiss the fact that a "patent troll" got paid last time in 2014 and 2013. This could be a material event depending on how well the case is litigated by the plaintiff and something analysts have not accounted for in their projections.
Furthermore, I found the insider actions when the complaint was filed concerning. If you read the summons, you will find the file date was on 08/02/2016, one day after the release of Q2 2016 results. If you have followed MeetMe, you would also know that on this day or shortly thereafter, many insiders sold most or large parts of their shares. Some of the insiders included the Chief Revenue Officer, General Counsel and a Director.
At first, people might think it's just a coincidence or something they always do after earnings, but is it?
I looked at previous actions from insiders before and after earnings but I did not see them selling large numbers of shares like they did this past quarter or even when 52-week highs were achieved. Please see the dates and sales information from the Chief Revenue Office, General Counsel, and Director below (For your reference and comparison purposes: 2016 Q2 was released 8/1/2016; 2016 Q1 was released 5/5/2016; 2015 Q4 was released 2/29/2016; and 2015 Q3 was released 11/03/2015):



As you can see above, the actions taken after the complaint was filed were not "typical" actions that have occurred in the past. I pointed out in Section 1 that management felt the shares were undervalued, but does the above action reflect that? Not to me.
SECTION IV
FINANCIALS
The analysts who recommend this stock do so because it's "cheap," but as the old saying goes "it's cheap for a reason." Let's look at how cheap it really is.

Source: My data and projections giving a diluted EPS for 2016 Q3 of $0.10, and taking out the effect of the NOL recognized in Q2 2016. I also assumed MeetMe completed its share buyback program by the end of 2016 Q3.
The table above is what I expect MeetMe's PE ratio to look like on 2016 Q3 under different stock prices. Keep in mind that I do not treat net operating losses (NOLs) as earnings in the PE calculations. This is something that will not continue into the future indefinitely and is not part of the business strategy of MeetMe. Also, in this calculation I gave MeetMe an EPS of $0.09 cents in 2016 Q3. This is an EPS increase of almost 100% compared to 2015 Q3 (when I remove the $5M+ write off of Beanstock Media).
Does this company warrant these types of multiples, especially when the acquisition of a sub-par competitor (please read my previous article) could prove to be a liability into the future? I argue it does not. In the following table I present to you what the PE multiple would look like under a different scenario:

Source: My financial projection using historical financial and user data.
In the chart above, I used a flat revenue growth for the third quarter compared to the second quarter in 2016. This is not an absurd claim because in my first MeetMe article I pointed out the reasons user growth rates would decrease over time. Hopefully my two charts above illustrate how quickly a "cheap" company becomes less of a bargain.
Now imagine what would happen to revenues if MeetMe lost one of its most repeated game advertisement on its app, Mobile Strike. Why would I make such a claim? Currently, the company that owns Mobile Strike is being sued by one of its data centers providers for $100M. If the owners of Mobile Strike lose, they could cut back on advertisement spend which would impact MeetMe's revenues.
In addition, please be cognizant that it really doesn't make sense to compare Match or Momo to MeetMe as both Match and Momo have well over 60M monthly active users, while MeetMe will have 8.5 after Skout's acquisition. Also, unlike MeetMe and Skout, Match and Momo don't rely heavily on advertisement alone to achieve their revenues.
Last but not least, the Skout acquisition will trigger the need for pro-forma financial statements by MeetMe. With updated financials, we'll get a better picture of the current financial and dilution standing for MeetMe and also some historical information for Skout. If my estimates of Skout serve me well, investors will get a chance to see the decrease in user growth over the past several years for Skout.
SECTION V
ADVERTISING WORLD
Facebook just made headlines because for the past two years they have misstated the average views per video ad. You can read The Wall Street Journal article (here).
Facebook responded that it did not affect billings but that is something that investors will need to monitor closely. If marketers think that 1,000 people watched a video and 50 people clicked it, it implies a Click Through Rate ("CTR") of 5%. What happens when in reality 2,000 people were presented that ad and 50 people clicked it? That 5% CTR went down to 2.5%. A difference to marketers that might have been paying higher premiums for video ads compared to images (MeetMe and Skout use these types of ads too). What happens if Facebook decides to lower prices of video ads to "make-up" for the "shortcomings" these past two years? In doing so, they would essentially lower the prices across the whole market, which might not make a big impact for Facebook and Google, but could prove material to small players like MeetMe and Skout.
It's also too early to tell of any future regulations that might scrutinize the online advertising medium, potentially impacting online advertising revenue. Here's an example of the biggest players not being contempt as to how advertisement mediums have little oversights: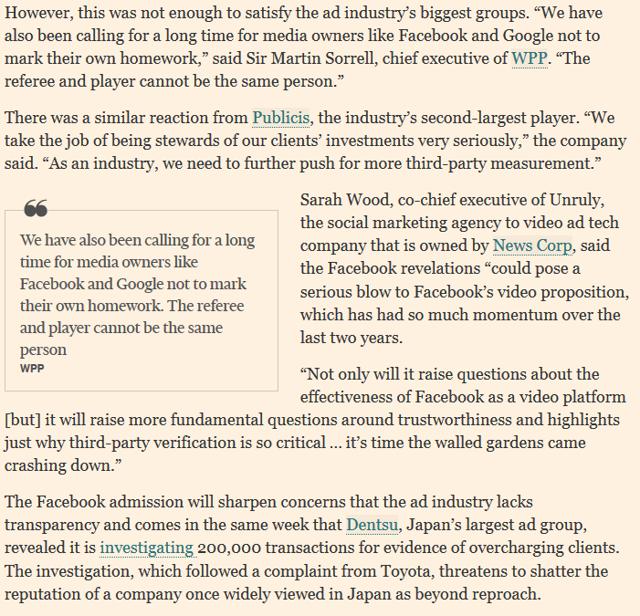 Investors should play close attention to see how this evolves. New regulation could depress online marketing revenue, which is something analyst have not included in their current projections.
Speaking of advertisements, MoPub also is something investors should play close attention to. MoPub represents a big percentage of income for MeetMe and Skout, which creates a greater risk in the event that this marketing exchange server is non-operational for a delayed period of time. MoPub is not impenetrable to hackers as we can see below: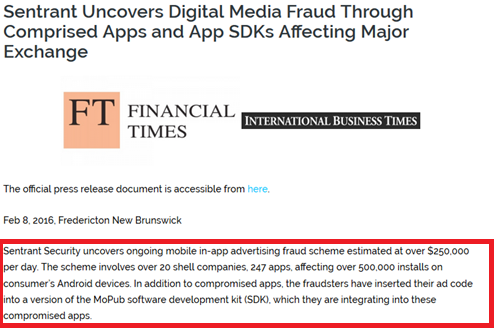 These kind of events can lead to distrust from marketers and decrease advertisement spend by firms. Again, this can be detrimental to MeetMe and Skout in the future.
To conclude, I still stand by my price target of my first article in the range of $3.90-$4.08 for the next six months until MeetMe and Skout can prove that the acquisition will work at increasing user growth, and the obstructive advertisements will not decrease users for both companies in the long term.
It seems to be MeetMe's management might be over-promising to its investors, just like they do to its potential users in the app description below:

In reality, they only had around 5 million monthly active users last quarter and will have 8.5 million when combined with Skout. This is far from the 100 million claimed.
Thanks for reading. Remember, some things are "cheap" for a reason… Good Luck To All.
Please feel free to leave a comment below if you have questions of anything provided in this article and I will do my best to answer them.
I do not own shares in any of the stocks mentioned above, except for MeetMe. I have a short position in MeetMe, which I may close at my own discretion. I will not initiate any new positions in any the stocks mentioned above in the next 72 hours.
The views represented in this article are my own and do not represent any other person's/entity's opinion. My opinions do not represent financial advice. Please conduct your own due diligence before investing in any stock. I made my best effort to verify accuracy of the article above, but errors might still be present. Readers agree to waive any liability arising from those errors, or any information presented above.
Disclosure: I am/we are short MEET.
I wrote this article myself, and it expresses my own opinions. I am not receiving compensation for it. I have no business relationship with any company whose stock is mentioned in this article.