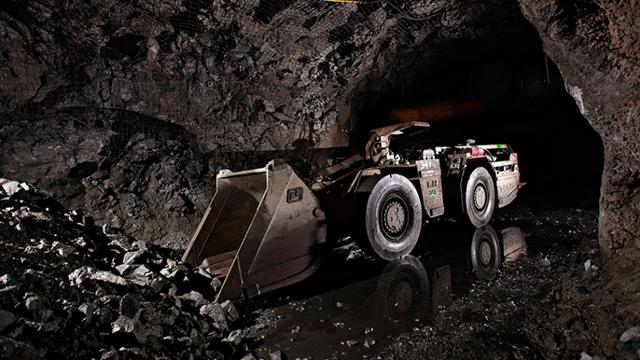 Controversial Philippine President Rodrigo Duterte and his government were in the news once again this week. In a press conference on Tuesday held by the Department of Environment and Natural Resources, Secretary Lopez and Senior Undersecretary Jasareno listed 23 mining companies that may be about to have their operations suspended due to alleged outstanding social issues.
Why is this important?
The Philippines is the world's largest producer of nickel, and although the mines that face closure produce a mixture of metals, they are overwhelmingly nickel-based mines. In fact, according to Bloomberg the mines which are at risk of being closed, or have already been closed, accounted for 56% of the country's nickel production last year.
It's not just nickel.
One miner which has been affected by the news has been Australian gold and copper producer OceanaGold (OTCPK:OCANF). The company's Didipio mine was amongst the 23 mines named by the Department of Environment and Natural Resources on Tuesday. As you might expect this has caused its share price to plummet by an almighty 19% in the last two days.
It's hardly surprising though. Didipio is absolutely key to OceanaGold and year to date has accounted for 40% of the company's total gold production and 35% of its total copper production.
The economic contribution and the local employment it offers would be a big loss to the community. As a result we don't personally expect the mine to be closed and see an opportunity for an investment. But more on that another day.
Nickel prices.
Nickel prices have fallen dramatically in the last two years due to producers maintaining normal production levels despite a market surplus. But the potential disappearance of up to 56 percent of nickel production from the world's leading producer could elevate prices to levels unseen in the last 12 months in our opinion.
Will the Philippine government close the mines?
The Duterte government certainly means business and doesn't throw around idle threats. Ten mines have already been closed after they failed their audits, so it wouldn't come as a great surprise if more went the same way.
As you will see from the OceanaGold example, President Duterte doesn't appear to have any concerns over losing any income earned or employment through mining and believes the company can survive without the industry. According to Reuters he has stated that mining "will destroy the country, […] it's about time to reconfigure the wealth of the nation among its citizens."
Fighting words from the new President. Whilst we don't doubt his willingness to throw the miners out, we certainly cannot fathom how he is going to create employment for the 10s of thousands of jobs that will be lost if these mines close. If indeed he even has any plans to do so.
In two weeks we will learn more about the Duterte government's plans for the listed mines. We envisage more closures, but not all of them. We feel confident that some of the mines will be able to demonstrate that they meet international environmental and sustainability standards, as well as provide significant social benefits.
Will the nickel price go up?
Approximately 9 percent of nickel production has already been halted and we further production will come off line in the next couple of weeks. If demand from China, which sources 97 percent of its nickel imports from The Philippines, continues to remain solid then it is inevitable that the surplus will start to dwindle.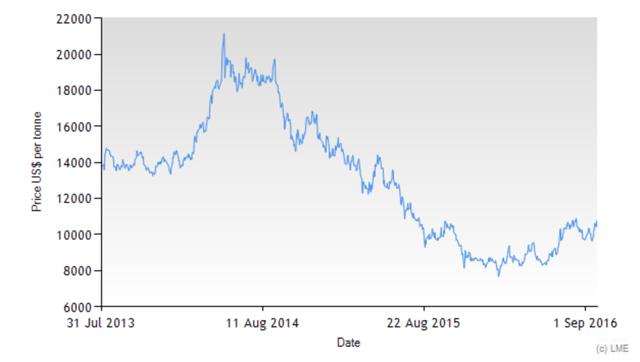 Eventually we envisage prices rising back up to the US$14,000 a tonne level we last saw in 2015. Depending on how extensive Duterte's crackdown becomes, this could of course keep climbing and climbing.
This will be great news for shareholder of the likes of Western Areas (OTCPK:WNARF), South32 (OTCPK:SOUHY), BHP Billiton (NYSE:BHP), and of course the iPath DJ-UBS Nickel Total Return Sub-Index ETN (NYSEARCA:JJN).
What we are doing.
We opened a small long position with the iPath Nickel ETN upon the news release with a long-term view. The next few weeks will be very volatile for prices with many swings, but ultimately we anticipate supply reducing over the next year and prices rising upwards of at least 15 percent as a result.
Our eyes will be firmly on events in The Philippines and we'll keep you posted with any changes to our views as and when they happen. Until then, all the best and good luck with your trades!
Disclosure: I am/we are long JJN, OCANF.
I wrote this article myself, and it expresses my own opinions. I am not receiving compensation for it (other than from Seeking Alpha). I have no business relationship with any company whose stock is mentioned in this article.
Editor's Note: This article discusses one or more securities that do not trade on a major U.S. exchange. Please be aware of the risks associated with these stocks.