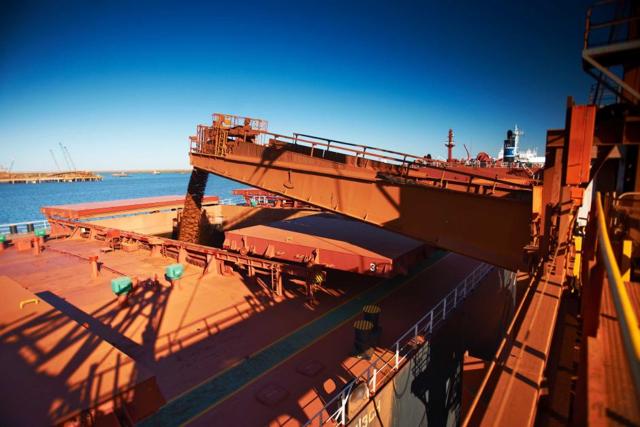 Following another strong gain today Anglo-Australian mining giant BHP Billiton (NYSE:BHP) has been one of the best performing stocks in the last six months. As you will see on the chart below, it has provided its lucky investors with a total return of just over 34 percent. With everything seemingly going in its favor presently, BHP Billiton looks to be a very promising investment. But we feel investors would be better off avoiding the mining giant at this time.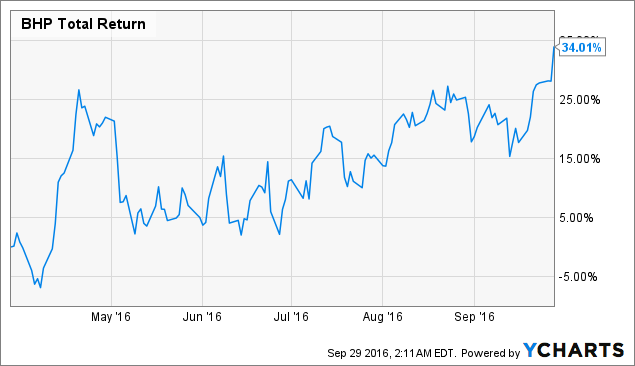 Sourced from Ycharts.
Things are looking up for BHP Billiton.
Although we are bearish on a lot of resources stocks right now, it is hard to deny that BHP Billiton is in a favourable position to profit greatly from recent moves in commodity prices. Whether it be coal, copper, iron ore or oil, prices have been rising very nicely for the miner. If things stay the same way then BHP Billiton would be a must buy in our view.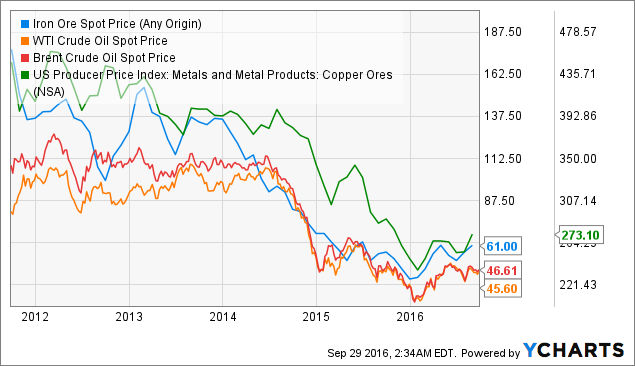 Sourced from Ycharts
As you can see although they are still a long way from their highs of 2012-2013, they have bounced from their lows at the turn of the year much to the delight of shareholders. It's a similar story for coal prices which are shown below. The black stuff looked to be on the way out, but has been the subject of strong demand from China this year. It seems as though China is keen on using coal, but not necessarily producing it currently. Imports are improving while production is reducing in the world's second largest economy.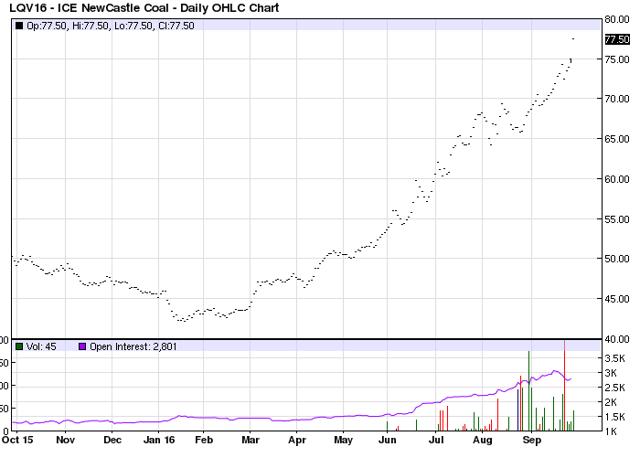 Sourced from Barchart.com
But will it stay the same way?
That is the million-dollar question. As you can see below, iron ore and petroleum are the two key contributors of underlying EBITDA. Iron ore accounted for 45.4 percent and petroleum accounted for 29.6 percent of total EBITDA. Combined that's 75 percent of FY 2016's total EBITDA from the two segments.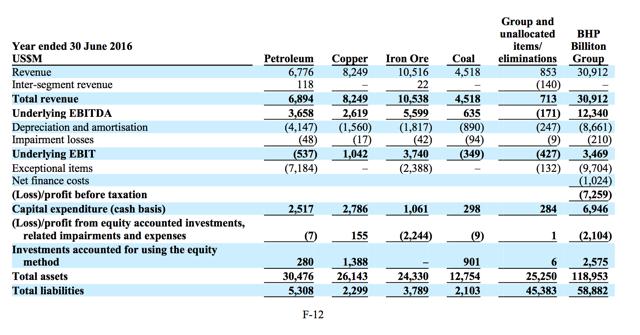 Sourced from Company Annual Report
Which is what concerns us. We believe that iron ore is going to fall to US$45 a tonne in 2017 as supply picks up from increasing production in Australia and Brazil. According to the Australian Financial Review the two nations are going to add around 100 million tonnes of supply over the next three years. This will inevitably boost the global glut and put increasing pressure on prices.
According to the report Citigroup estimates that:
"Shipments from Brazil will expand to 480 million tonnes in 2020 from 371 million this year, while Australian cargoes rise to 934 million tonnes from 835 million. That'll lift the surplus to 56 million tonnes in 2018 from 20 million this year before price-induced curtailments help bring the global market back toward a balance."
As a result Citi is forecasting iron ore dropping to US$45 a tonne in 2017 and US$38 a tonne in 2018. That's quite a decline from the $56.63 a tonne that the benchmark 62% is fetching presently and would certainly weigh on BHP Billiton's EBITDA.
Will oil prices actually rise?
Then there's oil. We don't believe the proposed agreement by OPEC to reduce production from 33.2 million barrels a day to between 32.5 million and 33 million barrels a day will have a huge effect on the global glut for some time.
That is of course if it goes ahead with the agreement in November. It is far from a certainty at this stage. But even if it does, OPEC lacks the power it held a decade ago in our view. The rise of US shale oil has really changed the market dynamics and as a result we don't expect the price to rise much beyond US$50 a barrel in 2017.
If prices do rise to this level it is only going to encourage more idled US rigs to come online. This could end up countering any reduction in OPEC's output, driving prices lower, and leaving the cartel of oil producers in a worse position than they were previously.
According to CNBC, Goldman Sachs has announced that it is sticking with its forecasts for WTI crude finishing this year at US$43 a barrel and US$53 by the end of 2017. We would have to agree with Goldman on this one.
Too much downside risk.
Once again this is going to put a lot of pressure on BHP Billiton's EBITDA and of course its share price. In light of this we think the prudent thing to do would be to turn those paper gains into a reality and close long positions in BHP Billiton today.
While there may still be more upside potential ahead for its stock, we feel the downside risks far outweigh this. Therefore investors would be better off locking in gains while they can rather than risk them all for just a touch more.
Disclosure: I/we have no positions in any stocks mentioned, and no plans to initiate any positions within the next 72 hours.
I wrote this article myself, and it expresses my own opinions. I am not receiving compensation for it (other than from Seeking Alpha). I have no business relationship with any company whose stock is mentioned in this article.