Southern Co (NYSE:SO) is a holding company which operates through wholly-owned subsidiaries such as Alabama Power, Georgia Power and Southern Power Company.

The Rate Environment
The persistently low rate environment has been beneficial for stocks with high dividend yields. SO's highly attractive dividend yield of more than 4% will continue to draw in more investors as long as rates remain low.
Rates are, however, likely to begin rising gradually in 2017. Furthermore, policy makers have indicated that a rate hike is possible before the end of the year. Rising rates may cause some investors to sell their stock. I do not, however, anticipate a broad sell-off.
Earnings
In the second-quarter of 2016 the company showed a moderate growth in revenue and a slight decline in Net Income. The company's revenue improved by 2.7% in the second-quarter over the same quarter in the previous financial year. EPS is down by approximately 1.5% for the quarter when compared to the same quarter in the previous financial year.
The company's half-year Net income is up slightly by approximately 1.4%. EPS was, however, down by approximately 3.2%. When using the company's Net income adjusted for guidance comparability Net income actually increased by approximately 7.4% and EPS improved by approximately 5.5%.
I do not see any substantial cause for concern in the company's financial results.
Valuation
The company's stock (the candlesticks in the chart below) has risen by more than 11% YTD. The stock has, however, underperformed its peers such as Duke Energy (NYSE:DUK) (the red line in the chart below), Xcel Energy (NYSE:XEL) (the orange line below) Next Era Energy (NYSE:NEE) (the dark yellow line below), Consolidated Edison (NYSE:ED) (the light yellow line) and DTE Energy (NYSE:DTE) (the green line below).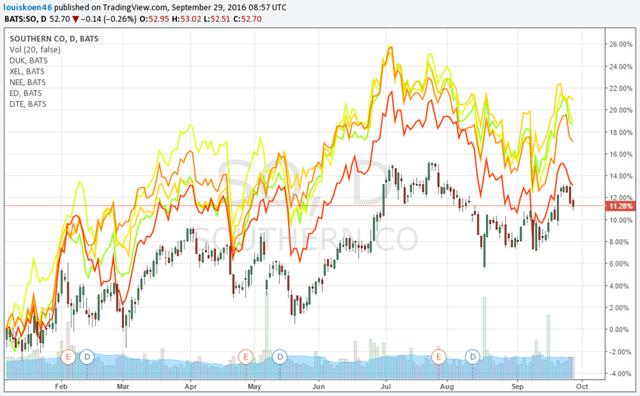 (Source: Tradingview)
SO is currently trading at a p/e ratio of 20.91 which is above its 5-year average p/e ratio of 19.34. The stock is, however, trading at a TTM p/e ratio that is lower than that of a number of its peers such as DUK's TTM p/e ratio of 21.4, DTE's TTM p/e ratio of 22.4 and NEE's TTM p/e ratio of 22.8.
The stock is currently trading at 2.254 times book value which is almost 8% above its 5-year average of 2.094. Its price to book value does not, however, seem much higher than its peers. XEL is currently trading at 2.005 times book value, NEE is trading at 2.522 times book value and DTE at 1.914 times book value. DUK has a substantially lower price to book value and is currently trading at 1.401 times book value.
SO has a better dividend yield than its peers. Its TTM dividend yield currently stands at 4.25% compared to DUK's 4.11% dividend yield, XEL's 3.17% dividend yield, NEE's 2.67% dividend yield, ED's 3.45% dividend yield and DTE's 3.16% dividend yield.
Conclusion
The company is nearing overvalued territory from a historical perspective. The high dividend yield in conjunction with a fair valuation relative to its peers does, however, mean that existing shareholders needn't be alarmed about a slight overvaluation. Furthermore, should rate increases not materialize more investors will buy into the company and drive up the share price.
Disclosure: I am/we are long SO.
I wrote this article myself, and it expresses my own opinions. I am not receiving compensation for it (other than from Seeking Alpha). I have no business relationship with any company whose stock is mentioned in this article.