All the talk recently has been about the falling module prices around the world. The tier 1 solar module producers are guiding for lower Q3 selling prices. Here is a Q2 conference call quote from Herman Zhao, the CFO of JA Solar Holdings (NASDAQ:JASO):
... average selling prices in Q2, China is about $0.50; Japan $0.65; and the U.S. $0.62; European $0.62. For Q3, we think the average selling prices in China market is in low 40s and the Japan will be in high 40s. In U.S., the price dropped significantly as well. We do see Q3 U.S. market will be in low 50s; European remain the same.
These are huge declines in the average selling price in just three months. It looks like an almost 20% decline from second-quarter prices.
Another important solar market is India. Here is an interesting quote from PV Magazine:
... Mercom Capital Group calculates that Chinese modules flooding the Indian solar market are currently available for around $0.39/watt - the cheapest average selling price anywhere in the world. Further price falls are expected as China's oversupply continues due to harsher market conditions in China prompting leading Tier-1 companies to look at next door's market for customers.
So, we are currently seeing selling prices below 40 cents a watt. This is verified by some of the record low power purchase agreements we are seeing around the world. Just recently, a power purchase agreement was submitted for 2.42 cents per KWH in Abu Dhabi:
A consortium of the Chinese solar panel maker and project builder JinkoSolar and the Japanese developer Marubeni put in a bid to build a large solar panel farm near the sun-rich city for a jaw-dropping 2.42 cents per kilowatt hour.
I have been quoting solar projects for the past eight years, and this decline in pricing is amazing. For solar module firms like Jinko Solar (NYSE:JKS), my pricing models point to a total project cost around $1 a watt for this Abu Dhabi project. The actual selling price for the modules must be well below 40 cents per watt in this case.
What about 2017 selling prices for solar modules? Obviously, the trend does not look good. The inventory levels for many of the tier 1 players are also negative, with some firms like JA Solar having almost double the amount of inventory from the prior year.
At the recent Solar Power Conference in Las Vegas, Ethan Zindler from Bloomberg's new energy finance team predicted 2017 solar prices to be as low as 30 cents a watt. Many other solar energy analysts are also predicting average selling prices below 35 cents per watt. How will these much lower prices for solar modules affect the industry? The first effect is obvious -- all the solar module producers will see much lower margins. The tier 1 producers are lowering costs per watt as well, but only incrementally and not fast enough to offset the 20%-30% decline in pricing for 2017.
As the market always does, every solar producer has been punished regardless of each firm's individual merits. We believe this creates opportunities to pick the solar module producers that have higher margins and better balance sheets to ride out this current downturn in pricing. Let's take a look at inventory levels of some of the tier 1 players: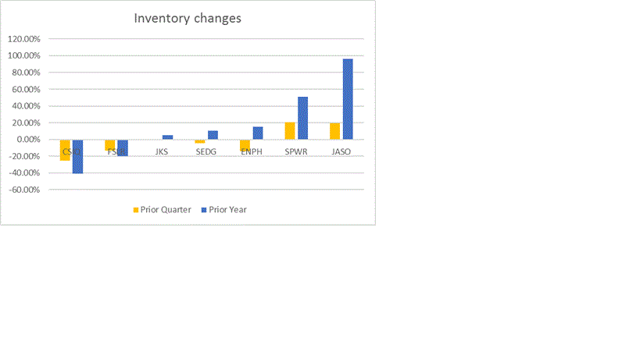 As we can see in the above graphic, Canadian Solar (NASDAQ:CSIQ) and First Solar (NASDAQ:FSLR) have the best inventory control going into 2017. This will really be important as they can maintain their margins better than the other tier 1 manufacturers. JA Solar and SunPower (NASDAQ:SPWR) will have greater margin issues into 2017 based on their growing inventories. Other key balance sheet metrics I look for are liquidity-focused, such as the current ratio and the debt/equity ratio: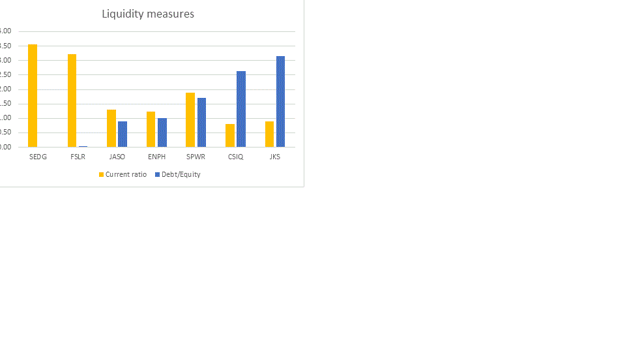 As you can see, First Solar and SolarEdge Technologies (NASDAQ:SEDG) look very solid here, with virtually no debt and current ratios above 3. Canadian Solar and Jinko Solar have very high debt levels, but this is a bit misleading as they have projects they have developed but not yet sold. Also for the module firms, current gross and operating margins will be another factor. Obviously, all will see significant margin declines, but many might also see negative operating margins and negative earnings in 2017. Here is a look at margins for firms mentioned in this article: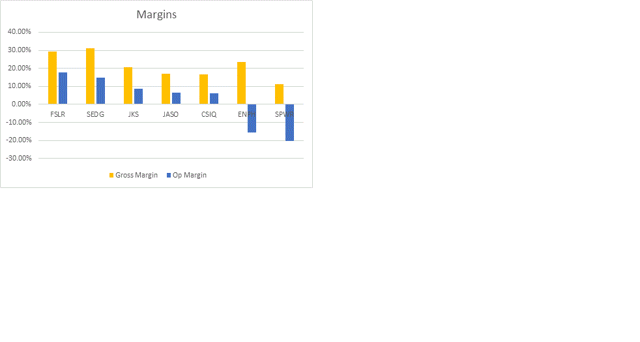 Again, we see First Solar and SolarEdge leading the field. Enphase Energy (NASDAQ:ENPH) and SunPower look very dangerous and could see large losses in 2017. This low 2017 pricing environment should be a positive for the other solar energy sectors, especially the inverter and installation firms. Currently, the module is still the most expensive part of the hardware for solar projects, so with modules to fall 20%-30%, the economics of projects are greatly enhanced.
I am not a fan of the large publicly traded residential installation firms like SolarCity (SCTY) or Vivint Solar (NYSE:VSLR). My reasoning is that I believe their acquisition costs of clients is way too high, and over time small regional firms and individual contractors will take their business away due to much cheaper pricing. Residential installation is now plug and play -- easy. Installing an air conditioning system is more complex, in my opinion.
Every solar array needs an inverter. Two publicly traded firms I follow are SolarEdge and Enphase. As an investor, I look for firms with solid balance sheets, positive earnings and cash flows, and forward-looking technology. For these reasons, I believe SolarEdge to have the most upside.
The much lower pricing will drive a significant increase in projects in 2017. While the module producers will be hurt, the installers, inverter and racking firms should all see positive momentum. We have already looked at SolarEdge's and Enphase's margin, debt, and inventory metrics, now let's look at the book value metrics: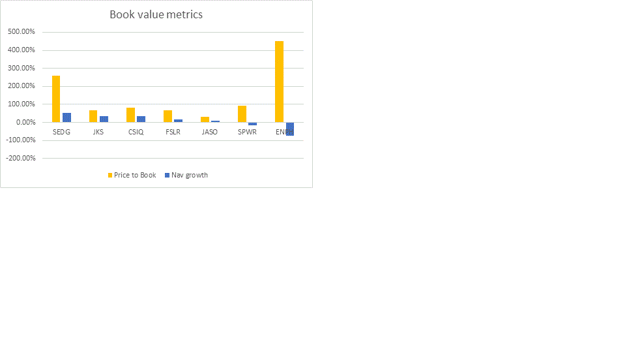 SolarEdge's book value and net asset value have grown over 50% from the prior year -- very impressive. Enphase has seen an over 70% decline in book and net asset value -- very disturbing. SunPower is weak here as well. On a price/book metric, SolarEdge is trading at over 250% of book, which is a concern. JA Solar, Jinko Solar, and First Solar are all trading at an over 30% discount/book value. Canadian Solar is trading at an attractive 20% discount/book value.
Conclusions
The solar industry is changing rapidly, with 2017 likely to see large pricing pressures due to module overcapacity and large inventory balances. This will make the economics of solar much more competitive in 2017, leading to a significant increase in solar projects being deployed. Using profitability, liquidity, and balance sheet metrics, we can see some of the winners and losers.
2017 Winners: SolarEdge, First Solar, and Canadian Solar
My reasoning for these module producer winners is based on solid inventory control, strong margins, and market capitalization below net asset values. For SolarEdge as a 2017 winner, my reasoning is the much lower cost of solar projects, very strong margins, and pristine balance sheet.
2017 Losers: SunPower and Enphase
My negative sentiment for SunPower is based on very weak margins, high debt levels, and no significant discount to its net asset value. As for Enphase, its negative margins, weak balance sheet, and a long history of negative earnings suggest it will be an underperforming equity for 2017.
Note: All images created by author.
Disclosure: I am/we are long FSLR, SEDG, CSIQ.
I wrote this article myself, and it expresses my own opinions. I am not receiving compensation for it (other than from Seeking Alpha). I have no business relationship with any company whose stock is mentioned in this article.
Editor's Note: This article covers one or more microcap stocks. Please be aware of the risks associated with these stocks.