This from the FT yesterday:
"Europe's banks 'not really investable' says Credit Suisse's (NYSE:CS) Thiam
"European banks are in a "very fragile situation" and are "not really investable as a sector", Credit Suisse chief executive Tidjane Thiam said in an interview in London.
"You get extreme movements on the basis of relatively minor piece of news because there's a lot of uncertainty," he said, citing "regulatory uncertainty" about future capital requirements and concerns about "potential fines like you've seen on Deutsche Bank this week."
"All that together creates a very fragile situation," he told a Bloomberg conference on Wednesday, reports Laura Noonan in London.
"I think there is also a lot of doubt, a fundamental doubt, is there a viable business model that covers its cost of equity?" Mr Thiam added.
"That's the big big question," he said, describing it as something that "makes banks not really investable as a sector."
- FT, September 28
My first reaction to this report was to say something along the lines of, "Speak for yourself Mr Thiam". True, by saying banks are not really investable as a sector, the CS CEO might have merely meant not all banks are easy to invest in, so as a sector you can't buy indiscriminately. Still, this seems a sweeping statement and investors should be aware of the qualifications.
By far the greatest problem for the sector this year has not been the "regulatory uncertainty" cited by Mr Thiam. Nor are business models generally unviable - anything retail deposit funded has a good model.
In the case of Credit Suisse, the problem has been it blowing up every seven years or so, which puts a question over the viability of its business model more than regulatory overstretch does now. Here is the Credit Suisse experience from the point of view of its long term shareholders since 2001: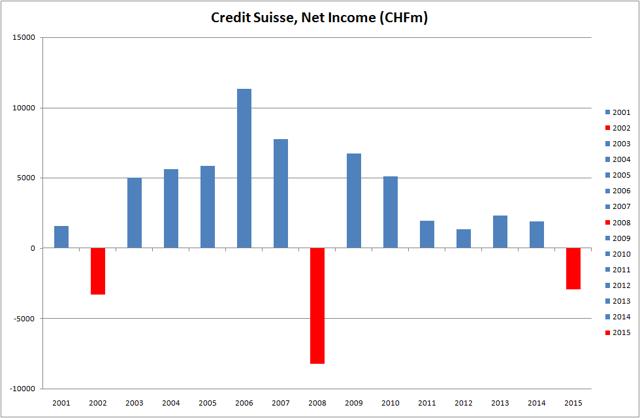 Source: Company data
While regulatory uncertainties persist, they are relatively minor in comparison to what the sector faced previously with most banks over their capital thresholds it seems further increases will be incremental. It also appears that the EU commission is satisfied with capital levels and feels they should not go much higher.
The main problem faced by European banks is the super low rate environment and therefore the macro drivers behind this (China, Commodities, spare capacity, deleveraging and internal adjustment in Europe). It is this environment that has led to >20% downgrades in the estimated sector EPS this year.
In this respect, a possible new stance towards production levels from OPEC and the growing acceptance that fiscal expansion is needed among G20 policy makers are positive signs although it is still too early for a reflation trade.
And some banks of course are coping well with the environment. The Scandinavian banks are in good shape, as are Benelux and main French banks. The chart below shows a selection of large European banks with stable core revenue alongside U.S. Bancorp (NYSE:USB) - a very steady performer in the U.S. and a useful yardstick for stability. Note the presence of Deutsche Bank (NYSE:DB) in this sample.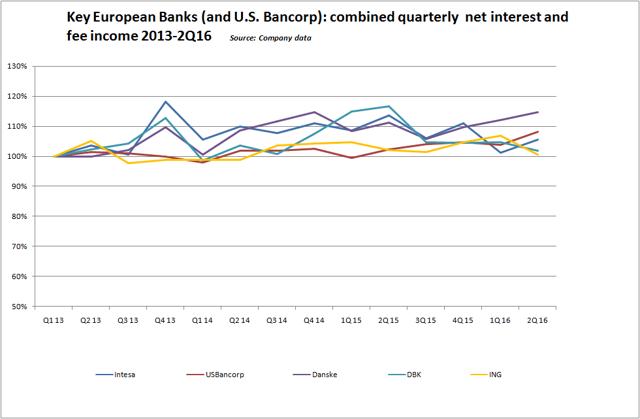 Source: Company data
German banks are suffering. Deutsche because of over expansion combined with truly abysmal management practices and Commerzbank (OTCPK:CRZBY) because of the brutally competitive landscape in the domestic banking space, which in turn is a function of government policy whereby state backed land and savings banks provide cheap banking to the mittelstand. The Bundestag's political guns are trained on Mario Draghi - and yes, negative rates make the hyper-competitive German banking system even harder to make money in - but the guns are not trained on the regulator. By the way, the German government could help the cause of higher rates by spending more money on infrastructure.
Italian banks are suffering too: because of a massive NPL problem. If anything, I suspect there has been some regulatory forbearance there. Investors should not think that the models are "unviable". There is also a little good news: there is evidence that the rate of NPL accrual is slowing, and while the sector faces many questions over how to finance its NPLs, investors can still find banks that can work there way through them. The flattening out of NPL growth can be seen in the chart below. This will allow future provision charges to reduce net balances further, rather than just maintaining coverage levels, or to increase shareholder returns.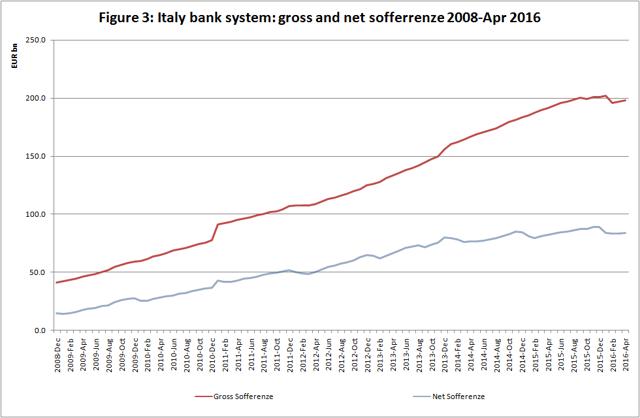 Source: Bank of Italy
Conclusion
Credit Suisse is working to restructure and find its "viable business model". The European banks universe is replete with well run institutions, coping with the difficult conditions and paying healthy dividends. Say what you like about German cost/income, Italian NPLs, Spanish pricing strategies and indeed Credit Suisse's search for an identity. But leave ING (NYSE:ING), Danske (OTCPK:DNSKY), BNP (OTCQX:BNPQY), KBC (OTCPK:KBCSY), and Intesa San Paulo (OTCPK:ISNPY) alone!
Disclosure: I/we have no positions in any stocks mentioned, and no plans to initiate any positions within the next 72 hours.
I wrote this article myself, and it expresses my own opinions. I am not receiving compensation for it (other than from Seeking Alpha). I have no business relationship with any company whose stock is mentioned in this article.
Editor's Note: This article discusses one or more securities that do not trade on a major U.S. exchange. Please be aware of the risks associated with these stocks.