Thursday appeared to be shaping up to be a fairly quiet day. Stocks were quiet. Oil's big upside move continued, though at a more moderate pace, following OPEC's announcement yesterday. But beyond that, things seemed fairly quiet.
But at mid-day, everything flipped, with reports that many sizable hedge funds are pulling their funds out of Deutsche Bank (NYSE:DB). DB stock, which had been flat on the day, went into a swandive immediately: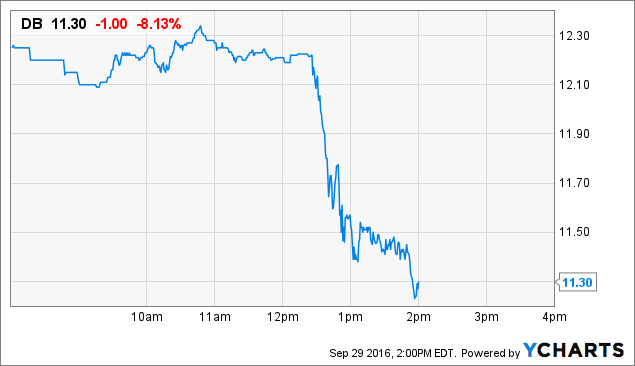 Deutsche Bank is right now retesting its 52-week low of $11.23. Should that break, it could drop quite a bit lower before finding a meaningful bounce. The Briefing has been calling for a single digit price on Deutsche technically following the break below $12.50.
Why are Deutsche's problems rocking the market? Well, for one, Deutsche Bank is larger than Lehman was back in 2008. It's certainly large enough and systemic enough to cause major problems elsewhere if it were to fail. And with Germany seeming unwilling to rescue it - at least at this point - more and more people are considering failure as an actual realistic outcome.
To give just one figure that sums up the size of the potential problem, Deutsche Bank's derivative exposure is currently at about 20x the level of total German GDP. Now, it's always hard to judge how much of that derivative exposure is actually real and how much is hedged; but during times of panic, people will assume the worst.
I still don't expect Deutsche to fail, at least not over the next few quarters. The ECB in particular has been so insistent on stimulating the economy at all costs - even to the extent that they're buying low quality corporate paper. It's hard to imagine them allowing one of the continent's most important banks failing while taking other such extraordinary measures to pump up the economy.
I've expected Deutsche to issue more equity, probably a dramatic amount, to recapitalize. It should still do so, though the longer it waits, the worse terms it will get once it finally bites the bullet.
However, the bank is facing too many problems to let the situation go on as is. Planned asset sales are delayed due to China's foreign capital restrictions of late. The US fine is massive, and while it should be shrunk eventually, it is causing grave market concerns.
And now with capital flight directly hitting the banks, they need to take proactive measures to reassure depositors. That said, I imagine they'll sell equity, sell themselves entirely, or find a lifeline of some sort; it seems a low probability that Germany's largest bank will be allowed to fail during relatively tranquil times internationally.
As for US markets, they're heading lower again after lunch following a brief initial bounce. The S&P 500 (SPY) dumped more than 20 points on the initial Deutsche drop, and has headed back to the lows.
The S&P 500 is sitting around 2,140 now, in the middle of the recent 2,100-2,170 range. The market is still well off support, bears would have to generate a lot more selling over the next few days to put the market into a dangerous area technically.
However, the bull charge has been turned back. Despite the Fed punting on a rate hike, and also Hillary topping expectations at the first presidential debate, the market finds itself well off the highs, with 2,200 looking like quite a climb from current levels. Given the recent market-positive news, the fact that the market is back down here can hardly be viewed as overwhelmingly bullish.
US banks are also selling off in the wake in the Deutsche news. Wells Fargo (WFC) leads the way lower, down more than a buck to just over 44 today. I know my $42 buy target for Wells seemed a little ambitious yesterday, but wait for it, you might be pleasantly surprised.