Rogers Communications (NYSE:RCI)
A complete failure of Rogers' Shomi video venture, designed to compete with Netflix (NASDAQ:NFLX) amongst others, will result in a C$100M to C$140M wind-down cost, a pittance given the staggering cash flows the Canadian government allows Rogers to make. Shomi may be the first of many failures for Rogers according to Edward Rogers "We've aspired to move beyond just the television, and Shomi was one foray into that" and "While that didn't work to what was planned, it hasn't diminished our enthusiasm and hunger to invest". This has some investors worried that futile cash burn may continue, leaving less money available to fund the dividend. Nonetheless, Edward is committed to paying the dividend saying "We are committing to our company, committed to the people that own our shares and thanking them and giving back to them in the form of dividends as the company grows". Edward will instead look towards real estate in attempt to set fire to a small portion of the family's money in the overheated Toronto market.
General Mills (NYSE:GIS)
The General Mills Board of Directors today declared a quarterly dividend at the prevailing rate of $0.48 per share, payable November 1, 2016, to shareholders of record as of October 10, 2016. General Mills current annualized dividend rate of $1.92 per share represents an increase of 8 percent over the annual dividend of $1.78 paid in fiscal 2016.
Following a decent sized decline in share price from the mid-$70's to the low $60's, General Mills has taken steps to give investors more of what they want, yield. General Mills has been a great capital allocator over the years, and it has a wicked dividend history to boot. Despite plenty of debt the company has managed to maintain both dividend increases and share repurchases for a long time.

Source: www.SmartDividendStocks.com
Worthington (NYSE:WOR)
Worthington has announced a dividend…again. The quarterly dividend of $0.20 per share is payable on December 29, 2016, to shareholders of record December 15, 2016. This marks the 196th consecutive quarter that Worthington has paid a dividend since it became a public company in 1968, not bad.
While the recession hit WOR pretty hard, it's still tough to argue with a dividend history that looks like this. Additionally, the dividend has moved to pre-recession levels, and the payout ratio is only 30%. Beyond that, repurchases have been very strong.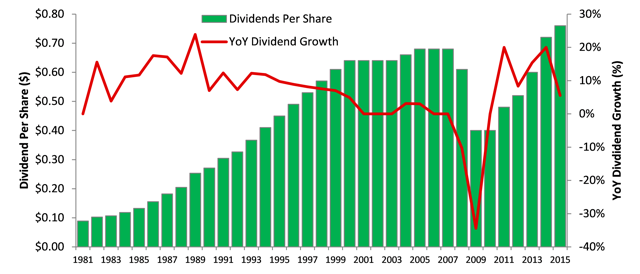 Source: www.SmartDividendStocks.com
DHX Media (DHXM)
Today, the maker of children's entertainment declared a dividend for the quarter of $0.018, an increase of 12.5%, on each common voting share and variable voting share outstanding to the shareholders of record at the close of business on October 11, 2016 to be paid on October 21, 2016.
The higher dividend is still only a 1% yield, nothing to get excited about; more interesting are the recent deals DHX has struck with Amazon to supply programming to Prime. Inevitably with global supply agreements comes a bit of currency risk, which the market has reacted fairly strongly towards.
Don't forget to follow us up top for future editions of Dividend Round-Up, and let us know below what you would like to see added for future editions.
Disclosure: I/we have no positions in any stocks mentioned, and no plans to initiate any positions within the next 72 hours.
I wrote this article myself, and it expresses my own opinions. I am not receiving compensation for it. I have no business relationship with any company whose stock is mentioned in this article.