IBM (NYSE:IBM) has launched a new Watson initiative, called "Project DataWorks." For growing revenues and profitability, modern businesses depend on extracting insights from data, which is an extremely complex job. Project DataWorks is a comprehensive solution aiming to eliminate the complexities.
Project DataWorks is available on IBM's cloud platform Bluemix. I believe this new offering will help IBM significantly grow its business analytics revenue, which was $17.9 billion in 2015.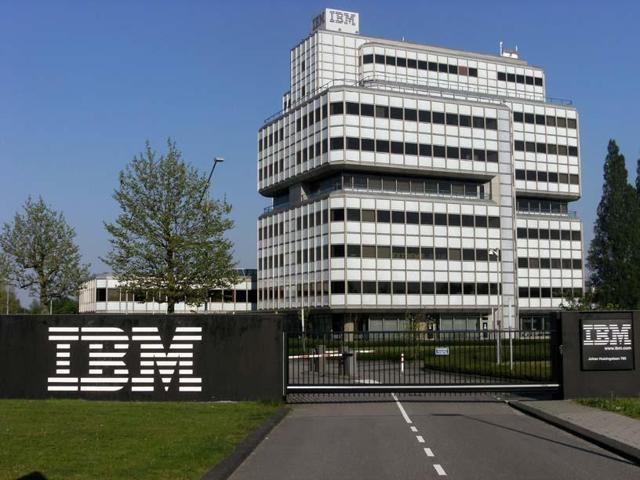 Project DataWorks: Competitive Advantage Against Microsoft
Project DataWorks is actually a big data analytics platform which primarily consists of two most sought-after software suites of today, which are IBM Watson and Apache Spark. The platform offers several advantages to data-driven professionals, such as a collaborative working environment, sharing common datasets and models, and automation of data asset deployment using IBM Watson and Apache Spark. What made IBM create such a platform? Well, this is a two-part story.
Project DataWorks is a self-service platform. Gartner has high expectations about the evolution of self-service platforms. It said:
By 2018, most business users and analysts in organizations will have access to self-service tools to prepare data for analysis as part of the shift to deploying modern BI platforms.

By 2018, most stand-alone self-service data preparation offerings will either have expanded into end-to-end analytical platforms or been integrated as features of existing analytics platforms.

By 2018, smart, governed, Hadoop-based, search-based and visual-based data discovery will converge in a single form of next-generation data discovery that will include self-service data preparation and natural-language generation.
Creating a self-service platform for the two most relevant software ecosystems for today's businesses, viz., business intelligence (BI)/analytics including IBM Watson and Apache Spark, will keep IBM stay ahead of the curve as far as competition from established players, most notably Microsoft (NASDAQ:MSFT), is concerned.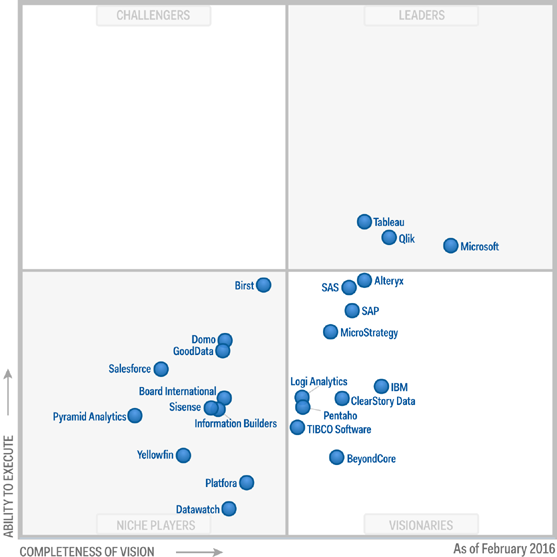 Image Credit: Gartner (Magic Quadrant for Business Intelligence and Analytics Platforms)
The Microsoft ecosystem already supports self-service BI. Microsoft's Azure HDInsight offers Apache Spark alongside popular self-service BI tools for mission critical workloads. However, Microsoft offers the collaborative environment via SharePoint, which is a separate tool and not integrated with HDInsight.
This was the first part of the story.
Apache Spark: IBM Watson's Growth Catalyst
The second part of the story revolves around Apache Spark, the open-source big data processing framework. Apache Spark is fast gaining traction among businesses because it can generate 100x faster speed in memory and 10x faster speed on disk for applications running in Hadoop clusters. I believe that Spark will rule the big data world for at least a decade due to the following reasons (aside from speed):
Spark supports Java, Python and Scala for writing apps, which are very popular in the developer community.
It also supports Map and Reduce operations more efficiently and cost effectively compared to Hadoop.
In addition, it supports SQL queries and machine learning.
Therefore, it makes sense for IBM to offer a managed Spark service (Spark-as-a-Service) in a customizable environment. Last year in June, IBM announced a major commitment toward Spark, and a year later in June this year, IBM launched the industry's first development environment for Spark.
Why IBM is so excited about Apache Spark? The reason is IBM Watson, IBM's bread and butter (that's an overstatement, I know). According to a TechCrunch article:
The IBM Watson system powering much of DataWorks has been a key source of growth and revenue for the company. Watson can only continue to improve with new use case challenges.
Watson, despite its huge success as a cognitive computing-based guided analytics platform, isn't witnessing enough growth catalysts. IBM's Cognos Analytics, which offers self-service BI tools, can be combined with Watson to expand the use cases of Watson. In the same way if Watson is combined with Spark? Well, that will immediately and almost certainly expand the scope of Watson to a significant extent. Aside from creating a collaborative platform, I believe the launch of Project DataWorks is an initiative geared towards catapulting the adoption of Watson in the realm of BI.
Conclusion
Since the cloud, big data and analytics market is increasingly becoming competitive, big players are always trying to find new ways to attract customers. In the long run, the player with the most compelling ecosystem will prevail. IBM has solidified its business analytics ecosystem with Project DataWorks.
Disclosure: I am/we are long IBM, MSFT.
I wrote this article myself, and it expresses my own opinions. I am not receiving compensation for it (other than from Seeking Alpha). I have no business relationship with any company whose stock is mentioned in this article.