Jimmy Choo (OTCPK:JYMHF) recently celebrated its twentieth anniversary while its star power clientele list continues to expand. JYMHF has become a staple at major award ceremonies being showcased 618 times on the red carpet since inception while First Lady Michelle Obama has reportedly worn JYMHF shoes 19 times in 2016. While JYMHF faces many of the same struggles as its luxury retail peers, the company's successful expansion in Asia, the increasing growth in men's fashions, as well as the positive impact of the weak pound make it a compelling long-term buy.
ASIA DRIVES GROWTH WHILE U.S. SALES STRUGGLE
While Burberry Group's (OTCPK:BURBY) sales fell by double-digits in Hong Kong due to government restrictions on gift giving as well as travel restrictions on Chinese nationals visiting Hong Kong, JYMHF has reportedly achieved record growth in Hong Kong and mainland China. Though the breakdown of sales was not reported by geographic region, revenues from Asia (excluding Japan) rose 22.1 percent on a reported currency basis reaching £27.1m for the six months ended June 30 and the company opened two Direct to Stores (DOS) and six franchise doors in the region.
Sales in Japan increased by 18.2 percent on reported currency basis with men's footwear sales and the strong yen driving growth. JYMHF opened franchise stores in Kazakhstan, Qatar, Japan, Macau, and South Korea and is planning to open flagship stores in Tokyo, Shanghai in Beijing in 2017. With a current portfolio of 147 Directly Operated Stores (DOS) and a medium-term target of 200 DOS, JYMHF is looking towards developing Asia's 'untapped growth potential'.
JYMHF's limited made-to-order campaigns have stirred up buzz in Asia. In September 2015, brides in the Philippines were able to choose the style, texture, color, as well as personalize their bridal shoes with a date plaque or monogram. This year, the campaign has extended to evening bags. Customers in Kuala Lumpur, Malaysia were able to not only customize the color, texture and finishes of their heels but also add names, initials, and dates to their evening bags.
While JYMHF's prospects in Asia look bright, U.S. sales have fallen by 3.4 percent in reported currency terms due to softer luxury demand and reduced spending by department stores. While the weaker pound could reverse this trend, U.S. wholesale revenues make up only about 10 percent of global revenues and thus the impact would be limited.
JYMHF sales rose 12.2 percent In EMEA driven by strong domestic demand. While geopolitical events in Europe negatively impacted international demand in the first half of the year, post-Brexit tourist traffic looks to be especially strong. Tourist spending on luxury goods in the UK in August rose by 36 percent, according to tax-free shopping firm Global Blue. The number of U.S. tourists in 2016 has increased by 5 percent to 580,000 and spending thus far is more than £3 billion. The number of Chinese tourists rose 46 percent to 270,000 with spending up almost 20 percent to £586 million. This rise in tourist traffic foreshadows a strong second half for JYMHF.
GROWTH OF MEN'S CATEGORY
According to Bain & Company, men currently make up 40 percent of the luxury goods market. One of the major trends in recent years has been the rise of HENRY's (High-Earners-Not-Yet-Rich). Ranging from 25 to 34 in age and possessing household incomes of £100,000 to £250,000 HENRYs have become an increasingly valuable market for luxury retailers. While HENRYs currently spend only half as much on luxury items compared to their ultra-affluent peers, the number of HENRY households is seven times larger making the market four times as valuable.
Men's fashion was the fastest-growing segment for JYMHF representing 8% of global revenue and expected to rise 'well into double digits". The company currently has 71 dual-gender stores globally with plans to continue to expand. Men's shoes in Japan had an exceptional performance with sales representing 26 percent of revenue in the first half. The strong yen combined with JYMHF's plans to open a flagship store in Japan in 2017 should support continued growth in the upcoming year. The company also plans to launch men's sunglasses and eyewear in 2018.
POSITIVE IMPACT OF WEAK POUND
Revenues grew by 9.2 percent on reported currency terms to £173 million ($248.1 million) while operating profit increased by 42 percent to £25.3m ($33.39 million). While the foreign-exchange losses on a loan hurt pre-tax revenues, adjusted EBITDA was up 12.8 percent compared to the previous year period. As approximately 28 percent of JYMHF's operating costs and only 9.5 percent of its revenues are derived in pounds, the company expects the weak pound to boost business performance in the second half.
PUSH INTO DIGITAL
Though JYMHF lags behind bigger brands such as Louis Vuitton (OTCPK:LVMUY) and Chanel in social media presence, the company has made strides recently. JYMHF's Youtube views grew to 20 million and the company currently has 4.4 million Instagram followers as of end June 2016. These figures likely do not take into account the views that JYMHF may be getting from celebrity social media accounts however the company does need expand its social media and e-commerce investments as digital platforms are becoming increasingly vital to a retailer's success.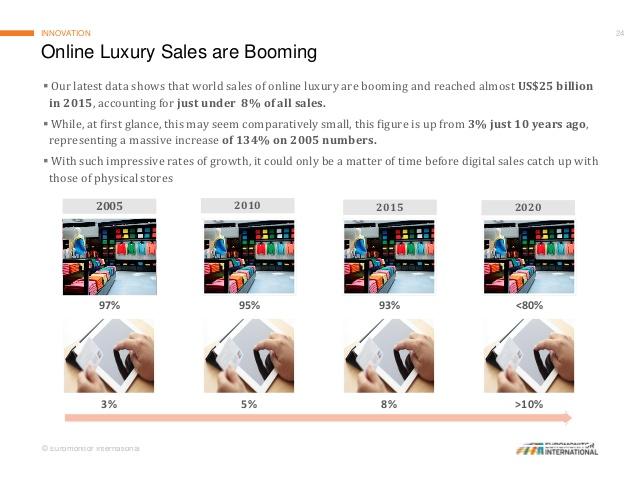 Source: Euromonitor
JYMHF is launching a progressive rollout of its Omnichannel services in the second half in the U.S. and U.K. The company has also launched a program to better integrate digital and physical stores. Consumers can order their preferred styles or sizes to be delivered to their homes if not available in store. JYMHF has also integrated its celebrity endorsements into its e-commerce site by creating a one-click system that allows customers to purchase the same JYMHF wear as their favorite celebrities.
CONCLUDING REMARKS
Though former CEO and co-founder Tamara Mellon has filed a multimillion-dollar lawsuit against JYMHF for allegedly disrupting her new footwear line, this is unlikely to have a material negative impact on the company's future success. JYHMF is expected to have a strong second half supported by growth in the Asian markets and men's segments. The weak pound is expected to further bolster business performance.
While slowing global growth in 2017 could hurt the company's growth trajectory and thus depress prices, investors should take this as an opportunity to buy into the company's future success.
JYMHF is quite illiquid in the OTC markets however the company's shares on the London Exchange have risen close to 13 percent this week. Investors could either invest in the London markets on a market dip or keep JYMHF on their watchlist once the stock becomes more liquid to trade in the OTC markets.
Disclosure: I/we have no positions in any stocks mentioned, and no plans to initiate any positions within the next 72 hours.
I wrote this article myself, and it expresses my own opinions. I am not receiving compensation for it (other than from Seeking Alpha). I have no business relationship with any company whose stock is mentioned in this article.