The solar investment tax credit (ITC) extension has been a mixed blessing for the solar industry, but for SunPower (NASDAQ:SPWR) it's an opportunity to prevail over less resilient competitors. The extension has pushed back the urgency of various solar projects that were trying hard to come under the early ITC umbrella this year. So, revenues have been lost in the near term, and those companies that cannot withstand the loss will suffer. However, the scope for longer-term revenue has been increased by 10 more years with the extension, and SPWR can take advantage of its mainstay assets to see itself through the bad days ahead.
The problem with SunPower is that it is so badly in debt right now that it was looking for a quick buck under the old ITC regime to see it through. Now, it needs to survive for the longer term without that immediate cash flow. The two biggest advantages for SunPower are that it is backed by Total (TO) and it backs the yieldco 8Point3 Energy (NASDAQ:CAFD). On the one hand, Total has an interest -- and the wherewithal -- to see that SPWR doesn't go down as long as it has longer-term prospects.
On the other hand, SPWR can use CAFD to shed some of its debt by selling it its longer-term assets, like it's doing with the 128 MW Henrietta project and half of the 136 MW Stanford & Turlock project. CAFD, like I discussed in an earlier article, is one of the more efficiently run yieldcos, so the collaboration should work out well. Total, too, probably considers solar as an investment in the future of energy, and will go a long way to keep SPWR afloat.
On its own, SPWR is also doing a few things right to survive the headwinds. One, SPWR has a 50-50 joint venture with Malaysian firm AU Optronics for making solar cells. SPWR acquired AU Optronics' 50% share in the JV for $170 million in stock payable in four years. Not only does this acquisition resolve a dispute between the two companies, but the partnership survives the buyout. SunPower continues to supply AU with 100 MW of its E-series solar panels, while AUO continues to sell its solar wafer to SunPower.
What's more important is that, by expanding its presence in low-cost labor countries like Malaysia, SunPower is trying to head off the Chinese onslaught and is also getting a base near emerging markets, like India. This will somewhat offset its closing down of its Philippines facility and cutting 1,200 jobs.
Two, SPWR has a total debt of over $2 billion, as you can see in the breakdown below:

Source: September 2016 10-Q
The interesting thing is that more than a third of this debt is in non-recourse financing, which, as its name implies, does not give the lender recourse to the borrower's other assets -- except for the pledged collateral. In effect, it resolves the borrower of all personal responsibility; liability is limited to the collateral. The other interesting thing to note is that the convertible bonds are not near term; dilution accruing from them will begin to occur only as late as 2018.
Third, much of the non-recourse financing has been used to develop projects, as shown below. Most of these are about to be sold out, clearing much of the debt and generating some cash flow.

Of course, the cash flow generated will probably not be sufficient to fund new projects -- even though there's too little of that in the current fiscal year. Plus, SPWR has a line of credit from Mizuho and Goldman Sachs to the tune of a $200 million revolving facility, with an astoundingly low interest rate of LIBOR +1.5%:
Revolving Credit Facility with Mizuho and Goldman Sachs

On May 4, 2016, the Company entered into a revolving credit facility (the 'Construction Revolver') with Mizuho Bank Ltd., as administrative agent, and Goldman Sachs Bank USA, under which the Company may borrow up to $200 million. The Construction Revolver also includes a $100 million accordion feature. Amounts borrowed under the facility may be repaid and reborrowed in support of the Company's commercial and small scale utility projects in the United States until the May 4, 2021 maturity date. The facility includes representations, covenants, and events of default customary for financing transactions of this type.

Borrowings under the Construction Revolver bear interest at the applicable LIBOR rate plus 1.50% for the first two years, with the final year at LIBOR plus 1.75% . All outstanding indebtedness under the facility may be voluntarily prepaid in whole or in part without premium or penalty (with certain limitations to partial repayments), other than customary breakage costs. The facility is secured by the assets of, and equity in, the various project companies to which the borrowings relate, but is otherwise non-recourse to the Company and its other affiliates.

As of July 3, 2016 and Jan. 3, 2016 , the aggregate carrying value of the Construction Revolver totaled $12.3 million and zero, respectively.
So, SPWR has these bases covered, and we are not even taking into account its parental tie with Total.
In addition, SPWR is focusing on residential, which is a good thing in today's solar scenario where utility is not dependable. Residential, while smaller in terms of the market, is growing fast. This is demonstrated in the following graphs: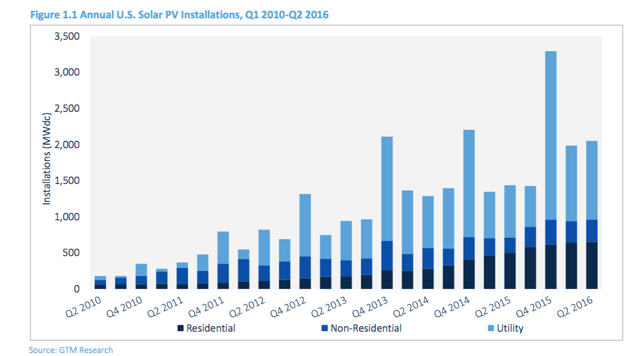 Source: GTM Research
As you can see, while utility has been an erratic sector, with spikes in the last quarter of every fiscal year, and non-residential has been a downer, residential PV (photovoltaic cells) has been slowly but steadily growing. What is an ongoing happenstance at SPWR is that it had a lot of focus on utility, but it also had, unlike other solar companies, diversification in residential and commercial alike. What it needs to do is move the focus from the non-performing utility segment and instead focus on residential. It is already doing this.
Finally, SPWR has a lot of depth in utility. Although it needs to focus on residential today, its strategic depth in utility will not go away. When utility reverts back to a growth phase again, SPWR will be in a position to take advantage of it. The Solar Energy Industries Association, or SEIA, predicts that utility will pick up again in 2020, as shown here: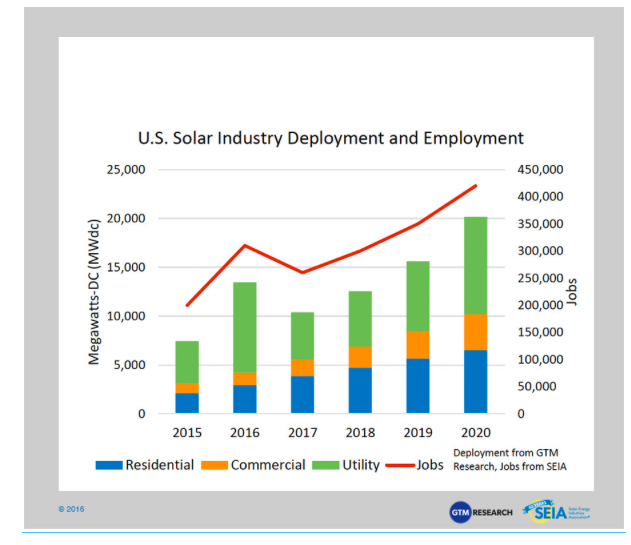 Source: SEIA
As you can see here, residential and commercial are going to be slow but steady, with residential being the bigger factor. Utility will see slow growth over the next three years, but will pick up to more than what it is now in 2020. All SunPower needs to do is to last that long.
Disclosure: I/we have no positions in any stocks mentioned, and no plans to initiate any positions within the next 72 hours.
I wrote this article myself, and it expresses my own opinions. I am not receiving compensation for it (other than from Seeking Alpha). I have no business relationship with any company whose stock is mentioned in this article.