Before the Marcellus and Utica plays rose to prominence, the Haynesville was full of activity. Surging natural gas output out of Appalachia forever changed that picture as Henry Hub began to trade perpetually below $4/Mcf. As of September 23, the Haynesville had just 13 active rigs in the area compared to 15 in the Utica and 30 in the Marcellus.
The Haynesville peaked around 2011 - 2012 as you can see below, and has been steadily losing relevance since.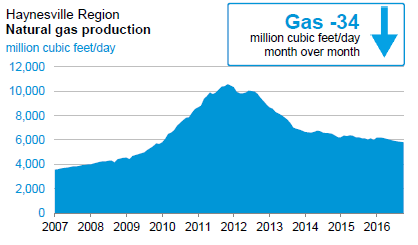 Source: EIA
What has been keeping the Haynesville going is the aggressive differential Appalachian natural gas realizes relative to Henry Hub. Regional prices are $1/Mcf+ lower than Henry Hub and takeaway constraints limit the amount of output that can reach better markets. Combined with weak Henry Hub prices up until recently, Appalachian drilling economics have been hurting. Wells tapping into the Marcellus/Utica generate significantly stronger returns than wells tapping into the Haynesville.
As Chesapeake Energy Corporation (NYSE:CHK) has hefty midstream obligations and minimum volume commitments in the Haynesville, it has had to make the most of its situation. The firm has recently been able to cut its midstream costs in the play, but part of that deal included agreeing to turn 140 equivalent wells online by the end of 2017. The company also has a significant presence in the Marcellus and Utica plays, assets that will play a major role in its future and ones the company will probably keep.
Chesapeake's next big divestiture
The firm has 430,000 net acres in the Haynesville, and is actively trying to sell 150,000 net acres in the play to raise much needed capital. News of a sale, one that could raise a little north of $1 billion, would be huge. Several big operational gains will help Chesapeake Energy Corporation find a willing buyer, on top of favorable macro developments in regards to energy prices. This is why Chesapeake has been devoting a lot of real estate in its investor updates to the asset.
Chesapeake Energy has been able to materially increase the estimated ultimate recovery rate per foot in the Haynesville which can be seen below. A higher EUR rate per foot means Chesapeake Energy's enhanced completion designs are tapping into and extracting more of the hydrocarbons in the ground.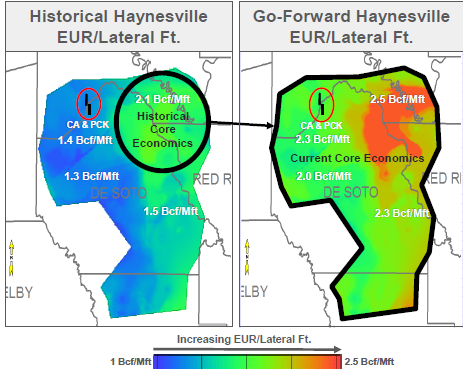 Source: Chesapeake Energy Corporation August Presentation
Increased well productivity on a per foot basis combined with a shift towards 10,000-foot laterals from 5,000-foot laterals has materially boosted Chesapeake Energy's well economics. Moving from 5,000-foot to 7,500-foot laterals increased Chesapeake's Haynesville incremental well returns from 3% to 18% in 2014, when assuming a flat $3/Mcf natural gas price.
That grew to 25% in 2015 when Chesapeake utilized 10,000-foot laterals, aided by lower completed well costs. Add in further enhancements to Chesapeake Energy's completion design and several of its latest 10,000-foot lateral Haynesville wells are supporting returns of 37% - 47%.
Quite a significant climb from a measly 3% return a couple of years ago when also realizing $3/Mcf of dry gas. Throw in lower G&A, midstream, and interest expenses and Chesapeake Energy's Haynesville economics start to make sense (particularly when factoring in the MVC headache that would kick in without drilling activity) in the current $2.90/Mcf - $3/Mcf Henry Hub pricing environment.
Below is a look at Chesapeake Energy's core Haynesville acreage and where the firm plans to direct its drilling activity in the future, unless that acreage is sold.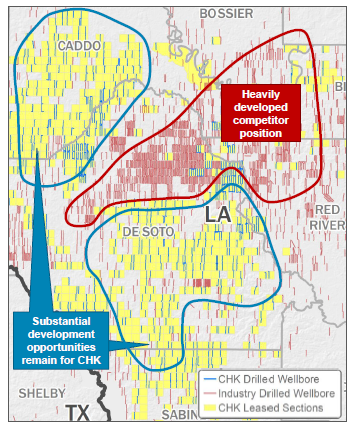 Source: Chesapeake Energy Corporation September Presentation
Going forward, Chesapeake Energy is going to keep implementing 10,000-foot laterals and its bigger completion design. Assuming $3/Mcf and $60/barrel crude pricing, Chesapeake sees 275 locations capable of generating rates of return north of 40%, 1,350 yielding an ROR of 20% - 40%, and 200 generating an ROR south of 20%.
Keep in mind that includes a crude price that is way above where prices are at today, which is odd and showcases the games upstream firms are playing to inflate the incremental economics of their portfolios. That being said, as plenty of Haynesville well locations are weighted very heavily towards dry gas, with others being weighted towards natural gas liquids (which is largely set by crude prices), there is some truth to Chesapeake's guidance. Some. Implying that at least part of the firm's acreage would be attractive in the current environment.
Final thoughts
During the second quarter of 2016, Chesapeake pumped out a net 126,000 BOE/d from the Haynesville. The firm plans to spud 25 to 35 wells this year while turning 45 to 55 online, taking advantage of its drilled but uncompleted inventory. As better completion designs are utilized, those DUCs will provide a bigger bang for Chesapeake's sparse bucks, as will recent increases in energy prices.
As Henry Hub has rallied up close to $3/Mcf, Chesapeake Energy's core business, natural gas production, should do much better. This often is understated and overshadowed by hype surrounding crude prices. Chesapeake Energy is primarily a natural gas producer and should be treated as such.
The next question is what is management's long term plan for the asset. With the Meramec in the STACK region, we saw Chesapeake Energy aggressively promote the asset before selling it off. Afterwards, little attention was given to the Mid-Continent region, beyond the fact that Chesapeake maintains a huge acreage position in the area. Is Chesapeake Energy devoting a lot of time to its Haynesville operation just to try and sell its core position, like it did with the Meramec, or is management serious about developing the play even in the event of a material divestiture.
Chesapeake did increase its position by 70,000 net acres at the beginning of Q3 for $87 million, increasing its average working interest to 83%. That would be a vote of confidence towards maintaining a strategic and active presence in the play, as would its midstream agreements.
In light of OPEC possibly reaching a deal to cut output by up to 750,000 bo/d and Henry Hub remaining strong, Chesapeake Energy Corporation should easily push past Icahn's director leaving with news of Haynesville sale providing a powerful potential catalyst for the firm. Chesapeake Energy Corporation just issued out $850 million in convertible debt to help shore up its liquidity position, and investors can read about why that move was probably made here.
Disclosure: I/we have no positions in any stocks mentioned, and no plans to initiate any positions within the next 72 hours.
I wrote this article myself, and it expresses my own opinions. I am not receiving compensation for it (other than from Seeking Alpha). I have no business relationship with any company whose stock is mentioned in this article.