Crude oil (NYSEARCA: USO) is rallying strongly after news that some OPEC members have reached an understanding to scale back production by 700kbpd in the first such deal since 2008. NYMEX light crude oil futures are trading at nearly $48 per barrel at the time of writing this report.
This agreement is not final. The reduced 'production quotas' will be decided possibly in the next official meet in November. The group has agreed to bring down its production levels to 32.5-33 million barrels per day, lower from the current 33.2 million barrels per day. So, until November, the production levels will remain elevated.
Goldman Sachs (NYSE: GS) said that pushing up the prices via a production cut among low-cost producers would provide more incentive for oil drillers around the world to open their spigots even wider. The move would be self-defeating. The firm, however, believes that a "strictly implemented" deal could add another $7 - $10 per barrel to the crude price.
Russia is a big force in the oil markets, and it has kept relatively quiet on this announcement. While the OPEC members are contemplating bringing down production levels, Bloomberg reports that Russia is on course to pump a post-Soviet record amount of oil (NYSEARCA: OIL) in September, taking the total to 11.1 million barrels per day.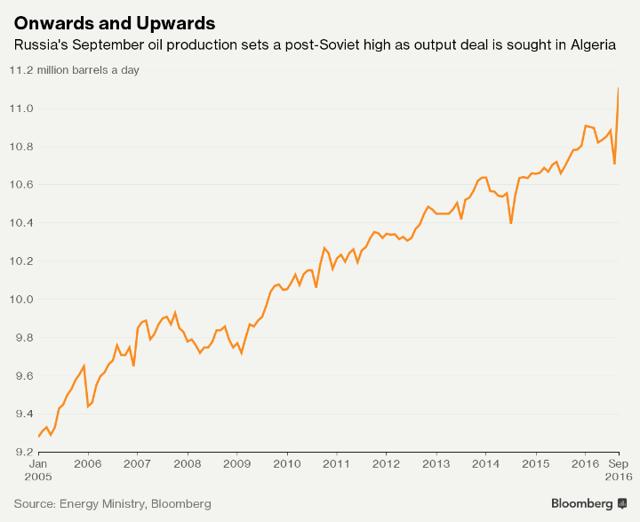 If there were an arrangement on reigning in oil production, I do not believe that Russia would agree to it. It may oblige to freeze its production levels, albeit at very high levels. Who knows if it is even striving for its 1987 peak production of 11.4 mbpd?
There are a lot of variables in the oil market. Nobody is really sure if the drawdown in daily production level by 700kbpd would be enough to bring back balance to the oil market. I, for one, do not believe that this would be enough. For there is a fair chance that if the prices were to head north, non-OPEC producers would be the first to increase production, thereby defeating the entire purpose of a production cut.
Let us now see what the oil market is trying to tell. To serve this purpose, I will be conducting a technical analysis on weekly NYMEX light crude futures price chart below.
The chart below indicates that price action in crude oil is shaping into an Inverse Head & Shoulders technical pattern - a bullish pattern marking a reversal. For an easier understanding, I have marked and named all the important technical points.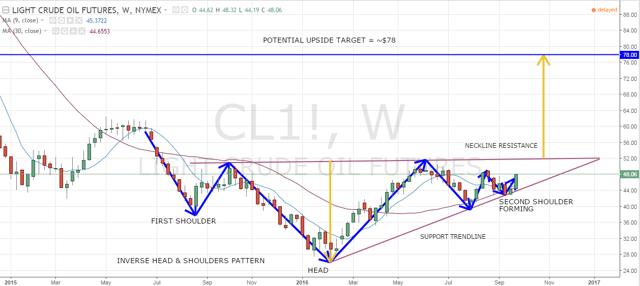 Source: TradingView
Crude oil is receiving strong buying pressure along the upward sloping support line while it faces selling pressure near the neckline resistance. The range is contracting, and therefore, a breakout is bound to happen. If the oil market begins to anticipate a failed deal in November, the breakout on the upside will take longer to happen. Getting some big players like Russia on board to a production freeze or a cut could lend serious momentum to the upsurge, and cause the price to pierce the resistance zone of $50-$52. While fundamentally it is tough to call for a target price, technicals suggest that the commodity could aim for $80 in a bullish scenario. The expected timeframe for such a result would be between 1-2 years.
The call for $80 now seems very surreal. But, since the markets are forward-looking, they may be anticipating some events which we currently have no idea about.
Longs are advised to hold on to their positions by maintaining a tight stop-loss just below the support line (on a closing basis). The commodity will face renewed selling pressure near $52, but it may be short-lived this time.
Disclosure: I/we have no positions in any stocks mentioned, and no plans to initiate any positions within the next 72 hours.
I wrote this article myself, and it expresses my own opinions. I am not receiving compensation for it (other than from Seeking Alpha). I have no business relationship with any company whose stock is mentioned in this article.