You may know Marcus Lemonis from the television show The Profit on CNBC. But you may not know that he is also Chairman and CEO of the corporation Camping World Holdings (NYSE:CWH), which specializes in camping equipment and RV parts and services through their 107 retail stores and 18 dealerships. Now he and his multibillion dollar company are gearing up for an IPO which could raise them $260 million. Although Lemonis has an excellent history of making deals with small businesses, this could be the biggest equity deal he's ever done.
Use of Proceeds
According to the prospectus, about $200.4 million of the proceeds from the IPO will be used to pay a portion of the company's outstanding debt and the rest will be used for general corporate purposes. There is, of course, mention of placing proceeds into investment instruments pending their use, however there is nothing of substance in the prospectus that indicates the proceeds will be used for any type of corporate development initiatives, such as acquisitions.
Their Balance Sheet Is Upside Down
Camping World has a stockholders' deficit of $285 million. This is clearly why Camping World needs this IPO. While their debt is easily manageable, you don't want it to get out of control. With only $39 million in cash, Camping World is running a poor cash ratio of 0.04, which means in order to strengthen their liquidity position to meet working capital needs, they will need to raise money via debt or equity. And rather than adding on to the $656+ million of long-term debt, the IPO is a good way for them to strengthen their balance sheet and increase their liquidity. If there is one thing I've learned from watching The Profit, it's that Marcus Lemonis doesn't particularly like the burden of debt on the books. And in order for Camping World to pay a reasonable and stable dividend, there is some needed improvements to their balance sheet.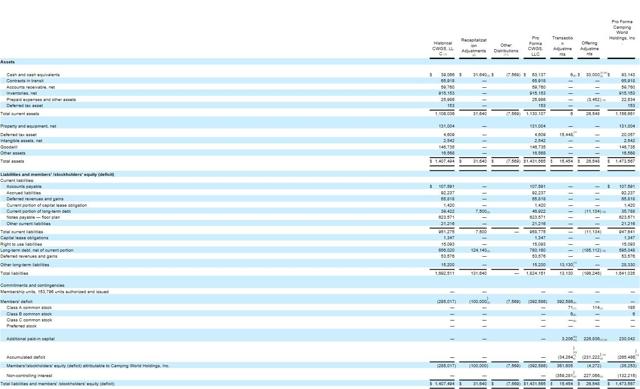 Source: Camping World Holdings S-1.
People, Product, Process
Chairman and CEO, Marcus Lemonis is used to investing in people, however now investors are investing in him. One thing we know from Marcus is that the numbers don't lie. So, taking a look at the first half of 2016, we can see that revenue increased almost 10.5% from the same period of the year prior, and operating margin stayed very consistent at 8.3%. The company is sustaining double digit growth while turning solid cash flow. I am projecting total revenue for 2106 to be about $3.67 billion, which would represent a 3-year CAGR of 15.86%. So there is still a growth play here for investors. Operating margin for 2015 was 7.4%, however net income was suppressed to 4.8% due largely to the interest expense on their debt. With an improving operating margin and use of proceeds to pay off some of their debt, Camping World can see some significant progress across their bottom line. The numbers tell me that the product and services are scalable and the process effective.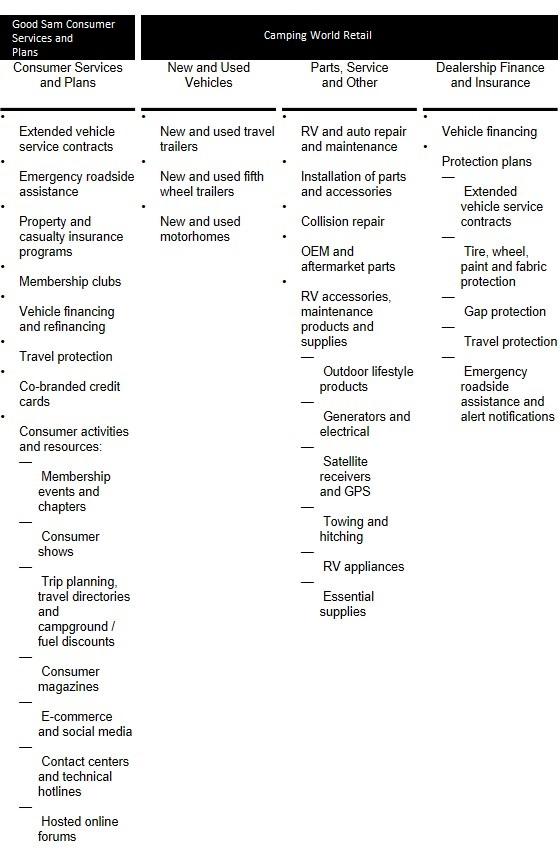 Source: Camping World Holdings S-1.
Conclusion
When I saw this IPO filing I expected positive cash flows and some minor increases across the topline. What I didn't expect was double digit growth and an upside down balance sheet. Like any other IPO, there are things to like about this offering and there are things to dislike. It is always interesting to see how Wall Street treats these companies. Although the debt is somewhat burdensome, it is also very manageable. While Marcus Lemonis may be traveling the county to make deals with small businesses, it is good to see that he hasn't neglected his biggest baby, as the company is experiencing double digit growth and holding a strong operating margin.
Disclosure: I/we have no positions in any stocks mentioned, and no plans to initiate any positions within the next 72 hours.
I wrote this article myself, and it expresses my own opinions. I am not receiving compensation for it (other than from Seeking Alpha). I have no business relationship with any company whose stock is mentioned in this article.