Qualcomm Inc. (NASDAQ: QCOM) is shooting higher to new 52-week highs after a report that it is in talks to buy NXP Semiconductors (NASDAQ: NXPI) in a deal valued at more than $30 billion. Shares of NXPI have jumped more than 17 percent on the news while Qualcomm is surging strong with gains touching ~8 percent. Qualcomm, at the time of writing this report, trades above $68.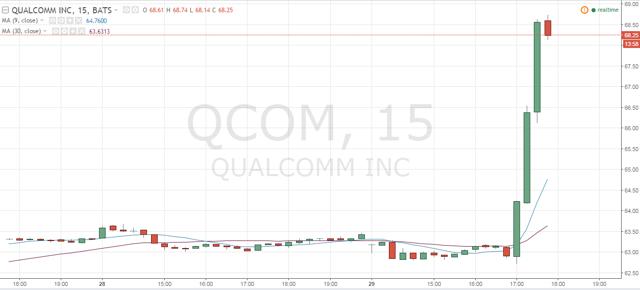 Source: TradingView
Those who have followed me or stayed connected to my work know that I have been a fan of Qualcomm and have often suggested long calls on the stock. On Aug. 29, I wrote an analysis titled Qualcomm: 25% Upside Coming in which I made a bold call on the stock, saying that the price could touch $80 in the next one year. Today, I am even more confident of this investment.
The market is currently cheering QCOM because, if the deal goes through, it would vastly strengthen the position of the company in several high-growth markets. According to emerging reports, the deal could be struck in as soon as the next three months. No official word has been released until now.
Qualcomm's management has often been questioned over its sitting cash pile or why it wasn't looking to buy companies, like most others were doing in the chip industry and this move could be a big step forward. There is very little official information on this matter but the market's reaction is certainly positive.
My Two Cents On What Qualcomm Is Planning To Achieve
Although I am not sure whether the deal would go through or not, but if it does, it can prove to be very advantageous for QCOM in the long run. I want to add here my opinion on what Qualcomm might be planning to achieve with this acquisition.
To understand this very simply, go to the NXP Semiconductors Investor Presentation for April 2016. The presentation states that NXP has markets in several high-growth areas such as connected car, security, portable and wearable, and IoT.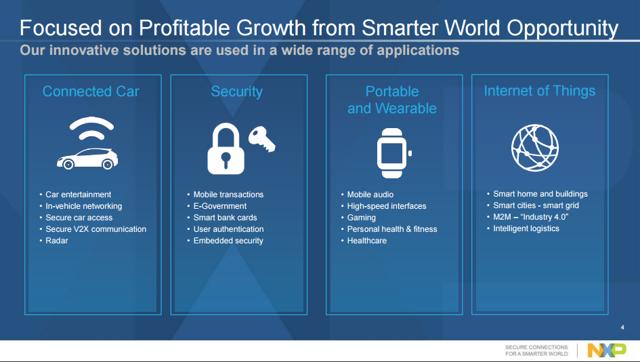 Now, why does this matter to Qualcomm? During the Q3 2016 earnings call, Steve Mollenkopf, CEO of Qualcomm said,
"We continue to expand our presence in adjacent opportunities including automotive, networking, mobile compute and IOT. These industries are rapidly adopting smartphone technologies. Our leadership across 3G, 4G, 5G, WiFi, multimedia, graphics, processor and RF front-end technologies positions us well for these new growth areas. Collectively, the addressable opportunity for these adjacent areas is expected to grow at a CAGR of 18% over the next five years from $12 billion to $29 billion according to a combination of third-party and internal estimates.
In automotive, the pace of innovation is accelerating and we are seeing a strong alignment between the industry needs and Qualcomm's technologies. We continue to build momentum and strengthen our position through significant design wins at global automakers. This includes telematics where our modem leadership is well-recognized, infotainment with our Snapdragon automobile processors and in connectivity with our WiFi Bluetooth and location products.
Our momentum in IoT continues as customers turn to our broad offering of IoT development platforms to accelerate their product innovation. At CompuTech, we introduced the Qualcomm's Snapdragon Wear 1100 processor for the fast growing targeted purpose wearable segments such as watches, fitness trackers, smart headsets and wearable accessories."
So, if this acquisition were to happen, Qualcomm would get an open door into the world of other high-growth markets which it has been chasing. The wearable tech market is expected to be worth $34 billion by 2020, while the commercial telematics market is expected to reach revenues of $55.14 billion by 2021-end.
Using the doorway and its leading technologies, the company could be planning an aggressive headway in the next big revenue areas.
Qualcomm Has Crossed A Major Technical Hurdle
As can be seen from the Qualcomm weekly price chart below, the stock has decisively pierced the resistance posed by the 61.8 percent Fibonacci retracement of $66.70 after hitting a new 52-week high of $68.83. I had mentioned in my last article that there would be a small hiccup near the Fibonacci level, but big gains lie in store upon successful breach of this technical hurdle. I remain firm in my stance and reassert my bullish view on the stock with a target price of $80 in the next 12 months.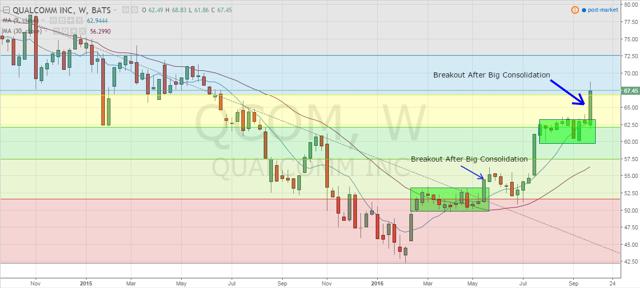 Source: TradingView
Conclusion
Investors are advised to stay long on Qualcomm even if the news does not turn out to be true. The business is strong, the management is astute and shareholder-friendly, and with a little help from the broader market, the stock can definitely touch $80 in the next one year.

Disclosure: I am/we are long QCOM.
I wrote this article myself, and it expresses my own opinions. I am not receiving compensation for it (other than from Seeking Alpha). I have no business relationship with any company whose stock is mentioned in this article.