Business overview

Inuvo (NYSEMKT:INUV) is an advertising technology and digital publishing company which develops proprietary technology to deliver ads through a network of websites and apps. The company generates revenues from two business segments: the owned & Operated Network (OON) and the Partner Network (PN).
Under the Owned & Operated Network segment, the company manages proprietary websites/apps and generates money by serving ads (ALOT.com). Under the Partner Network segment, the company develops advertising software (ValidClick & MYAP solutions) to help owners of websites monetize their properties.
The current picture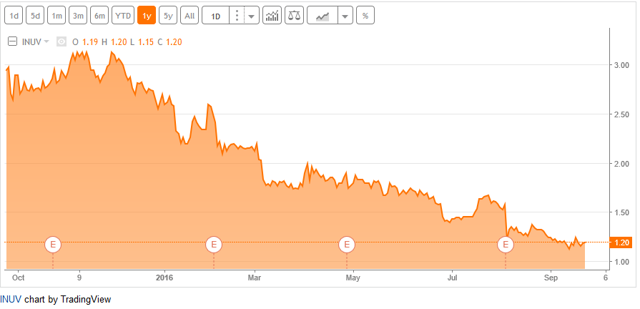 Over the last year, Inuvo has been crushed from a high of $3.45 in June 2015 to around $1.2 now. This negative performance can be explained by two quarters of sales' decline. In Q4 2015, the company generated $21.035 million of sales in comparison with $18.73 million in Q1 2016 and $15.648 million in Q2 2016. The company traditionally experiences seasonality in its business with Q4 being the strongest quarter and Q1 the lowest. Then, revenues usually pick up in Q2 and Q3. However, Q2 2016 was lower than Q1 2016 which is due to temporary issues with serving Yahoo (YHOO) ads.
As Yahoo and Alphabet (NASDAQ:GOOGL) represent 99% of Inuvo's business, the impact was material. However, Inuvo CEO disclosed in the Q2 conference call that the temporary issue has now been resolved since Yahoo has been bought out by Verizon (NYSE:VZ) and thus, the uncertainty is now over. In fact, CEO Richard Howe explained that average revenue per day has been picking up. Moreover, I suspect the market was also too impatient regarding the deployment of SearchLinks. SearchLinks is basically an advertising solution which taps the native ads business. This is the company's future growth engine, more in a minute.
Now let's talk about the sales per segment, which needs a little clarification because they can be confusing. In fact, the PN has experienced a big decline over the year. In fact, PN sales have been decreasing from $9.284M in Q2 2015 to $4.746M in Q2 2016. On the contrary, OON segment saw strong growth, having increased from $7.443M in Q2 2015 to $10.902M in Q2 2016. This opposite direction does not constitute a red flag because it was mainly related to revenue restatement between both segments. In fact, the company acquired a new website, which was previously reported under the PN segment and now, it takes part of the OON segment. The OON segment comes with virtually 100% gross margin so there is a positive impact on gross margin. However, it also comes with higher marketing costs. All in all, it changes virtually nothing on the bottom line. In fact, gross profit increased from $29.17M to $46.71M but marketing costs increased from $17.45M to $34.32M, eventually eating the gross profit gain from FY 2014.
The growth catalyst: SearchLinks and Native Ads business
SearchLinks is an advertising solution which enables publishers to tap into the search based budgets of advertisers. This solution provides native ads which are optimized to websites/apps. The native add business has been booming recently. It represents a compelling opportunity for future growth. According to Business Insider, U.S. native display ad revenue will grow for the following years. It will represent a market of $20.9 billion in 2017 and will skyrocket to $36.3 billion in 2021 or a CAGR of 17% (2016-2021).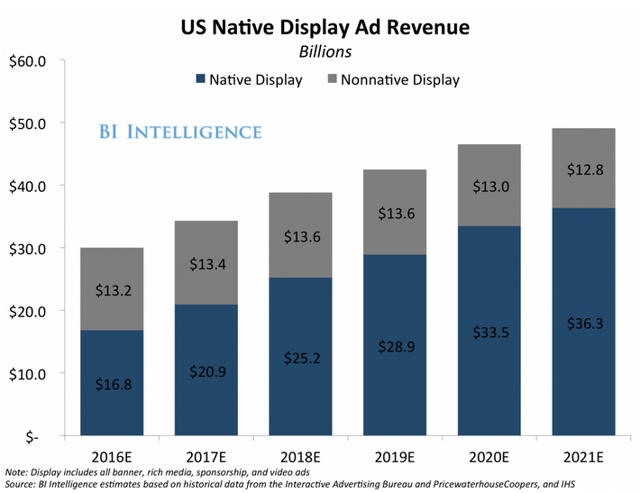 Current offerings often miss the point of native advertising because they bring irrelevant ads to websites. With SearchLinks, Inuvo plans to optimize native ads with websites' content to increase advertising revenues.
The solution has been on the market for over a year and has been gaining real traction with the world's top websites using it, such as Reuters. In Q2 2016 conference call, the company explained that SearchLinks was well received and that they saw revenues increased by 60% sequentially. 60% growth for a new product is impressive but it is even more impressive if you realize that the company has only be testing with partners to selected websites. In fact, website owners are still in testing phase with SearchLinks, which means that the native solution could experience significantly more growth in the coming future, when testing phase is finished.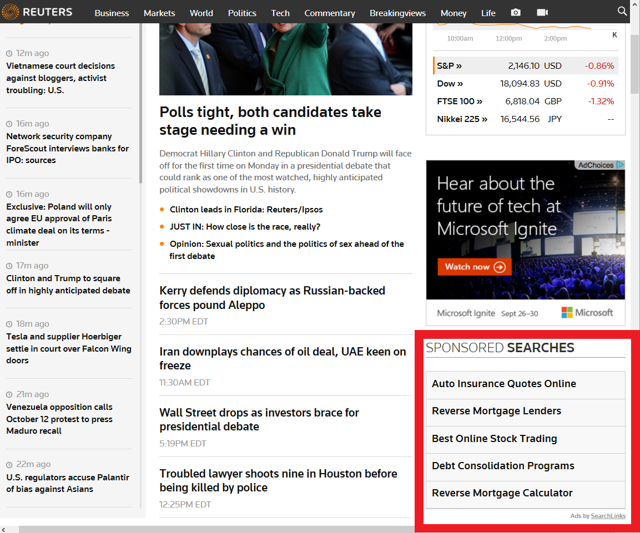 I do believe SearchLinks will easily bring $10M to top line for FY 2016. Inuvo CEO said that the new solution generated sales of $2.6M for FY 2015 and that it grew 60% in Q2 2016, sequentially. Knowing that, I made some assumptions regarding future growth on a quarterly basis, please see the table below. I assume that SearchLinks' growth will slow qoq (40% in Q3 2016, 20% thereafter). Therefore, I arrive at $10M for FY 2016 and $22.5M for FY 2017.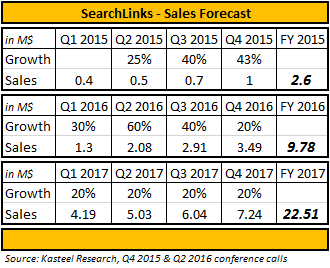 On top of growth from SearchLinks, Inuvo also plans to develop video content which is a hot commodity in the advertising space. In the Q1 2016 conference call, the CEO stated: "We have made the development of video content an important part of our engagement strategy for 2016 and views on video already produced and published have risen significantly month over month". Video content will increase sales from their owned web properties.
Why this opportunity exists?
First, this opportunity exists because the market does not seem to understand the potential of SearchLinks. This solution can be a real game changer for the company because it can be used for hundreds of popular websites and could generate substantial revenues in the coming years. Remember that native advertising will be growing at a CAGR of 17% for the period 2016-2021. If the industry grows at 17%, Inuvo can achieve a better result given its small size and innovative product offerings.
Second, the solution will be successful because Inuvo has gained significant experience in digital publishing through its web properties. So it acquires the necessary knowledge to build a solution specifically tailored to increase ads revenues for other business. With their experience, they know what to do and what to avoid, contrary to other companies, which do not run publishing business. This is why I have a positive opinion on SearchLinks and why I do think it is very competitive. The deal with Reuters seems to go in that direction.
Third, the industry is competitive, so cost management is another meaningful variable which management has taken good care of. In fact, the company is located in Arkansas, far away from Silicon Valley or NYC hotspots. As a result, the company can offer its business solutions at a competitive price (lower employee wages, lower properties costs, etc.).
To sum up, this opportunity exists because the market has been focused on the temporary issue with Yahoo instead of analyzing SearchLinks' future potential.
Moving to valuation
Something I like about Inuvo is that it is self-financed. They do not need to raise cash with secondary offerings to expand their business. This is something usually done by other advertising companies such as TubeMogul (NASDAQ:TUBE), which fuels its growth with stock offerings. By reporting positive adjusted EBITDA, Inuvo can rely on itself to fund its sales growth. Furthermore, the company has repaid its debt and has a cash balance of $4M in Q2 2016.
On an EV/EBITDA basis, Inuvo appears cheaper than many of its direct competitors, aside from The Rubicon Project (NYSE:RUBI), which faces increasing pressures regarding its programmatic advertising platform. As a result, the market punished the future lack of growth.
Inuvo currently trades at a discount to peer median of 114%. If the company was to instantly trade according the peer median, Inuvo would be worth $63.05M or $2.56 per share.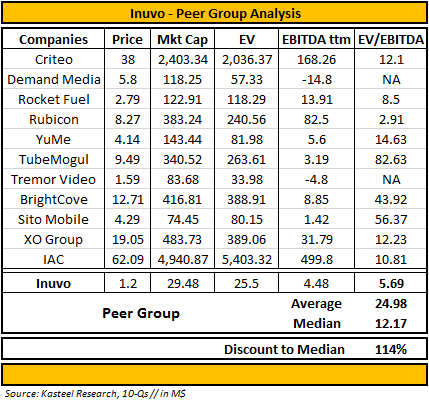 In fact, Inuvo CEO insisted that the company will generate sales of $25M by Q4 2017, or a run rate of $100M annually. In Q2 2016, the company generates revenues of $15.64M. In my opinion, management guidance of $25M by Q4 2017 is within reach given the expected growth of SearchLinks. In the below table, I compute the expected sales for both segments and I subtract SearchLinks' contribution from the Partner Network. I made conservative assumptions regarding the PN and OON segments because as you can see I assume no growth from Q4 2015 peak quarter. The $25M guided can easily be achieved thanks to the new solution. On top of that, any growth in the PN and OON segments could sweeten expectations.

If we assume $100M of sales annually, we can value the company at $2.03 per share given a very conservative price to sales of 0.5 (the current P/S is 0.39) and $100M sales annually. These assumptions are conservative and are totally not correlated to peer group. Current median P/S for the above companies is 1.28 (in comparison with 0.39 for Inuvo).
There is something else which can really propel valuation higher: operating leverage. Management has been clear. If the business grows, EBITDA margin will expand. Currently EBITDA margin ranges from 5% to 7% for total sales around $50-75M. If the business grows to $100M (expected for FY 2017-FY 2018), EBITDA margin will increase to 10%. This is perfectly understandable because SearchLinks will provide economies of scale. Cost related to this new solution will come down as the business ramps up. Given the expected success of SearchLinks and the growth of native ads, the business could grow even further and reach $150M in 2019. At this level, EBITDA margins could reach 15% to 18%, eventually transforming the business into a cash cow.
Therefore, Inuvo could be worth between $2.03 and $2.56 in a conservative scenario, assuming no EV/EBITDA future expansion or P/S revaluing. This is an upside potential of 69% to 114%. In the long term, I value the company to $4-$5 per share given growth expectations and EBITDA margin expansion. On top of that, the sector will grow substantially which gives weight to the thesis.
A look at competition
Advertising industry is very competitive and Inuvo faces different competitors for both segments (i.e. Owned and Operated Network segment and Partner Network). In the OON segment, the company has to continuously build new content to successfully drive traffic to its websites. Obviously, there are a lot of other direct competitors in this space such as Demand Media (DMD), IAC (NASDAQ:IAC) and XO Group (NYSE:XOXO) to name a few. The key challenge here is to stay profitable by building attractive content (which drives interest among customers) at the lowest cost possible.
Regarding the Partner Network, advertising tech companies such as TubeMogul, The Rubicon Project, Tremor Video (TRMR) could build a direct competitor to SearchLinks from scratch. However, this is not their priority at the moment. In fact, sponsored searches are a smaller market than programmatic advertising (video and social media). As a result, other companies with more resources are almost exclusively focused on this bigger market. As an example, TubeMogul massively invests in its programmatic advertising software solution and partners with social giants such as Google, Facebook (NASDAQ:FB), Twitter (NYSE:TWTR) and Snap Inc (Snapchat). Second, SearchLinks came first and has already some good relationship with top websites (Reuters).
Pointing out the key risks
I listed below risks which appear to be the most relevant to me. This list is not exhaustive.
1) Concentration risk: Inuvo generates revenues from two major customers: Alphabet and Yahoo. They accounted for 64.8% and 33.2% of total sales, respectively, in 2015. If they were to change guidelines to use their ads products, Inuvo would be immediately affected. These factors are out of control of the company and could materially hammer future activity.
2) Business risk: the owned and operated network segment faces risk regarding the acquisition of traffic. If the company cannot successfully drive traffic in a profitable manner to its web properties, it will materially impact the top and bottom line.
3) Technology risk: the digital advertising industry is competitive and fast moving. The company operates in a fast moving industry and needs to stay focused on technological change in order to stay relevant. Inuvo invests in new solutions such as SearchLinks to remain competitive going forward. However, this solution could not gain as much traction as anticipated because competitors could come with better solutions.
4) Size risk: the company is small and has limited resources in comparison with bigger competitors which have deeper pockets. However, Inuvo's small size is also a key advantage to move faster than competitors.
Conclusion
Inuvo is a small cap company uniquely positioned with SearchLinks and is poised to profit from a high growth sector. Moreover, the company is financially sound with no long term debt and EBITDA positive. This company represents a compelling long opportunity to benefit from a booming advertising industry. Assuming no discount to peer group, the company has short term upside potential of 114% which translates into a fair value of $2.56 per share. This discount is likely to disappear in the short term as soon as the company makes further progress with its SearchLinks offering. The market will wake up sooner rather than later. In the long term, a fair value of $4-$5 per share appears plausible.
Disclosure: I am/we are long INUV.
I wrote this article myself, and it expresses my own opinions. I am not receiving compensation for it (other than from Seeking Alpha). I have no business relationship with any company whose stock is mentioned in this article.
Editor's Note: This article covers one or more stocks trading at less than $1 per share and/or with less than a $100 million market cap. Please be aware of the risks associated with these stocks.