In April of 2015, I did what I had been threatening, I sold my (NYSEARCA:VIG) dividend appreciation fund and purchased 15 of the largest cap holdings in the Dividend Aristocrats Index.
Here are those 15 companies. Nike (NYSE:NKE), CVS (NYSE:CVS), Walgreen (NASDAQ:WBA), Microsoft (NASDAQ:MSFT), 3M (NYSE:MMM), Colgate-Palmolive (NYSE:CL), Johnson & Johnson (NYSE:JNJ), Qualcomm (NASDAQ:QCOM), Medtronic (NYSE:MDT), Abbott (NYSE:ABT), PepsiCo (NYSE:PEP), Texas Instruments (NYSE:TXN), Wal-Mart (NYSE:WMT), United Technologies (NYSE:UTX) and Lowe's (NYSE:LOW).
And here is the annualized total return performance of those companies from April 1 of 2015 to August 31 of 2016 according to the total return tool at low-risk-investing.com.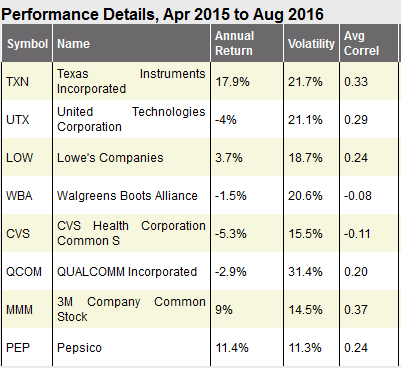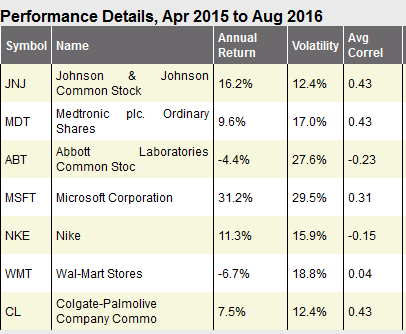 For the period, the total return of my grouping is 9.5% vs. total returns of 8.1% for the S&P 500 according to lowriskinvesting. The total return for the ETF VIG that tracks the index is 8.8% for the period. Another reasonable benchmark would be the Dividend Aristocrats Index, and that is available in ETF form as NOBL. The returns for NOBL for the period are 13% according to lowriskinvesting.
Of course, this is a very short-time period to evaluate individual stocks or an equity ETF. But a short-term time horizon might deliver some signs that things are going poorly and there is reason for concern. To date, the index skimming is tracking quite close to the total index and is delivering a slight outperformance as was the goal. That's not surprising given what we know about 'how many companies does it take' to diversify and replicate an underlying index.
You can see my portfolio construction rationale and links to studies on diversification in this article, here. And you see my original tracking studies of the returns and performance and price risk of the top VIG holdings in this article here, entitled Dividend Achievers Top 20 Hits The Mark Again.
That said, and I've certainly acknowledged, one of the greater risks I have created is considerably less diversification than the total underlying index (thanks Captain Obvious, as my kids like to call me out). I also hold 3 tech companies in the mix, and that is a sector certainly of the highest creative destruction. Ironically, it is those 3 tech companies that have created that slight short-term alpha.
Now one might look at this approach and say that I'm either incredibly crafty or incredibly reckless. I know where active stock pickers are going to land, ha. But it's certainly more than interesting. So much so that this approach was almost the subject of an article in the Wall Street Journal. I went through the interview, the article was completed, but it did not go to press. Oh well, that would have been interesting for me, and a nice bit of attention for Seeking Alpha.
At the core of my decision to buy dividend growth companies "without looking" is a trust in the very meaningful dividend growth history as a divining rod that finds past incredible earnings power and success. I am hoping that the past success continues for enough of the companies. As always, past performance does not guarantee future success or returns. At the core a meaningful dividend growth history, we can find great management, great brands and those proverbial 'wide moats'.
I also trust the market pricing. It is certainly tongue in cheek when I state that I am buying them without looking. In fact, there're mountains of research and tens of millions of dollars of brain power that has set the market prices for these larger cap companies. I will do no further evaluation, but the professionals have certainly looked. Like most on Seeking Alpha, I would have no idea if Microsoft will turn out to be a better investment than Texas Instruments or Qualcomm or if Nike will turn out to be a better investment than Lowe's or Wal-Mart or 3M or Walgreens. No idea.
Even the market price is simply an educated guess. The markets cannot be completely efficient, that's impossible and illogical. Even the management of the companies does not know what will be their earnings more than a quarter out. So I will take the market's professional and educated guess. If I were to overrule the market, that would mean (ironically) that I am now using less research to make an investment decision. How would I know when the market has it wrong? As I have written in the past, how can we use 1% of the available information to beat 100% of the information?
The long-term goal or mission for my US dividend growth portfolio is to deliver market beating (and perhaps index beating) total returns with much lower volatility through a major correction. In our accounts, I also hold Canadian dividend and dividend growth companies along with a bond component in the range of 35% to 45% of total portfolio value. The combination of bonds with the potential of lower volatility dividend growth portfolio will hopefully deliver an uber low beta portfolio; but a portfolio with enough torque to combat inflation. Semi retirement could come any day, that's the reason for having a conservative low to medium risk portfolio. But the plan is likely for my wife and I to semi retire in 3 years, and perhaps relocate (or at least have one property) on Prince Edward Island. Note, I will not buy that property without looking.
To demonstrate how personal portfolio management and financial planning can be, our situation includes an accidental investment as we own a Toronto home. The average detached home in Toronto sells for about $1.2 million. Prices have been increasing at over 10% annually, for the last 10 years or more. Some say that will continue, some say the market will correct. That said, the potential tax free gains from our principal residence will be considerably more than anticipated. That changes the time horizon for our investment portfolios. Do I need some of the funds in 3 years, or 10 years? I may have the luxury of allowing the US dividend growth portfolio to grow and compound for a considerable time. The decisions on retirement funding will likely be made with consultation with my accountant or a Certified Financial Planner.
But back to my sloth-like investment approach. Here are a couple of examples that make me comfortable with my simple approach.
Here's a link to the Dividend Aristocrats Index and the market beating returns with very simple portfolio inclusion metrics. It is yield and valuation (and most everything) agnostic. At the heart is a company record of increasing dividends for 25 years or more. On that page, you can uncover the weighting and inclusion parameters.
And recently Sure Dividend delivered this article that included mention of a fund that bought 30 leading US companies and then did not sell. Check out the market beat you investors could have enjoyed without looking and thinking and evaluating?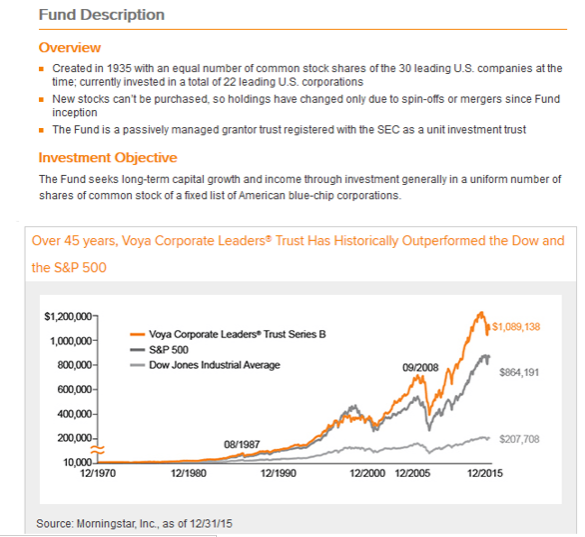 In a 1990 letter to shareholders, Warren Buffett wrote ... "Lethargy bordering on sloth remains the cornerstone of our investment style"
Well, I guess I am in good company. It is my opinion and repeated and reinforced observation that successful large cap investing is delivered by way of consistency and patience. The unsophisticated investor can take advantage of the extensive research that goes into the market pricing or valuation. And we don't' have to pay for that research. Yes we indexers and index skimmers are freeloaders.
Buy. Hold. Add.
And please always know you risk tolerance level and invest within that risk tolerance level.
Thanks for reading. Leave a comment and this sloth might get back to you, in good time.
Dale
Disclosure: I am/we are long NKE, CVS, MSFT, MMM, CL, JNJ, QCOM, MDT, ABT, PEP, TXN, WMT, UTX, LOW.
I wrote this article myself, and it expresses my own opinions. I am not receiving compensation for it (other than from Seeking Alpha). I have no business relationship with any company whose stock is mentioned in this article.
Additional disclosure: Dale Roberts is an Investment Funds Advisor at Tangerine Investment Funds Limited a subsidiary of Tangerine Bank, wholly owned by Scotia Bank; he is not licensed to provide professional advice on stocks. The opinions expressed herein are Dale Roberts' personal opinions relating to his experience as an investor and are not those of Tangerine Bank or its subsidiaries and/or affiliates. This article is for information purposes only and does not constitute investment advice or an offer or the solicitation of an offer to buy or sell any securities. Past performance is not a guarantee and may not be repeated. Investment strategies are not suitable for everyone and you should always conduct your own research or speak to a financial advisor.