In the coming weeks and months, up until February 2017, Americans will be looking at higher gasoline prices vs. the same time a year ago. In the chart below, you can see the decline that began in the second half of 2014.

The decline has been choppy, but on a year-over-year basis, the price has always been lower than it was the year before. This is about to change, likely beginning next week.

With oil prices surging over the past two days, it's a given that those costs will be added back into the price of gasoline.
Critical Point
The price of gasoline dropped from $2.25 the week of Sept. 28, 2015, to $1.64 by Feb. 15, 2016. So over the coming months, gasoline prices are likely to show a big increase in price vs. the previous year. Prices averaged $2.09 in Q4 2015. Anything above that figure over the next three months sets us on course for higher spending at the gas pump vs. last year's fourth quarter.
Demand
Meanwhile, on account of these lower gas prices over the last two years now, demand has picked up.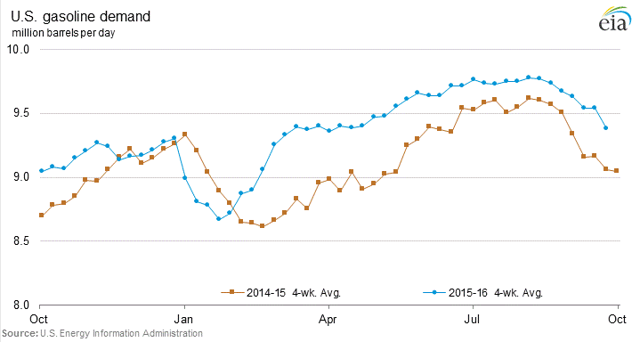 Gasoline demand was 9.383 million barrels per day (four-week average) vs. 9.059 million barrels a year before in the most recent week. That's about a 3.6% in increase compared to the year before. We'll have to see if this can continue with higher gas prices ahead.
Retail Sales at Gas Stations
Below is a year-over-year percent change chart of both the price of gasoline and the amount of retail sales at gasoline stations. The retail trade percent difference shows less of a decline than the amount of gasoline. This is due to more gasoline being sold.

Consequences of Higher Gas Prices
In the event that demand for gasoline continues to run higher than the previous year, coupled with higher gas prices, we're going to see gains in spending at gasoline stations. These gains could be in the 10%- 30% range. Even assuming demand is flat year over year, average prices in the coming fourth quarter of $2.29-$2.71 per gallon would get us to the 10%-30% spending increase on gasoline.
Retail Sectors We Expect to Take a Hit

I appreciate this is a multi-detailed chart, but it's telling. Depending up what's happening in the economy dictates what parts of retail get hit more than others. For example, as we saw huge gains in gasoline expenditures during the early to mid-2000s, we still saw solid gains in building materials and garden equipment sector that include the likes of Home Depot (NYSE:HD) and Lowe's (NYSE:LOW). This was due to the housing boom.
However, those gains were met with a hang over during 2007, 2008 and 2009. While in 2010 and 2011, as gasoline prices saw huge gains from the year before, we also saw huge gains in motor vehicle and parts sales. This was on account of the huge decline that occurred during the last recession.
In 2015, with the huge drop in gasoline expenditure, we saw gains just about everywhere. Looking closer at quarterly data, we can see trends that are forming:

It seems as though almost all sectors have recovered and there is nothing booming. No sector looks to be immune to higher gas prices in the coming quarters, with the exception of health and personal care stores. I would look for nearly all sectors of retail to take hits in the coming months and quarters.
One of the standout trends is the declining growth in motor vehicle spending. That is one sector that looks to go negative in the coming quarter. Another standout I see is the increase in spending at sporting goods, hobby and music stores. When I put up a monthly chart showing the year-over-year percent change in retail trade for that sector, it appears that boom may have already ended in August.

Here is the monthly for motor vehicle and parts dealers:

Investors should take these higher gas prices into consideration.
Disclosure: I/we have no positions in any stocks mentioned, and no plans to initiate any positions within the next 72 hours.
I wrote this article myself, and it expresses my own opinions. I am not receiving compensation for it (other than from Seeking Alpha). I have no business relationship with any company whose stock is mentioned in this article.