US construction industry is currently experiencing a stagnation in the growth rate of economic activity that will lead to a lack of the housing supply when demand is growing.
Considering the data on unemployment in US construction industry, one can see that employment significantly grows from March 2016 to July 2016. However, data on construction spending shows the drop in spending for building for the same period. Thus, I think such coincidence indicates that construction companies are just continually cutting their labor's productivity that will contribute to a lowering of housing supply up to the end of 2016.

(Source: fred)
US labor market is showing opposite trend compared with the construction industry. A wealth of US households is becoming stronger that is reflected in the consistent growth of their wages and salaries.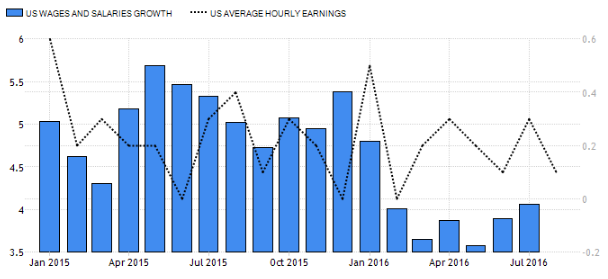 (Source: tradingeconomics)
In addition, the US unemployment rate reached the level of the first half of 2008 and labor force participation rate is sloping down from the beginning of 2016. These trends are indicating that the number of jobless households is declining and fewer people are starting searching for the job. Such an environment creates upward pressure on wages and salaries, gradually making households wealthier.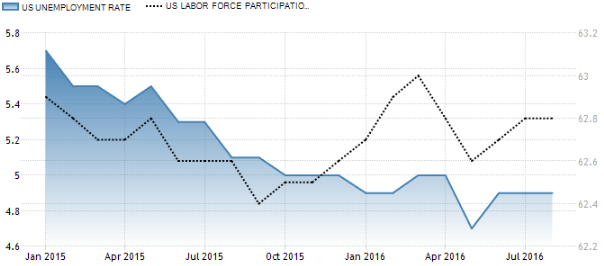 (Source: tradingeconomics)
Housing inventories have already decreased as one can see on the table below.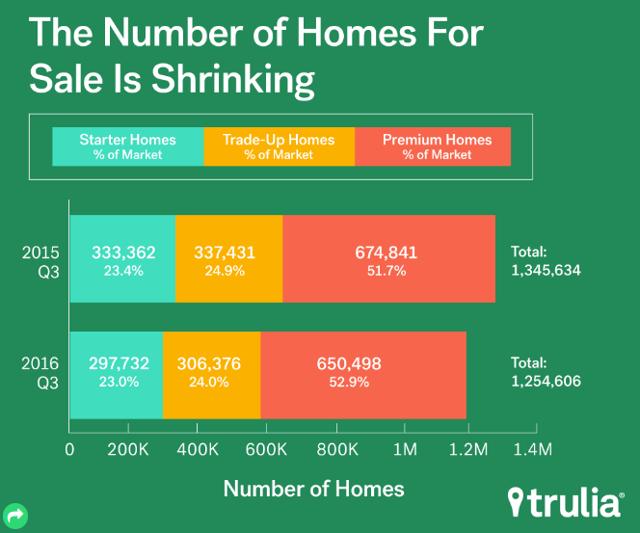 (Source: trulia)
Therefore, considering consistent wealth growth of US households, I think, a continuation of stagnation in growth pace of construction industry will lead to a decline in homes for sale inventories. Therefore, I believe housing prices will skyrocket to new highs during next three months.
I recommend investing in US real estate market through ETFs with access to real estate assets, like IYR, VNQ, RWR, ICF.
Disclosure: I am/we are long IYR, RWR, ICF.
I wrote this article myself, and it expresses my own opinions. I am not receiving compensation for it (other than from Seeking Alpha). I have no business relationship with any company whose stock is mentioned in this article.