Powerful articles are being written in response to the current travails of Wells Fargo (NYSE:WFC) and Deutsche Bank (NYSE:DB) advising investors never to invest in the sector. Speaking of European banks, the CEO of Credit Suisse (NYSE:CS) described the sector as "uninvestable".
It does seem from the detail of CEO Thiam's statement that he seemed to mean the regulatory pressures on his own bank were causing him some profound problems, so perhaps we should not interpret his words as applicable to the entire European bank sector, many members of which are structured entirely differently from Credit Suisse.
Such commentary usually proliferates when banks are in the spotlight in a negative way. It very often takes some prominent difficulties of a couple of names that are lighting up the headlines and widens them to the whole industry. I would argue this is not the way to approach a massive and diverse global sector.
We can start by throwing back a couple of observations to keep the anti-bank scribes busy. First, some exceptionally successful long term investors hold positions in big banks and believe they will be worth a lot more than currently over the long term. Second, banks of all sizes globally have long track records of creating shareholder value. Look at the charts of HDFC Bank (NYSE:HDB) in India, US Bancorp (NYSE:USB) in the U.S., and Svenska Hendelsbanken (OTCPK:SVNLY) of Sweden to see long term returns. To be sure, banks of all sizes globally - different ones - have long term track records of destroying shareholder value as well. But these are not all banks.
Deutsche Bank was recovering quite well in the rally among European bank shares since the Brexit sell off and this crisis episode is entirely due to the outsize DoJ demand in respect of RMBS mis-selling; as such, it is a historical issue - one causing trauma right now, but its genesis is in the past. While serious, the Wells Fargo misconduct is of a much lower order of magnitude.
In the case of DB, the problem is that the bank faces this huge legal settlement while being uniquely (to my knowledge) inefficient. Its position is unusual. There is no read across to banking generally.
The wider reason to have concern over banks for the long term is competition. Across financial services automated products are making an impact and non-bank players are stepping into the provision of credit, in a similar way to how non insurance players are stepping into the provision of reinsurance. This can feel like a feeding frenzy by piranha fish on the incumbents, but a sense of balance is always needed.
The reason that the regulators are so far pretty lenient on the new entrant loan providers is that they remains a small part of the overall credit system. Fed Governor Turollo's recent speech at Yale School of Management covered why the Fed was relenting on certain capital requirements for smaller banks, which would allow them to return significant amounts of capital to shareholders. The system, he said, could absorb a small bank's collapse, but not a big one. That is true as far as it goes and of course small banks in the US fail all the time. However, bank failures - or rather all credit provider failures - do not only occur in isolation. They sometimes occur en masse. So the bigger the non bank credit providers get, the more they will collectively represent an area of interest for financial system regulators whose main concern is to protect system stability. The "Eye of Sauron" will in this respect turn on them in due course.
One of the key calendar events for anyone interested in banking globally is the publication of M&T Bank (NYSE:MTB) Annual Report. The distillation of experience in this yearly document is incredible. Read the whole thing. I will take just one passage here:
"One can only hope that, working together, elected and appointed officials and industry leaders will seek to avoid a grim scenario in which capital is concentrated among a handful of banks even as lending and risk is dispersed to the barely-regulated shadow banking sector." CEO Robert G. Wilmers.
One example given by CEO Wilmers is the ~$600bn U.S. leveraged loan market, in which non-bank lenders now represent 85% of the volume after regulators capped the amount of capital licensed banks could provide to this market. The risks of this are obvious. In another example, Mr Wilmers points to the $3.9 trillion syndicated loan market, where non-banks controlled 23% of volumes and 73% of non-performing volumes. That these numbers were complied by banking regulators makes me suspect it is only a question of time before they start to at least monitor the capital and liquidity of the non bank companies making these loans in a systematic way.
The reason to focus on non bank credit in the US is that credit is the flip side of the deposit relationship, which is the starting point for any retail banking operation since individuals and companies need a place to keep their cash without incurring risk. There are certain products that naturally attach to the deposit account, one of which is overdraft facilities since they serve cash flow management, another is credit.
Anyone who has met the management teams of successful banks in emerging markets without central credit agencies knows that a key to credit risk management is to house a borrower's principal business account because it allows the lender to monitor a borrower's cash flow. This gives deposit taking banks a natural advantage in allocating credit and seems to me to be a durable advantage.
Here's a summary balance sheet for M&T Bank at 2Q 2016.

This drives the following income mix: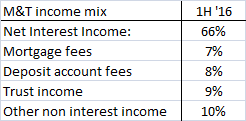 You can see there that the first three lines of the income statement - some 81% of income, are driven by balance sheet volumes. It is possible to find a fee free deposit account, but the provider will be trying to make up for the lack of fees on the credit risk side of the balance sheet, and if not, it is likely that its ROE will be insufficient to generate much growth or capital distribution. It also seems reasonable to expect banks to be able to maintain, and defend, other activities such as investment product provision and sales (again, aligned with the deposit relationship) and modest trading operations (understanding of credit markets and provision of treasury services to companies).
One article in the FT today, contained the following incendiary passage on the subject of trust:
Think about trust. The banking sector comprehensively lost the trust of much of the global population after 2008. We don't think it is stable and we don't think it works in our best interests. That lack of trust feeds into two things. The first is regulation. Most people think that the financial crisis was partially a result of a paucity of financial regulation. Regulators have spent the past eight years trying to make up for their pre-crisis deficiencies.
Compare it to this passage from M&T:
In many respects, the business model of traditional banks is more relevant than ever before-their role in growing and improving their communities is essential to helping disadvantaged citizens in an era when government programs do not seem to have the desired impact. We know with certainty-because we have done so, historically-that regional banks such as ours, when not disproportionately burdened by the costs and complexity of government action, can play an even more positive role for our communities.
The coming relaxation of CCAR requirements for smaller banks is perhaps the start of a rebalancing in favor of non-GSIB players, and might allow them to re-engage with their customer bases on the credit side.
Any pressure on the likes of M&T because of problems in entirely different banks and the miasma of generalized commentary that it produces should be a buying opportunity
Disclosure: I/we have no positions in any stocks mentioned, and no plans to initiate any positions within the next 72 hours.
I wrote this article myself, and it expresses my own opinions. I am not receiving compensation for it (other than from Seeking Alpha). I have no business relationship with any company whose stock is mentioned in this article.
Editor's Note: This article discusses one or more securities that do not trade on a major U.S. exchange. Please be aware of the risks associated with these stocks.