According to Goldman Sachs, over the next thirty years, the world's population is expected to grow by 35%, yet there is expected to be only a 4% increase in available acreage.
Food supply will have to increase 70% by 2050 to keep pace with this increase in population according to the Food and Agriculture Organization.
Since most land suitable for farming is already in use, the solution is higher yields.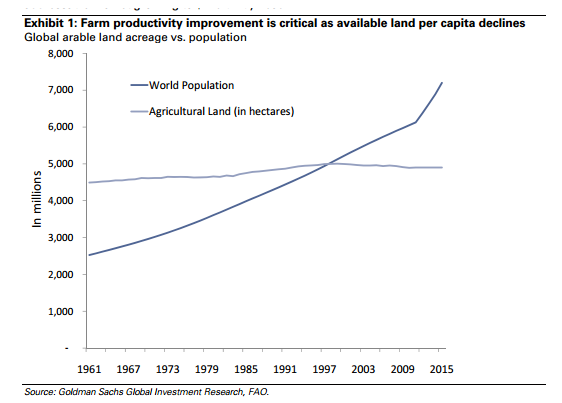 Source: Valuewalk
Over the past decades, crop yields increased dramatically; the United States' crop production now is twice what it was in 1970, but uses nearly half the labor and 16% less land than it did in 1970.
However, in the past few years, it has plateaued, a phenomenon known as "yield plateauing."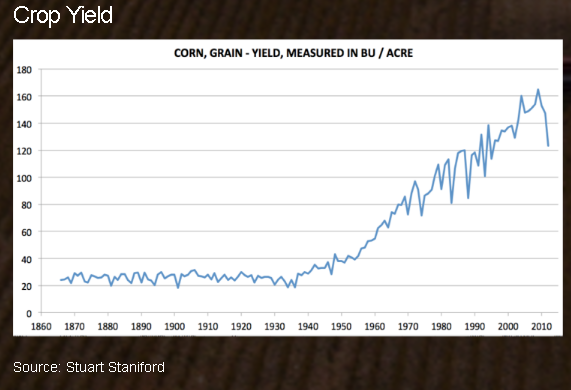 Source: Via Science
Precision agriculture has been mentioned as a solution to address this challenge. In the short run, precision agriculture can help farmers cut costs on inputs such as fertilizer, water and seeds.
In the long run, it could be the answer to the question of feeding a population that's increasing faster than the supply of available land, while ensuring a sustainable use of natural resources.
It has been noted that precision farming technologies may be necessary to meet the Sustainable Groundwater Management Act, passed last year in California.
Major food corporations such as Wal-Mart (NYSE:WMT), Kellogg (NYSE:K), General Mills (NYSE:GIS), and Cargill have encouraged the use of precision agriculture in an effort to tackle environmental and sustainability challenges in addition to cutting costs and wastage.
Global crop production value in 2015 was $1.2 trillion. However, over 40% of farm fields are over fertilized resulting in a yield loss of 15%-20% from inadequate fertilizer application. Yields could be increased by around 18% through the use of precision fertilizer technology. Precision planting could boost yields by 13% and a further 13% improvement could be achieved via a fleet of smaller automated tractors (instead of the large farm equipment used on American farms today which according to academic research cited by Goldman has caused a reduction in yields by 15% to 30% over the years as a result of soil compaction).
It is estimated that farmers could reduce wastewater by 50% with precision irrigation systems paired with water sensors leading to a 10% yield improvement.
Precision agricultural technologies are not new - such technologies have been available since the 1990s. However, adoption in some cases has been slow. Although the U.S. is the world leader in precision agriculture, the U.S. Department of Agriculture reported that the technology is applied on less than 20% of corn fields.
Some reasons for the low adoption rates are a lack of awareness, inadequate computer literacy skills and gaps in broadband connectivity.
America's farmers are ageing. The average farm operator in America is 58 years old which is nearly eight years older compared to 30 years ago when the average farm operator was about 50.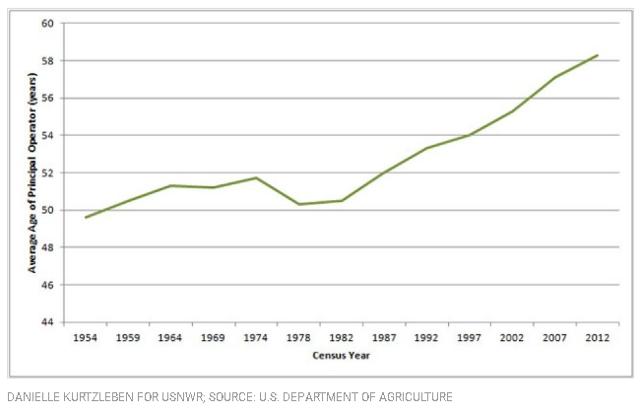 Source: U.S. News
However, there's a generation waiting in the wings, and as this younger and tech-savvy generation of farmers enter the industry, this demographic shift is likely to boost precision agriculture technology adoption rates in the future.
Broadband connectivity is another hindrance to widespread precision ag technology adoption.
The Federal Communications Commission (FCC) updated the definition of broadband in 2015, which is illustrated in the image below: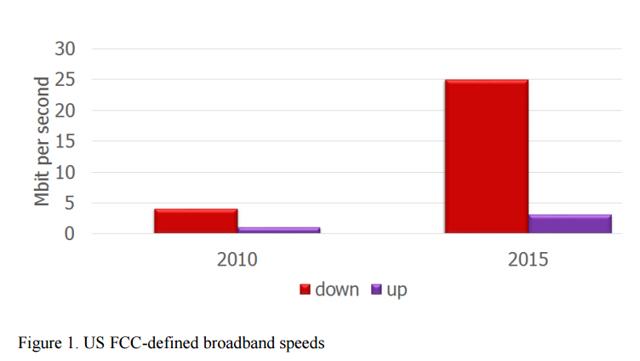 Source: Mark and Griffin
Under the new FCC definition, the majority of the areas where over 75% of the population has access to broadband connection are located in or near major cities and not near agricultural areas.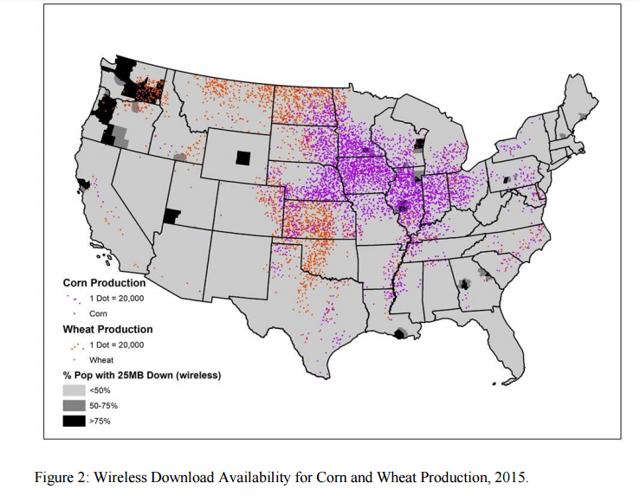 Source: Mark and Griffin
This explains why nearly 33% of American farmers lack internet access and only 40% use the internet at all for agricultural businesses. Recently, some steps have been taken to address this situation.
For instance, the Precision Farming Act of 2016 aims to offer farmers greater access to high-speed internet. The bill would offer broadband providers a one-time $15,000 reimbursement for each line installed for a qualifying precision farming operation.
Last year, the U.S. Department of Agriculture (USDA) announced $190 million in grants and loans for 25 projects to improve broadband and communication infrastructure throughout rural America.
Another obstacle to adoption was that during the first wave of precision agriculture, there were specific pieces of precision agricultural technology, however, they did not connect well with each other and there was no way to quantitatively measure key results such as the increase in revenue, decrease in cost or increase in yields.
For instance, one of the primary drivers of precision agriculture during the first wave was the use of variable rate fertilizer which aimed to reduce farmers' fertilizer costs. However, there was no way to quantify the benefit at the end of the year, making it challenging for farmers to justify the expense. This may explain why after decades of effort, VRT technologies are still not widely employed in American farms.
According to results from a survey (focused mainly in the Midwest and Southern regions) conducted by the Center for Food and Agricultural Business at Purdue University and CropLife magazine, the most utilized practice - the application of lime - is only now achieving coverage on 41% of the total acreage. VRT fertilizer is deployed on about 30% of total acreage.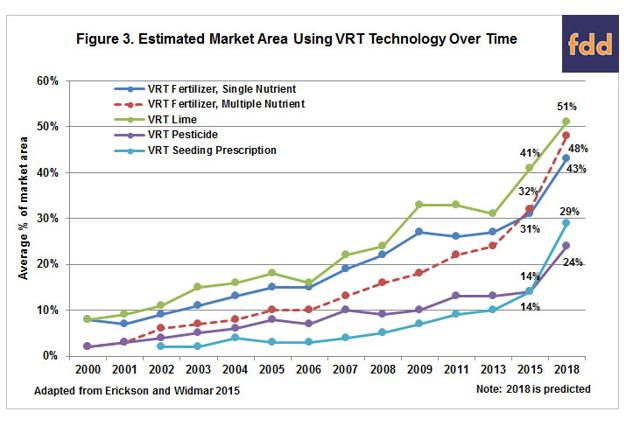 Source: farmdocdaily
However, precision technologies today are more advanced than in the past, allowing farmers to gather useful farm data and possible cost savings, which should help drive adoption rates in the future. The precision farming market is projected to be worth $240 billion by 2050 according to Goldman Sachs.
Dutch asset management firm Robeco expects the U.S. precision agriculture market to quadruple from $1.5 billion today to $6 billion by 2020, an annual growth rate of 17%.

Source: Robeco
This emerging opportunity for improving farm productivity has not gone unnoticed and several agriculture-related companies have recently been making inroads into this nascent industry.
Investment in ag-tech doubled in 2015 according to data from AgFunder.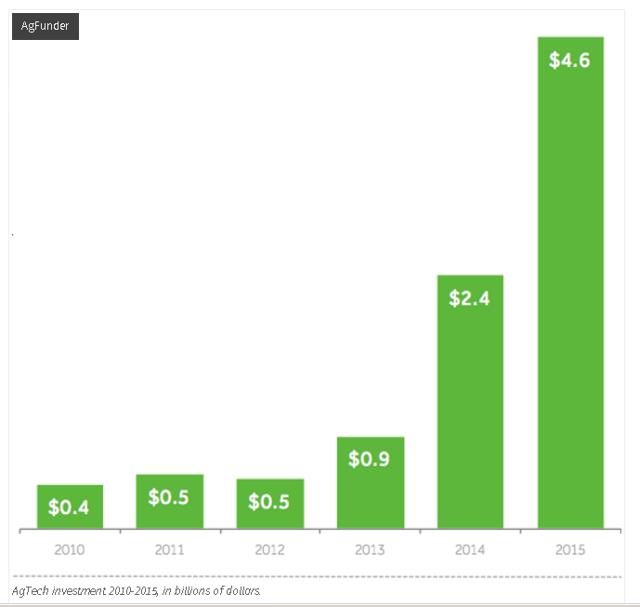 Source: Greenbiz.com
Amid the current agricultural downturn, Deere (NYSE:DE), the world's largest maker of agricultural machinery has been actively making investments in precision farming. For instance, last year, Deere acquired Monosem, the European market leader in precision planters, and last November, the company signed a definitive agreement to acquire Precision Planting from Monsanto (NYSE:MON) (however U.S. antitrust officials are seeking to block the purchase. The department estimates Deere and Precision Planting control approximately 86% of the U.S. precision planting market).
German chemical company Bayer (OTCPK:BAYRY) and DuPont (NYSE:DD) have invested $15 million on an ag-tech accelerator fund named Radicle, which aims to accelerate the commercialization of the most promising inventions in agricultural technology such as digital agriculture (which includes precision agriculture), biological and microbial solutions and farm systems.
Conclusion:
Precision agriculture may be the solution to feed a population that's growing faster than available land supply while ensuring a sustainable use of natural resources.
Although the technology has been around for over two decades, the technology is still not very widely adopted and the market is thus still at early stages. Some of the constraints to adoption such as broadband connectivity and the inability to measure results are gradually being addressed as the market advances and other constraints such as inadequate computer skills (due to aging farmers) should improve as the farming demographic shifts to the younger, tech-savvy generation.
This need for farm productivity improvement has not gone unnoticed and companies have made investments to exploit this nascent long-term growth opportunity.
Disclosure: I/we have no positions in any stocks mentioned, and no plans to initiate any positions within the next 72 hours.
I wrote this article myself, and it expresses my own opinions. I am not receiving compensation for it (other than from Seeking Alpha). I have no business relationship with any company whose stock is mentioned in this article.
Editor's Note: This article discusses one or more securities that do not trade on a major U.S. exchange. Please be aware of the risks associated with these stocks.