Angola is currently maintaining its position of the largest African oil producer. Angola surpassed Nigeria in the 2nd quarter of 2016 and currently the gap is only widening with 1,782kbbl/d of Angola's oil production and 1,508kbbl/d of Nigeria's oil production as of July 2016. The reasons for that were not only due to Nigeria's political disorder in the Niger Delta, but also due to its internal production stability (1,780kbbl/d is a result of the last quarter of 2015, which with some minor back and forth fluctuations, is currently the same).
Also, earlier this summer Angola's biggest oil company Sonangol discovered 813mbbl of oil equivalent in offshore Kwanza Basin and this is not the only one (totally, there were nearly 7 discoveries in the recent past). However, due to declining oil prices, Angola initially turned to IMF for loan earlier this year, but later in June decided not to continue those talks. All these factors send a mixed message and it remains to be seen what Angola's production will be. Some sources compare situation in Angola with that in Venezuela. From humanitarian point of view, this might be the case, but from oil prospective I think the situation is different. The thing is that Venezuela is struggling to maintain its social obligations, while desperately trying to keep production of PDVSA. As I covered in my previous article, Venezuela's situation is bad, but it is not reflected in oil export shortages (at least, massive shortages) yet. As for Angola, it is 1-2 steps behind from Venezuela's instability. The reason is that the inner circle of dos Santos (Angola's president) is basically decoupled from a part of Angola's population, which is not involved in oil producing economy. It is unclear at which level of public expenses shortage there might start political disorder, but Angola can "afford" more poverty than Venezuela. There are numerous articles about Angola's corruption and unequal distribution of wealth, so let us skip this topic here.
Interestingly enough, Angola is paying its debt to China with oil, and it is likely that still not much oil is left to trade freely. Let us have a look at forecasted oil and oil products Angola's exports, which I calculate for Angola based on tanker data.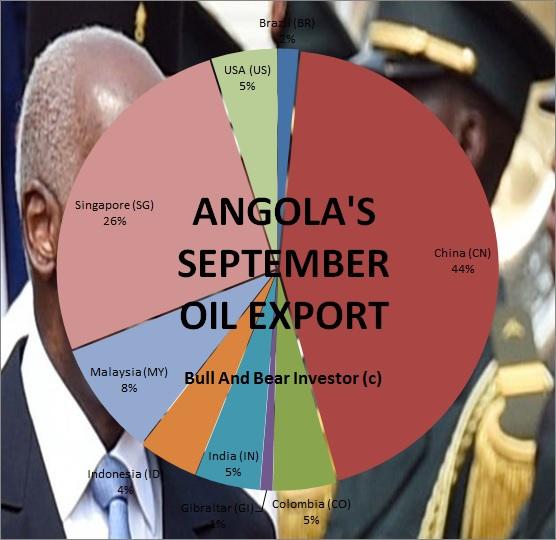 (source: tanker tracking data, author's calculations)
As we can see, China's share of Angola's oil is nearly half. Tankers flowing to Singapore (for which it is hard to tell their final destination, part of which could again be China) comprise another quarter. Although it is complicated to determine which portion of Angola-China oil flow is "paying for debt" and which is "trade", the Chinese share of Angola's pie causes concern.
Also, during September, in Angola there were no unusual patterns in tanker outflows. For every single 7 day period the outflow was similar to any other week, which indicates that the business is going as usual. A typical tanker carries a bit less than 2mbbl and is 80%-100% full; or nearly 1mbbl of oil and is 85%-100% full. Unless this percentage starts to be less, it is too early to tell about production shortages.
As we are talking about oil, it is important to understand that a question of portion of Angola's national oil going to repay debt is interesting only in mid- and long-term prospective, i.e. how would Angola's economy feel. In a short-term horizon, it is still oil floating from one country to the other. It affects world oil supply and demand balance regardless of being "debt" or "trade" oil.
Overall, I do not see any significant short-term effect of Angola on a global oil market. I will keep my readers updated about Angola and its oil production.
Disclosure: I/we have no positions in any stocks mentioned, and no plans to initiate any positions within the next 72 hours.
I wrote this article myself, and it expresses my own opinions. I am not receiving compensation for it (other than from Seeking Alpha). I have no business relationship with any company whose stock is mentioned in this article.
Additional disclosure: The material presented in this article is provided for informational purposes only and is based upon information that is considered to be reliable.