By Andrew Sebastian
Liberal growth and conservative financing may seem contradictory at first, but the two are not mutually exclusive as Enterprise Products Partners (NYSE:EPD) proves. EPD is undergoing rapid development with $5.6 billion worth of capital projects under current construction, that will start adding to the company's top and bottom lines starting in 2018. In 2016, over $2 billion worth of projects have been completed or will be completed by year's end. They include gas processing plants, oil storage facilities and ethane export terminals - a diversification of EPD's revenue streams that will only continue into 2018. Many of EPD's current pipelines have upwards of double the capacity, so there is tremendous opportunity for growth. EPD certainly will not be hindered by capacity.
EPD has maintained an investment grade credit rating at Baa1/BBB+ while other MLPs and energy companies have seen their ratings fall in the face of declining energy prices. EPD's business model is what allows it to keep a healthy credit profile. Although units of EPD may trade at a high correlation to energy prices, the actual underlying fundamentals of the business are not entirely tied to them. EPD's success comes from its fee-based business with fixed contracts tied to the volume of oil and natural gas it stores and transports, regardless of the prices for oil and natural gas. Only about 15% of EPD's gross margin is tied directly to oil and gas prices, so a sustained environment in which prices remained subdued does not mean falling cash flow. EPD investors can rest assured that the distributions will keep coming.
In addition to its stellar credit rating, EPD has maintained conservative distribution coverage throughout its history, averaging around 1.4x in recent years. Another sign of the MLP's strength is that the distribution has grown for twelve straight years with not even a hint of it being stagnated - let alone cut. EPD is not stressed for capital and it could use its capital cushion and ability to raise further capital for future projects or acquisitions. The cost of capital is extremely low for EPD and that gives the company substantial "financial firepower" if it chooses to acquire assets from other MLPs, buy them outright or continue on a path of aggressive growth to meet energy infrastructure needs.
Furthermore, as with any business, EPD's revenue stream is affected by the credit quality of its customers. EPD can be conservatively financed with a stellar credit rating, but if its customers do not share its penchant for conservative financing - its own credit profile can deteriorate in bad times. EPD investors will be happy to know, however, that 40% of the MLP's top 200 customers have a credit rating that is the same or better than EPD itself. EPD's top 200 customers account for about 96% of its revenue. Further, 75% of those top 200 have an investment grade credit rating or the counterparty risk is mitigated by a letter of credit or prepayment obligation. It's easy to see that EPD has a reliable customer base and the cash that flows in one door from its customers can come out the other as distributions to investors. EPD's top 200 customer breakdown is shown in this chart: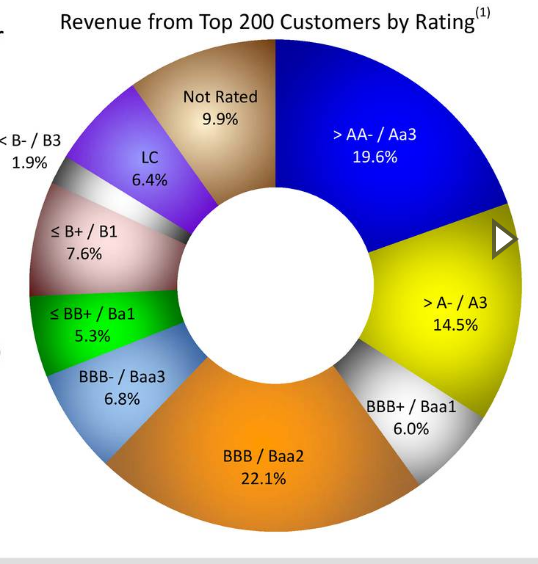 Source: EPD Investor Presentation
EPD is a solid buy as is, but if it falls investors would be prudent to pick up more if they already own units or to initiate a position. EPD is best in class and offers a current yield of 6%. Dually, the company expects to increase the distribution 5% per year for the next five years. As yield-starved investors look at other avenues for reliable yield, EPD can surely become an alternative to virtually no-yield bonds. If there is a run-up in price in this scenario, EPD investors could consider selling calls against their position or protective puts. As it stands now, though, EPD is still in fair investment territory. Growing liberally but financing conservatively - an investor's dream. There may not be anything that is a sure bet, but EPD is up there with some of the most reliable investments and investors should do well in the long term with positions in the MLP. You down with EPD?
Disclosure: I/we have no positions in any stocks mentioned, but may initiate a long position in EPD over the next 72 hours.
I wrote this article myself, and it expresses my own opinions. I am not receiving compensation for it (other than from Seeking Alpha). I have no business relationship with any company whose stock is mentioned in this article.