By J.R. Rieger
The S&P Municipal Bond Index has recorded a 4.21% year-to-date total return for the first three quarters of 2016, lagging the taxable corporate bond market returns of nearly 9% as tracked by the S&P 500 Bond Index. Some segments of the municipal bond market are contributing more than others:
Table 1) Select municipal bond indices, their year-to-date returns and yields as of September 30th 2016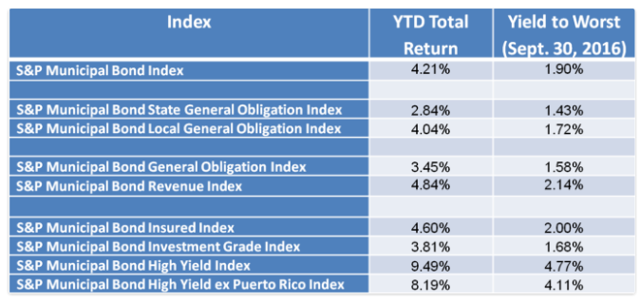 Source: S&P Dow Jones Indices, LLC. Data as of September 30th, 2016. Table is provided for illustrative purposes. It is not possible to invest directly in an index. Past performance is no guarantee of future results.
Disclosure: Copyright © 2016 S&P Dow Jones Indices LLC, a division of S&P Global. All rights reserved. This material is reproduced with the prior written consent of S&P DJI. For more information on S&P DJI please visit www.spdji.com. For full terms of use and disclosures please visitwww.spdji.com/terms-of-use.