Annaly Capital Management (NYSE:NYSE:NLY) is a mortgage REIT. Officially, that means NLY is part of the "Financial" sector. Even though a new sector was carved out for equity REITs, the mortgage REITs remain stuck in the financial sector. See the statement from MSCI below:

The problem is that the financial sector doesn't have much in common with the mortgage REITs. Sure, banks loan out money. Is that really all it takes to be fall into the financial sector? Banks could earn more interest income on their excess reserves if the short-term rates were increased. The mortgage REITs would stand to see a higher cost of funds that would squeeze their net interest spreads. That sounds like they have pretty much the opposite desires for action (or inaction) from the Federal Reserve.
That begs the question, why does Annaly Capital Management have any correlation with the financial sector? I used the Financial Select Sector SPDR ETF (NYSEARCA:XLF) as my proxy for the sector, and I included CYS Investments (NYSE:CYS) to demonstrate that it happens to other mortgage REITs as well: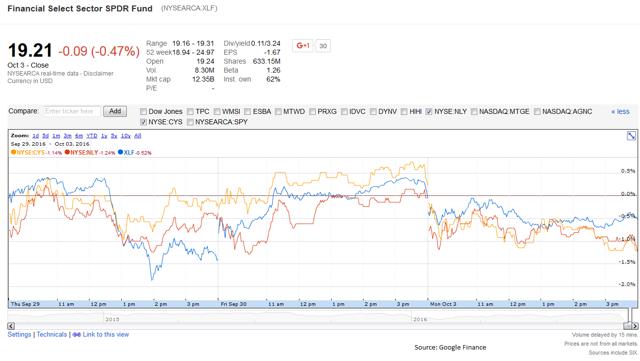 Annaly Capital Management is the red line in that chart. You may notice that it demonstrates a significant correlation to the financial sector. That shouldn't hold up over the longer periods, but the short-term correlations should be enough to concern investors.
Things That Matter to Mortgage REITs
One thing that really matters to the mortgage REITs is their cost of funds. Most mortgage REITs use large positions in LIBOR swaps to reduce their exposure to a fluctuation in interest rates, but they are still exposed to the risk of paying higher costs on their "repo agreements". Those repo agreements are primarily how the mREITs finance their leveraged portfolios. If short-term rates increase, those costs move higher. An increase in those rates could put dividends in jeopardy. So far, I expect Annaly Capital Management to sustain its dividend at $.30 per share, but I keep a close eye on the sector and my change my stance if the environment changes.
For Annaly Capital Management, a slight increase in the odds of a hike is negative, but this wasn't a material movement. See the chart from CME Group below: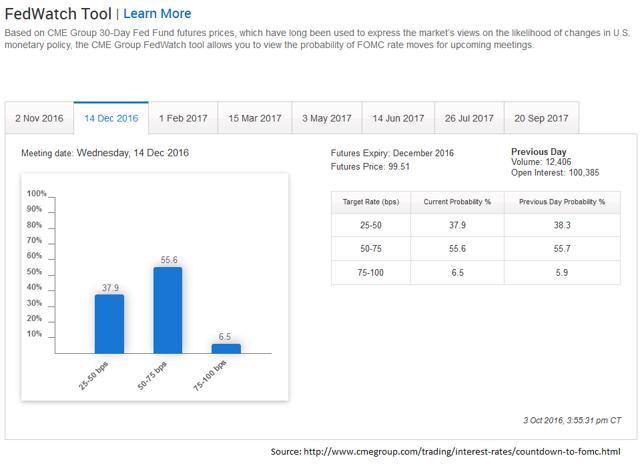 The net change was extremely small. A shift of less than 1% in probabilities is not material. It certainly isn't worth NLY selling off by 1.24% on the day.
How About Other Bond Movements?
I checked on the change in prices of agency RMBS and on changes in Treasury prices. The Treasury prices declined moderately as yields rose by 3-4 basis points across the yield curve, but MBS prices hardly moved. For instance, the 30 YR FNMA 4.0 (30-year Fannie Mae Fixed Rate Mortgage with a net coupon of 4.0) declined by only 3 basis points. Even in a highly leveraged portfolio, that is immaterial. That is akin to $100.00 of value decreasing to $99.97.
Conclusion
Nothing terrible happened to Annaly Capital Management, but the stock slid lower anyway. This was a problem throughout the mREIT sector. Rather than a price movement reflecting fundamentals, this is a price movement reflecting fear. When Annaly Capital Management was trading above $11.00 at the start of the quarter, I was moderately bearish. The decline since then made NLY a more reasonable option for investment. My current stance is neutral with a slight bullish tint.
I am long shares of NLY-E, which is "series E" of the preferred shares. At their most recent close of $25.31, I believe they are still a very solid investment. While my stance on the common stock is stuck in the neutral range, the preferred shares still look great.